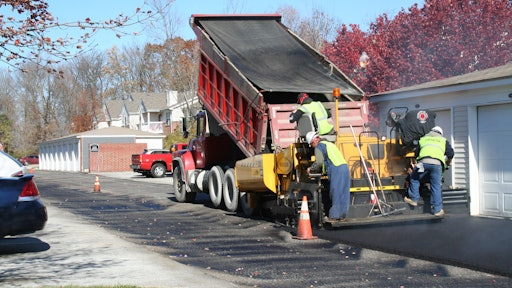 There are those contractors who see little relationship between the "black" paving and pavement maintenance industry and the "green" landscaping industry – but Tony and Wendy Miller are not among them.
The Millers started from scratch EA Outdoor Services, LLC, a "green" company that offers landscape construction and maintenance, planting, snow removal and paver installation. They eventually leveraged that successful business to start EA Asphalt Services (and the related EA Trucking). They run their three businesses from the company headquarters in Greenfield, IN, and branches in Indianapolis, IN, and Fort Wayne, IN, serving properties and property management firms throughout seven states: Indiana, Illinois, Iowa, Kentucky, Michigan, Missouri and Ohio.
EA Outdoor Services has just under 100 employees who generate $4 million in snow removal, $3 million in landscape construction, $2 million in landscape maintenance, and $1 million for landscape upselling including plant replacement. EA Asphalt Services employs roughly 20 people and generates $4 million in pavement construction-related sales including mill and fill overlays, concrete flatwork, patching and new paving, and an additional $2.5 million in pavement maintenance services including striping, sealcoating and cracksealing. Both businesses focus only on commercial work, and employees from one company do not cross over to the other company except for snow removal services.
Asphalt Roots in Landscaping
But the story about the creation of EA Asphalt Services, run by Wendy Miller, president, has its roots in EA Outdoor Services. An electrical engineer for 12 years, Tony Miller decided he "really wanted to be a Dad. Not just a Dad but a Dad who was around all the time" and involved with his family. He says he distinctly recalls sitting in a parking lot looking around and telling Wendy "I need to start a landscaping company."
Its first year EA Outdoors had about 20 clients, and the contractor operated as a subcontractor when larger landscape companies subcontracted work they couldn't perform. By 2004 EA Outdoor Services had moved into doing plant installation on between 1100 and 1300 track homes a year. Then the economy took a hit and the Millers refocused their efforts on the commercial industry "and that took us away from new homes."
"I love the outdoors and I have a passion for green," Miller says. "I knew very little but had a good mentor and we just grew."
Miller says the big break came in 2008 when a property owner that hired them to handle all Indiana locations called and asked them to take on landscaping and snow removal for all of its locations in the six surrounding states plus Wisconsin. Miller said "Yes" (except for Wisconsin). Miller says that expansion did more than require them to amp up their landscape maintenance operation. "It also enabled us to get more involved with installation as we upgraded (plantings) and sold them additional plantings and replaced trees and bushes that had been damaged by ice and snow," Miller says.
So the company that started with two employees in 2002 jumped to 17 in 2004, then 40 in 2007 and made a large leap to 70 in 2008 and then grew gradually since then to about 100 today.
Adding Asphalt Services
Through 2009 EA Outdoors was a landscape-and-snow-removal-only company that subcontracted any pavement repairs needed as a result of damage caused by snow removal. "We just referred that work to a contractor that did pavement repairs," Miller says. "We didn't get a percentage or anything, we just made the referrals to help the client."
As it turned out their timing was perfect as a local paving contractor had gone out of business and was selling its equipment.  
"We saw an opportunity to expand services to our current customers and to bring customers we don't have into the company," Miller says. "We decided we could use the diversity of services to bring paving customers to the landscape side and bring landscape customers to the asphalt side."
He says many landscape customers – he estimates 60% -- asked the company at one time or another about performing pavement maintenance work. "They said 'If you did this type of work we could use you; we would certainly look at your numbers. We were providing a good service for them and they wanted more," Miller says. "We really just were growing because of customer input."
So EA Outdoors bought paving equipment from a company that went out of business and in 2011 established EA Asphalt Services. "From an equipment standpoint it enabled us to suddenly have a base of equipment to get us started," Miller says. "Then we needed someone to run the asphalt operations," Miller says.
And luck was with them there too as the person they subcontracted the work to, Steve Metz, was ready to make a change. So they hired Metz, who is now director of EA Asphalt Services' asphalt operations, "because we knew him and had worked with him."
Miller says the initial growth was a challenge. He says the acquisition of a paving company and the larger equipment forced EA Outdoor Services to add one new location. "The building we had was great for stacking mowers but not as good for storing pavers and other types of pavement maintenance equipment," Miller says.  
Two Cohesive Industries
Wendy Miller, president of EA Asphalt Services, worked with EA Outdoors from the beginning doing bookkeeping from the desk in the Miller's bedroom. Today she handles everything to do with EA Asphalt Services and EA Trucking but is no longer involved in the day-to-day operations of EA Outdoors.
She says there was a steep learning curve and she, like other senior staff and management, immersed herself in learning the paving and pavement maintenance industry. "I really only had to learn about asphalt," she says. "Business is business."
Wendy Miller says there are a lot of similarities between the two industries, which made it easier to diversify from landscape into pavement. "Both industries run crews, both schedule work, both are trying to complete X number of jobs in a designated time, both seasons are similar," she says. And both work closely with property manager or general contractors to get the bid and get the work done.
"There are fewer jobs in asphalt and bigger dollars in asphalt and bigger dollars per job. In landscape maintenance you have to cut a lot of grass to make big money but in asphalt there can be a lot of money in each job," she says. "Asphalt jobs are similar in this way to large landscape install jobs."
Tony Miller adds that the two industries complement each other from an environmental standpoint as well.
"One of the biggest things for us is how cohesive they are and how green paving really is," he says. "That's important for landscapers coming from the green to the black side."
"On the green side we're always planting and maintaining living things, and we reuse plants in the mulch and we do all sorts of things relating to a green environment. When you think of asphalt you think of smelly and hot and every stereotype you can think of – and a lot of that is true," Miller says. "But what a lot of people don't realize is asphalt is really a very "green" product too. It's one of the most recycled materials there is and a lot of people don't realize that. There's a lot of recycled product that goes back down into people's projects and we really like that. We like that because we're in the green industry and that is important to us and to our customers."
Cross-promotion grows both
Tony Miller says that the two EA companies make a strong effort to cross-promote services. He estimates that 30% of the existing customer base of EA Asphalt came from the landscaping side, meaning 70% of the asphalt customers are new that EA Asphalt Services has created on its own. "Those are customers the company will work to push toward landscaping." He said asphalt-to-landscape figures are slightly smaller, probably 25%.
"One of our goals for 2014 is to increase the number of customers from EA Outdoor to EA Asphalt Services and Asphalt to Outdoor," he says. "We want to provide a total EA experience for all our customers. What we're working on now is how do we do that?"
"We're trying to look at it strategically," Miller says. "How can we show them that price is price but service is a different aspect of it? We are focusing on making it clear how working with one company to solve all your outdoor needs makes life easier for them. We want to make it clear to them that we can pretty much can take ownership of a customer's entire property and show them how we can take care of all their needs versus going to a different vendor for each need."
And while business and growth are solid now, it wasn't always that way. Despite the fact that many customers asked EA Outdoor Services to provide pavement maintenance services, once EA Asphalt opened its doors it fell to Metz to communicate their expertise to prospects.
"It was really a communication thing and that became Steve's responsibility," Miller says. "Absolutely had a problem. He had to convince customers that we could do what their current asphalt guy could do. We got a few small jobs from some clients and showed them we do quality work on the asphalt side just like we do quality work on the landscape side and that opened the door."
Miller says it worked the same way on the green side. "But we think we've been pretty successful on communicating that message. Spend a few minutes talking with our guys and you know they know asphalt or landscaping. It's pretty obvious they know what they're talking about. It's an easier sell when you have good people."
Miller says that the sales people work for one EA company only "but they can talk the language of both companies." If a project comes up that could use both Asphalt and Outdoor services the salespeople do their takeoffs separately "because that's where their skills are" and then takeoffs are combined by the sales rep who has the relationship into the final bid. "If it's a landscape job then landscape takes the lead and the asphalt guy is backup, and vice versa," Miller says.
"Whatever needs the client has, that's what we go in with that first. But we also let them know that, 'By the way, did you know we do this and this and this as well and maybe we can help you there'," she says. "More and more the more business you can do with one company the less likely they are to go somewhere else. You deal with the kind of people we deal with – property owners and managers who are very busy -- and they would rather call one person to take care of their needs.  We want EA to be that person.
Wendy Miller says it just makes sense to sell and self-perform both services because "we're out there anyway and we can see issues and address them for the client," she says. "If we're doing regular maintenance we can inform the client of things going on and we can cross sell to them to take care of whatever the problem is. We can save them time and that saves them money and that makes us that more valuable to them."
"It's a team effort," Tony says. "We're all in the same sandbox so we can all play with each other's toys. And they all learn from each other. There's no formal cross-training because we don't share employees from one company to another but we encourage them to pick up what they can pick up and they have."
Wendy says the move into the pavement industry made sense and is working.
"We were willing to go out on a limb and give it a shot," she says. "But I don't think it felt as risky as what it probably was. I think sometimes if you have a goal and you're moving in a direction to meet that goal then that's what you do, and that's what we did. There were risks, sure, but I didn't see this as any riskier than any other business decision or move we make. We just don't view things that way. It never occurred to me that this might not work and it still doesn't. I know it's going to work."
"At the end of the day we're just trying to take care of our family and of the families of the people who work in our companies," Wendy Miller says. "It's exciting, it's fun and it's enjoyable."