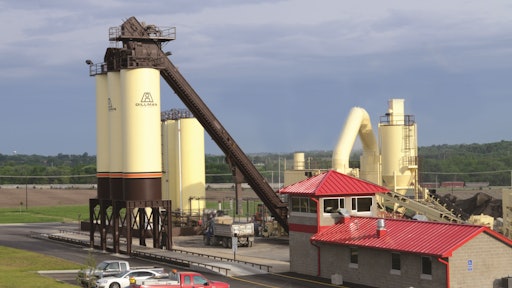 When a company starts to grow, they are going to need their facilities to grow with them. Such is the case of LL Pelling Asphalt Paving out of Iowa. The company's newest plant, located on 60th Ave in Cedar Rapids, broke ground in 2012 and opened for business in 2013. The biggest change to the 35-acre facility is that it is now both reclaimined asphalt pavement (RAP) and recycled asphalt shingle (RAS) capable.
"We were very limited with our old Cedar Rapids plant in both size and recycling capabilities, says Carrie Herrera, marketing representative at LL Pelling. "The new plant afforded us an upgrade in technology, improved sustainable practices and increased production efficiencies."
Plant 17 is an Astec Double drum plant with three 200-ton storage silo's, eight cold feed bins, three recycle bins and is capable of running 400 tph. The 35-acre location is conveniently located next to a rock quarry and is able to store three – 30,000-gallon vertical tanks of asphalt cement with a burner capable of burning both waste oil and natural gas.
New plant, new services
In January 2012, LL Pelling announced that they purchased the shingle recycling assets from R.A.S. (EIC). The local roofing contractor was going out of business and LL Pelling heard opportunity knocking.
"We had purchased ground shingles from them before, so it was just a natural fit for us to acquire their grinding operations," says Herrera. "They also had existing contracts with two solid waste agencies, so that helped in the decision."
Since they were ultimately the end user of the ground shingles, this would help LL Pelling to reduce costs without jeopardizing the quality of their mixes. Through the grinding/refining process and quality control, LL Pelling is able to decrease the amount of virgin asphalt in their mixes. Typically, gate fees for recycling are less than typical landfill fees and Herrera says roofing customers like the idea of recycling.
Implementation of the RAS system consisted of setting up shop at both the Cedar Rapids/Linn County and Dubuque landfill locations. "We have an employee onsite at each location to verify and approve incoming loads of asphalt shingles," says Herrera. "It's a win-win situation for both the roofing contractors and the environment. Contractors receive a savings in disposal costs by recycling while shingles are diverted from the landfill and recycled.  Our partnership with the two solid waste agencies has been exceptional."
LL Pelling has increased efforts to promote shingle recycling by giving out free yard signs and bumper stickers to contractors who recycle at one of the two sites and Herrera says these have been well received. "The press we received from Plant 17's open house gave us another opportunity to promote our recycling division," she adds. "The result has been an increase in phone traffic from the general public interested in recycling their roofs."
Efficiency is key
Herrera says that efficiencies can be found everywhere with the new plant, both in location (close to natural resources) and also in plant operation. "We now have a much larger stock pile area," Herrera adds. "We're able to produce at higher rates (more tons per hour) than before. We can now recycle more quantities of RAP and RAS; the old 1972 plant had its limitations."
Also this plant is more energy efficient in both electricity and fuel for production as well as lower emissions.  Another benefit is in the new warm mix capability which allows us to produce asphalt at lower temperatures thus helping to reduce emissions and improve worker conditions.
On the quality control side, the plant has invested in a satellite laboratory.  The new laboratory, located on the ground floor of the control tower, allows for onsite testing and replaces what would have been a mobile trailer.  The satellite laboratory also provides enough space for the adjoining quarry to perform their aggregate testing.
"The lab replaces what we had (would have been a trailer) and doubles as a testing lab for the adjoining quarry to do there aggregate testing," says Herrera. "It also includes is a storage area for plant tools and such.  There isn't any new cutting edge technology it's just more of a convenience for our lab technicians to perform testing onsite.  Most onsite laboratories are housed in a mobile trailer so investing in the permanent satellite laboratory is just nicer."
They also installed a state-of-the-art computer system that is the most current system developed by Astec, Inc.  Total Control II (TCII) allows the plant operator to control all facility operations with the click of a mouse.  It's much more user friendly and can print and store more data.  Herrera says the new system is also easier to repair and troubleshoot with Astec, Inc. able to service it remotely from their headquarters in Chatanooga, TN
LL Pelling also installed Astec's Double Barrel Green System for making warm mix asphalt (WMA). According to Astec, this technology allows producers to reduce fuel consumption, increase production, eliminate smoke and smell, and use a higher percentage of recycle by producing mix at a lower temperature. The Double Barrel Green System is a major breakthrough in warm mix asphalt technology because it does not require the addition of expensive commercial additives. Instead, water is injected into the mix along with the liquid asphalt cement. The injection of water causes the liquid asphalt to foam and expand in volume. The foaming action helps the liquid asphalt coat the aggregate at a lower temperature.
"There's always bugs and adjustments when starting new equipment," Herrera finishes, "but we were pretty fortunate to not have too many.  From breaking ground to completion we have had very few obstacles to overcome."
The old location will remain a staging area for the LL Pelling local asphalt crews and the main office will continue to be the headquarters for their line striping division. The old plant will eventually be dismantled and sold.