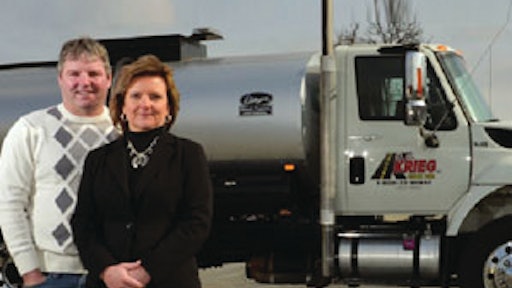 In an industry troubled with fly by night contractors, lack of funding, increased regulation and businesses closing doors due to bid wars, it's reassuring to feature a company that's celebrating 80 years of success. As Carolyn Stacks, president of Daniel B. Kreig will tell you, business is stronger than ever, even after all these years.
Daniel B. Krieg started his business shortly after the Great Depression, when he saw an opportunity to provide local government agencies and businesses with pavement maintenance services.  In 1933, he began selling 55 gallon drums of asphalt with one drum heater. In a short time, he began oil and chipping roads throughout Central Pennsylvania. 80 years later, his asphalt company remains family-owned. The company is now run by a fourth generation, a feat that less than 5% of family businesses attain.  80 years later, Daniel B Krieg Inc. continues to be a leader in the application of liquid asphalt emulsions, cements and sealers in central Pennsylvania.
Time tested, customer approved
"Being in business for 80 years is what sets us apart from our competition," says Stacks. "It shows prospective customers that we are an experienced leader in the industry and that we can be trusted."
Simply being trusted in business doesn't mean Daniel B. Kreig has had it easy. "We still are constantly challenged by our competitors," says Stacks. "We respond by investing in state of the art equipment, superior service and marketing efforts that remind both existing and new customers of the quality they receive from our products and services."  
Stacks knows that being in the business this long has its own credibility, but they have also embraced marketing methods of the future. "The most effective marketing/advertising we have had throughout the years has been word-of-mouth referrals," says Stacks.
In addition to mass mailings of flyers and brochures to targeted industry clients, the company also focuses heavily on their online presence. This includes a newly renovated website and e-commerce store, which ships nationwide and sells a variety of goods including traffic safety products, personal protection equipment, pavement marking products, signs, posts, geotextiles, corrugated pipe, sealers, crack fillers, and traffic paint.  Daniel B. Krieg also invests heavily in search engine optimization (SEO) and marketing (SEM) efforts. Stacks explains these services include monthly reports that show us how we can adjust our website keywords to draw new customers in through internet search engines like Google.
Continuing to grow
The company primarily performs work in the state of Pennsylvania, but has served all of the surrounding Mid-Atlantic states.  "We specialize in application of tack, prime, dust oils, sealers and rejuvenators," says Stacks.  "We  have designed specialized equipment to seal paving seams in a moving pattern, resulting in a uniform width seal that gives the finished pavement a clean appearance".  They are currently designing equipment to do the same with rubberized joint sealer, as the PA Turnpike is replacing asphalt cement seam sealing with rubberized material.  
"We are excited that Pennsylvania has passed transportation funding and look forward to further growth as the state fulfills its obligation to give our citizens safe and maintained roads," she adds.
While contract services are a large percentage of Daniel B. Krieg's annual revenue, they also have a robust retail division.  "We maintain over 100,000 gallons of storage capacity for 10 different liquid bituminous products," says Stacks. "Our products are available to both large and small contractors, governmental bodies and the individual homeowner."
Later this year, Daniel B. Krieg will move their York, PA office into a larger facility to accommodate the growth they have seen. The new location offers expanded warehouse space that will allow the company to have all products readily available.
"None of this would be possible without one main ingredient- our employees.  Some have been with us for over 25 years," says Stacks. "We value them all and their knowledge and experience keep us ahead of the competition."  
Stacks also adds that being available to their customers this way, 24 hours a day, seven days a week, gives them a huge advantage over the competition.