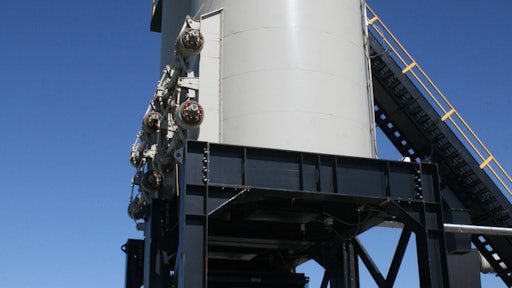 Based in the picturesque city of St. John's, Newfoundland, Modern Paving is a mid-sized construction firm. Established as a small paving contractor in the '70s, the company has grown consistently over the years to become the full-service heavy civil contractor it is today.
Although ownership has changed over the years, the company has maintained its drive and reputation for quality work. It is currently one of the more prominent players on "The Rock" (Newfoundland's nickname), providing services ranging from road building and paving, to marine and bridge construction, to mass earthwork and more. According to Brad Piercey, one of the company owners (along with Rick Stead, Max Bennett and Perry Barrett), asphalt is still one of the centerpieces of the operation, despite offering a breadth of services.
"Work on the island has been reasonably steady, even through the times when the rest of the world's economies seemed to be going crazy," Piercey says. "We have a decent amount of oil and gas interest here — as well as spinoffs from those industries — which has kept development pretty strong and kept us busy."
Adding capacity
Modern Paving mainly specializes in driveways, parking lots, municipal roads and subdivisions. It also supplies asphalt to a number of small area paving contractors involved with similar work. "Add up all of those small to medium sized jobs — projects needing anywhere from 100 tons to 1,000 tons of asphalt — and it's easy to see how important a steady supply of asphalt is to us," Piercey says.
Until recently, Modern Paving relied upon a 4,000-pound batch plant that, according to Piercey, had reached the end of its useful life. Additionally, a steady uptick in business volume required higher capacity that only a continuous mix plant could adequately provide. "We knew that a new plant would give us the ability to better serve our clients. At times with our batch plant, customers would have to wait considerable amounts of time before getting loaded up. This, we felt, could eliminate that altogether," he says.
After reviewing bids and meeting with representatives from various plant manufacturers, Modern Paving selected Asphalt Drum Mixers as its supplier, and it placed an order for an EX170 plant. To provide the additional production needed, the new plant at Modern Paving's Mount Pearl location (also the site of its aggregate crushing spread) features a pair of 100-ton silos and four cold feed bins to accommodate 1/8-minus sand, 1/4-inch minus, and 1/4- to 1/2-inch stone.
In addition to the features mentioned above, the EX170 offers a single drum counterflow design, which not only keeps cost per ton down, but it also provides some of the longest aggregate drying and mixing times in the industry. That same focus on counterflow design utilizes separate drying and mixing zones to maximize heat transfer and fuel efficiency. Doing so also virtually eliminates unsafe hydrocarbon emissions, a common problem with many drum mixing plants. To further minimize the plant's environmental impact, the residual gases are reintroduced back to the drum's combustion zone. Though the company is not currently producing any reclaimed asphalt product (RAP), Modern Paving's configuration will allow it at any point.
"We are running strictly a base and a surface mix at this time," says Piercey. "But, from the standpoint of both the equipment and the software used to control it, the new plant is RAP ready, so we might be doing it at some point in the near future. There are already a lot of producers generating RAP in Ontario as well as several places in the Canadian Maritimes. At this point, it's not mandated, but asphalt plants can use up to 20 percent RAP in their base mix. So if things work out right and there's a demand for it, we might be inclined to follow their lead. It's nice to know we're ready for that."
While Newfoundland's geologic make-up earned it its nickname "The Rock," that same composition ensures that asphalt producers like Modern Paving have a seemingly limitless supply of aggregate material for their asphalt product. The same can't be said, however, for any of the petroleum-based products which must still be shipped in, adding to the overall cost of doing business in Newfoundland.
"Other than that, we don't have any real challenges being situated where we are," said Piercey. "In fact, being a bit remote actually plays well to the design of the new plant. This new plant can be operated by a single person and maintained by our own people here onsite. Since we went online, it has given us consistent, reliable product all day, every day — that's exactly what we were looking for."