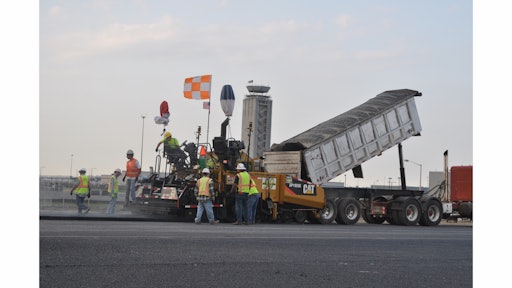 As the busiest airport in the United States, handling over 2,500 flights a day, Chicago's O'Hare International Airport needs to stay on top of its game. That means updating runaways and expanding as demand continues to increase.
As a part of the O'Hare Modernization Program (OMP), new infrastructure, including Runway 10R-28L and Taxiways Kilo & Lima, began construction this summer. Asphalt paving on Runway 10R-28L began in early June 2014 with the overall paving component expected to be completed in September 2015. Asphalt paving on Taxiways Kilo & Lima began mid-August 2014, with overall bituminous paving also expected to be completed in the Spring of 2015.
"The OMP is an estimated $8 billion project that is reconfiguring O'Hare's outdated intersecting runway system into a parallel runway layout," says Jon Leach, chief operating officer for the Chicago Department of Aviation (CDA).
The OMP is intended to increase capacity and reduce delays at O'Hare, as well as the National Airspace System. When complete, O'Hare will have eight runways, six will be east-west parallel runways and two will be diagonal crosswind runways.
"Construction on the OMP began in 2005. Two runways, a runway extension and an air traffic control tower have already been built," Leach says. "The remaining projects include Runway 10R-28L (under construction), another air traffic control tower (under construction), a new runway on the north airfield and a runway extension. The anticipated completion date for the full OMP is 2020."
Gaining approval for RAS
With this large of a project, the city began looking for ways to save money. During the pouring of under-pavement layers, O'Hare became the first U.S. airport to use recycled asphalt shingles (RAS) in runway construction, according to the FAA. RAS is discarded material that in the past would have ended up in landfills, even though old asphalt shingles contain a valuable commodity — oil.
"The use of RAS has both environmental and financial benefits," Leach says. "By using recycled materials instead of virgin materials, the contractor is able to save money when producing the asphalt. The ability to re-use asphalt shingles instead of sending them to a landfill is more environmentally friendly than producing all new materials.
"While increasingly common for building roadways, the use of RAS within airfield pavement is new territory for the aviation industry," Leach adds. "This sustainable initiative builds on O'Hare's previous accomplishment in 2011 to be one of the first airports to use warm-mix versus traditional hot-mix asphalt for airfield pavements." 
So the city, working with consultants and researchers at the University of Illinois (U of I), began experimenting with recycled roofing shingles in 2012. In order to use RAS for runway construction, the CDA first had to receive approval from the Federal Aviation Administration (FAA) through a process which is called a Modification to Standard.  
"The University of Illinois at Champaign-Urbana has been, and continues to be, instrumental in performance testing on the actual binder and grade testing of the RAS," Leach says. "In order to obtain our Modification to Standard, it was necessary to provide the FAA with information and data supporting the benefits of both the RAS and warm-mix asphalt paving technologies. Mix designs were created by the CDA's consultants and tested using local materials and tested by both the U of I, and our nationally accredited in-house testing laboratory.
"The CDA's RAS Modification to Standard was submitted and approved by the FAA in September of 2012. Receiving FAA approval for the Modification to Standard is the result of the CDA's vigorous testing and assurances to the FAA, as well as the department's strong commitment to aggressively incorporate sustainability initiatives on the OMP."
Once satisfied that the resulting mixture of recycled and new products met the strength and durability standards necessary to handle aircraft operations, the city sought and received FAA approval to modify the existing runway-construction standards in late 2012.
"We estimate a cost savings of approximately $665,000 by using RAS in asphalt paving for Runway 10R-28L and Taxiways Kilo & Lima project," Leach says. "Our estimate is based on the cost savings for the use of RAS to be approximately $1.65 per ton."
RAS improves base strength
The two asphalt under-layers on the new O'Hare runway contain up to three percent oil, sand and fibers that were reclaimed from old asphalt shingles stripped off residential roofs in the Chicago area, officials said. The top layer is standard issue, a mixture called Portland cement concrete runway pavement.
In preparation for their new life, the old shingles are shredded to the consistency of coarsely ground coffee, then combined with virgin products to make a fresh asphalt mix. Roughly 9,500 tons of material repurposed from RAS went into the base of the 7,500-foot runway.
"The Asphalt Treated Permeable Base (ATPB) is the drainage layer," says Michelle Beecher, Project Manager, Quality Assurance Materials Testing for the CDA. "It is between the pavement structure and the lime stabilized sub-base. It consists of high quality crushed coarse aggregate and a small amount of asphalt binder. With the introduction of RAS, we increased the stability, without affecting its primary function as a drainage layer."

Beecher said about two to three percent of the overall asphalt mixture is comprised of RAS.
The binder course was a dense graded asphalt mix design that follows the guidelines of the Illinois Department of Transportation parameters with the exception that the CDA monitors the Asphalt Binder Replacement (ABR) values.
Plote Construction utilized a Caterpillar AP1055 Paver with a Caterpillar CDE54 Vibratory Roller and an Ingersol Rand DB118 to complete the paving work. K-Five Construction utilized a Caterpillar D Model Paver 1055 with a Volvo DB118 138 Vibratory Roller.
"With this type of operation, the tolerances on the grade are tighter, and the schedule constraints are a driving factor," Beecher says. "However, the RAS did not cause any challenges/alterations to our normal laydown/compaction process."
The door is open
While O'Hare is the only U.S. airport to use recycled shingles so far, the concept has been a part of roadway construction for decades in other states, with the technology refined in recent years to produce a more consistent mix. In fact, in Chicago, about 90% of the pavement resurfacing projects conducted last year used some amount of recycled shingles, according to the Chicago Department of Transportation.
The FAA approval opens the door for using recycled asphalt shingles on other runways and taxiways, on blast pads where pilots conduct jet engine run-up tests and on public access and perimeter roads, including Interstate Highway 190, which hugs O'Hare.
"We are leading by example and building on over a decade of leadership for sustainable airport design and construction by using recycled asphalt shingles on the next runway component of the O'Hare Modernization Program, Runway 10R-28L" said Rosemarie S. Andolino, commissioner of the CDA. "Working with academia, other airports and the FAA, we will continue to seek new and innovative ways to incorporate initiatives that help protect the environment and cut costs for our airfield projects at O'Hare and Midway International Airports. Sustainable airfield construction will be among many topics of discussion at our seventh annual Airports Going Green conference in Chicago this November."