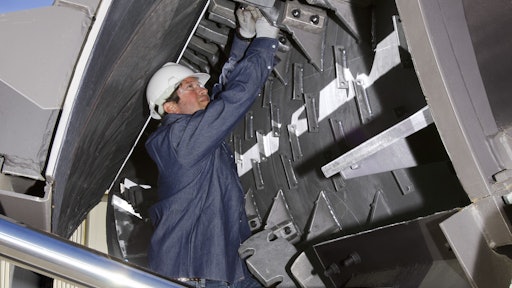 The few short months of wear and tear that is the precious paving season can be hard on your asphalt plant. Unexpected downtime during the paving season is costly not only to your plant operations, but often times for your customers as well. With the paving season drawing to a close in some areas, many companies' thoughts should be turning toward a winter repair regimen for their asphalt plants. 
Most asphalt plant personnel have a list of 'trouble spots' they've accumulated over the course of the season that they know need to be addressed in the off-season. Be sure to thoroughly things are often overlooked when they've been trouble-free. Asphalt plant manufacturers know their products and can offer insight into what you should be sure to address during plant downtime this winter. 
"Simply put, proper plant maintenance helps maximize production capacities and seasonal profit potential," says Steve Shawd with Asphalt Drum Mixers, Inc (ADM). "Furthermore, it can extend the overall service life of the plant, which again maximizes profit by keeping an established and, more importantly, paid-off plant in service and making money. A new plant is a huge capital investment. The longer one can remain in service, the better."
The Reliability Factor
For most types of industrial equipment, whether it be an asphalt plant or any other heavy industrial process, a key measure of its effectiveness is its reliability factor. In a number of companies they even have a Reliability Engineer(s) or a Reliability Manager, who plans and facilitates steps they take to achieve near 100% reliability.
"Most people define reliability as equipment being able to operate when it is needed to operate; to start up and run effectively at full production rate," says Lennie Loesch, CEO at Stansteel. "A key strategy to increase reliability is to minimize unscheduled downtime, including component breakdowns and emergency shutdowns.  For asphalt plants it is not uncommon for some plants to have only 50-60% reliable, much lower that a reasonable goal of being 90% or greater."
Another important reason to properly and routinely maintain asphalt plants are weather constraints and restrictions.  For many plants, particularly in northern climates, there are  temperature restrictions on government-funded paving projects.  In addition rain and snow can cause plant shutdown and/or paving site closure.  Such uncontrollable factors which can cause project delays contribute to the crucial need for properly operating equipment. 
Manufacturers could easily give you a laundry list of items and these maintenance lists change quite a bit based on how the plant is equipped. Most manufacturers agree the top "must service" items that are the backbone of a plant are as follows. 
Cold/RAP Feed & Conveying System
Proper belt tracking is crucial on weighbridge conveyors. This can be a major factor in producing quality Hot Mix Asphalt (HMA) that is within Job Mix Formula (JMF) specifications.
"This should be monitored daily during production," says Chris Johnson, equipment inspection nanager at Astec Inc. "A belt that is not running straight can be quickly damaged and require replacement. Not only is this a costly repair, plant downtime can adversely affect production commitments." 
Check conveyor components (i.e. troughing rollers, return rollers, and belting) for excessive wear, damage and material buildup. Tracking problems are usually more pronounced on the collecting conveyor. Mark excessive damage for repair or replacement. The belt lacing should receive an exacting examination. Worn and broken components are a liability. If in doubt, mark them for replacement. Keep in mind that a damaged or improperly tracked conveyor belt can lead to piles of aggregate which require considerable time and effort to remove by hand. 
Be sure to also examine the conveyor's bearings and drive system. If you have chain drives, examine each sprocket for 'fish eyeing', marking any abnormalities you find.
For belt drives you need to look for cracked or glazed belts, excessively worn sheaves add a loose condition which may require adjustment. 
Drum
"There are many components of an asphalt plant, each with a healthy list of suggested maintenance items," Shawd says. "But to boil it down to a list of "most important," that likely focuses attention on the "heart" of any asphalt plant, the drum."
Devine says that even within this broad category, there are a wide number of checks someone should make on individual components – on a daily, weekly, monthly, semi-annual and annual basis. However, since we're mostly discussing "off-season" maintenance items, Shawd says to focus on those suggested semi-annual and annual service checks for a plant drum/dryer."
Check drum shell thickness for wear.
Clean, check and tune the burner.
Change oil in drive reducers.
Check the baghouse to ensure bags are in good shape. Also ensure cleaning and fines-return systems are working properly.
Check trunnions for excessive wear or uneven wear, and check the bearings for excessive play.
"Both the internals and externals of the dryer/drum mixer should be monitored.," Loesch says.  "For internals, the areas which should be monitored include the flighting and the shell (mapping its thickness, particularly in higher wear areas).  Repair and replacement of these components will help minimize fuel consumption and maximize the life of the dryer shell. Specifically, the combustion flights can make a significant impact on both the fuel combustion efficiency and emissions. 
"On the external of the dryer/drum mixer, the tires and trunnions should be monitored to make sure that everything is lined up and parallel and that there is minimal wear and proper alignment.  The trunnions should be repaired or replaced if they have experienced wear beyond the hardening point or have severe metal flaking.  The tires and trunnions should be ground or polished by properly trained field crews.  Also on the external, some drum designs require massive pugmill arms and mixers on the outside of the shell.  These, of course, have to be maintained on a systematic basis, including digging out by jackhammering and cleaning.  All mixing areas, whether it is a pug mill on a batch plant or by other mixers, need to be inspected, wear-checked, repaired and restored to proper condition."
Scalping Screen Systems
Scalping screens are vital in removing (rejecting) oversized aggregate for both batch and continuous mix asphalt plants. "Ingredient quality and condition is very important to the final HMA being produced," Johnson says. "What goes through the plant determines the final product."
Start with an external inspection. Look for missing parts, such as lid hold-downs, and for signs of dust leaks. Look at the skirting seals under the units. Are they there or long gone? Examine the top covers. Are they worn out where they rest on the frame or other lids? All these conditions should be addressed. Check to see that the screens move freely. If they don't, look for a buildup of aggregate under the drive end. Check the size of the material. If it's a useable size that normally goes into a hot bin the accumulation could point to leaks in the oversize discharge, exacerbated by screen flooding and carry-over.
Remove all the lids and side covers. It's a good idea to take a hose and clean the accumulated fines off the screen frames and springs to makes it easier to find damaged and cracked components. Caution: Remember to open all the gates below and provide a way for the water to escape from under the plant. Once the unit is clean you should inspect it for broken springs and cracks in the framework.
Closely inspect each screen cloth. Look for excessive wear and broken wire. Check the screen trays. Are they all tight? Is the screen cloth secure? It's good insurance to stock a complete change of screens. When stored in a custom built rack on the screen deck, they are ready for installation with a minimum of fuss. Don't forget to keep a supply of the appropriate bolts handy.
Examine the screen drive and eccentric. Follow the manufacturer's recommendations as to periodic maintenance. In general, you should look for damaged components, worn sheaves or belts and broken motor mounts. 
Batcher/Silo Systems
The batcher and silo systems are two of the most important pieces of equipment on an AC plant when it comes to battling mix segregation and safely storing your mix.
"The silo cone should be thickness-mapped on an annual basis, at a minimum, and perhaps more depending on the amount of tonnage," Loesch says. "Thickness gauge readings should be taken all along the length and circumference of the cone section and up the silo sidewalls, depending on how the silo is operated, how much it is filled and  pulled down below the cone level on a daily basis.  This measurement and mapping should be done for each silo on a routine basis to closely monitor how much wear has occurred." 
Often, when a batcher unit has problems, its gates are chained open to ensure the job moves forward. HMA quality suffers, but the price of a shut-down for repairs to the batcher are deemed excessive and as long as the mix is accepted. With a little foresight, this whole scenario can be avoided. 
Inspect the batcher's sides and cone for thin spots. Mark for any plating that may be required. Look closely at the gates and their pivots. Are they loose? Do they need to be greased? Mark for repairs any abnormalities you find.
Examine the air actuation system. Failures here are the primary cause of batcher problems. Check the air cylinder(s) for excessive wear. Substandard air hoses should be slated for replacement.
The same inspection protocol is used for the storage silos as for the batchers. Check the structural thickness, especially in the cone area. Mark any thin areas for repair or replacement. "Most manufactures offer onsite density inspections to determine wall thickness," says Johnson.
The gate and all its actuating controls should be examined. Check the pivot pins by prying the gates around with a bar. Schedule repairs for any found lacking. Check the operation of the silo's high and low level warning alarms. 
Dryer/Mixer System
"Whole articles could be written on the subject of dryer/mixer maintenance," says Daniel Francisco, director of service at Astec Inc."  Dryer flighting and mixer tip condition is imperative for adequate aggregate moisture removal and thorough HMA blending.
Conditioning, showering and combustion flights need to be inspected for wear or damage. Replace or repair as needed. Inspect each and every flight and mixing tip for the following problems:
Excessive wear
Heat curling
Impact bending
Cracking or absence
Mark for replacement any flight that exhibits these problems. Obviously, any that are cracked can be welded, and those that are worn or missing must be replaced. Mixing tip wear needs to be evaluated periodically or when blending quality of the asphalt mix appears inadequate. These mixing tips are reversible to allow increased service life. Drum buildup removal should be performed in conjunction with rotating mixing tips (paddles). 
Combustion Systems
The main burner and hot oil heaters make up your combustion system. "Burner maintenance/cleaning and periodic tuning are important to utilize every (BTU) the fuel has available," Johnson says. "Test, evaluate and tune your burner as needed to optimize performance. Having a properly running burner can also help to stay within State and Federal EPA guidelines."
Examine all fuel and propane lines. Schedule for replacement any that raise a question in your mind. Also look at the propane bottle for signs of leakage or damage. Check the fuel pump and drive mechanism. Mark any frayed belts, worn couplers or leaking seals. Schedule the fuel filters for replacement, regardless of how long they've been in place.
Check the piping and valving from the supply tank. Now is a good time to verify that shut-offs do, in fact, work. Don't take them for granted, it may come back to haunt you. Also take a minute and inspect the tank's filling apparatus. Note any leaks or unsafe conditions.
"The maintenance on these burners will depend on your fuel type," Francisco says. "If you are burning a fuel oil or gas, you will want to inspect and clean the fuel delivery system. This would also be the time for an inspection and cleaning of the pilot assembly and burner nozzles. If equipped with electric heat for your hot oil, you will need to confirm your electrical connections and controllers are working properly." 
Hardworking Plant, Hardworking People
"A well maintained HMA Plant that reliably functions properly from day-to-day has a definite positive impact on personnel morale," Johnson says. "Without the constant worry of unexpected breakdowns, contractor employees can concentrate on their primary duties and responsibilities."
"Well maintained plants can make a huge difference to a company's bottom line," Loesch says. "There are a number of plants, even after running for hundreds of thousands of tons a year, which report almost no unscheduled downtime.  This gives the entire company the confidence to bid and perform work while gaining in reputation as being a quality and reliable supplier."
Keep in mind, maintenance of any asphalt plant is an ongoing effort. "I do not recommend tunnel vision by limiting or labeling these as the most important items," Francisco says. "Neglected or sub-par maintenance on any plant components can lead to numerous and costly repairs."
Proper plant maintenance can be instrumental to the performance of your plant next season, but  it's also important that you hire experienced plant personnel that are trained to spot warning signs for potential problems in plant components during the production season. Faulty parts on a plant can be costly if not addressed when first seen and can lead to troubles that are difficult to repair, even in the off season. 
Remember, all maintenance actions should be performed in accordance with the manufacturer recommended procedures and intervals. Follow all OSHA Lockout/Tagout and confined space requirements prior to beginning any inspection or service on your plant.
"These clean and well-maintained plants are achieved by very dedicated and hard-working plant personnel," Francisco says. "Along with this comes a boost of morale and pride in a job well done." 
"Without proper maintenance, daily costs of running the plant start to rise, which incrementally lowers profit potential," Shawd says. "Inefficiencies start to mount to the point that the plant is not keeping up with production needs. Breakdowns start to become more frequent, which further hinders an asphalt contractor's ability to keep up with production. Eventually the plant needs to be overhauled or replaced prematurely, resulting in huge unnecessary expenses that could likely have been avoided."
Additional information provided by C.M. Consulting.