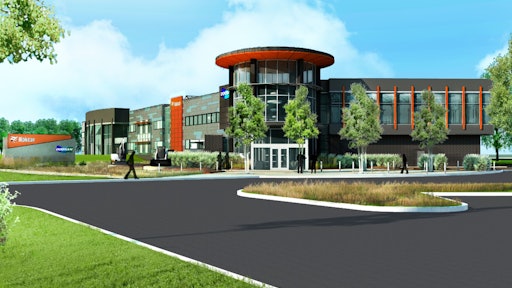 Bobcat Company, Doosan Break Ground on HQ Expansion
Bobcat Company and parent organization Doosan have broken ground on a $9.5 million company headquarters expansion in West Fargo, ND. Company officials said the expansion to the existing facility will help accommodate growth, drive innovation and improve operations.
"This is an exciting time at Bobcat Company and Doosan, as we continue to grow in North Dakota," said Rich Goldsbury, president of Bobcat Company and Doosan North America. "This investment is about maintaining our leadership position in the compact equipment industry, driving more heavy equipment business growth, and creating an environment where innovation and forward thinking will generate the next best ideas."
The current headquarters — built in 2000 — houses individuals within several departments of business administration, as well as product development and marketing communications for Bobcat Company and Doosan, a heavy equipment brand. The expansion will double square footage and employee capacity, and Bobcat and Doosan will pursue LEED certification for the facility in both design and construction.
Last year, Bobcat and Doosan opened the Acceleration Center in Bismarck, ND, a facility focused on engineering, R&D, training and product testing. Other North Dakota Bobcat and Doosan facilities have undergone renovations over the last two years.
The expansion also fits with Bobcat Company's commitment to fields related to STEM (science, technology, engineering and math), which has been a major initiative for Bobcat and Doosan, the state of North Dakota and the region.
"We plan to create an environment that helps us attract and retain talented team members focused on helping to move our company forward," Goldsbury said. "The building will offer state-of-the art facilities for collaboration and independent working, similar to what we've done at the Acceleration Center in Bismarck." The $28 million Acceleration Center project last year involved expansion of an existing building in Bismarck to include office and lab space, classrooms and demonstration areas, and both indoor and outdoor machine operating areas.
The expansion is slated for completion in late summer 2016.
United Rotary Acquires Three B Brush Road, Gutter Broom Assets
United Rotary Brush, Lenexa, KS, announced in September it had acquired the road and gutter broom assets from Hurley Brush Company Inc., d/b/a Three B Brush Corp., a family-owned business in Lubbock, TX.  Three B Brush manufactures aftermarket street sweeping brooms in the Southwest.
The acquisition follows United Rotary Brush's 2010 purchase of American Rotary Broom and last year's acquisition of West Coast Equipment, Glendale, AZ.
Asaf Salama, president of United Rotary Brush, said Three B Brush Corp. has built a strong regional business in the aftermarket sweeping broom market.  United Rotary Brush is excited about the acquisition and looks forward to working with and supporting Three B Brush's customers.  
United Rotary Brush Corp. manufactures rotary brooms for street sweeping, road maintenance, facilities management and airport runway maintenance at seven locations throughout the United States and Canada.
[Please set as headline, photo and caption]
Mastry provides Yanmar Tier 4 for Schwarze Storm Sweeper
When Schwarze Industries, Huntsville, AL, was ready to switch to Tier 4 engines for its A4 Storm regenerative air street sweeper, it selected Yanmar engines supplied by Mastry Engine Center, St. Petersburg, FL. "Every salesman we went to told us we'd have to redesign our truck to fit their engine," said Brian Giles, Schwarze Industries product manager. "Mastry was the only one to work around us. They took the Storm and sent us a complete, turnkey package. That really set them apart." Built for a variety of municipal and contractor sweeping applications, the A4 Storm is a heavy-duty, chassis-mounted, regenerative air street sweeper with a 4.5-cu.-yd. hopper. It features a hydraulic system designed to ensure clean, fresh fittings. Giles said Mastry and Yanmar operate a service center nearly every 30 miles in our territory. "They offered us the right product for the right application. Their ability and willingness to tailor their products for our A4 Storm made such a difference," Giles said.
Industry Appointments
New territory managers at Bonsal American GemSeal are: Heath Carew serving Michigan, Ohio, and Ontario; Job Davis handling sales in New England, New York and Montreal; Doug Gensler covering New Jersey and Pennsylvania; Robert Knarr serving Florida; Ken McBride handling accounts in the Dallas and Memphis markets and selling in Oklahoma, Kansas, Missouri, Arkansas, and Tennessee; and Mike Wiemann sells in Georgia, South Carolina, Tennessee and Alabama. Also at GemSeal, Anthony "Tony" Fargnoli is national sales director for the GemPatch product line and Natasha Albuquerque is project chemist in Tampa.
At Superior Industries, Morris, MN, Patrice Briand as territory sales manager throughout Eastern Canada… Brian Rice is chief financial officer at Dexter + Chaney, Seattle, WA, succeeding John Ulacia, who retired after 20 years with the company.
Geomembrane Installation Guidelines Available
The International Association of Geosynthetic Installers (IAGI) has made available current guidelines for installing geomembranes.
The three guidelines, developed by IAGI along with The Fabricated  Geomembrane Institute (FGI), are designed to provide a minimum set of standards for site installation and can be found at www.iagi.org.
The Guideline for Installation of Factory Fabricated Lightweight < 0.64 mm (25 mil) Thickness Geomembranes is an installation guideline for factory fabricated fabric-supported lightweight geomembranes (< 0.64mm or < 25 mil in thickness as measured by ASTM D5199, D751 or D1777).
The Guideline for Installation of Factory Fabricated Heavyweight > 0.64 mm (25 mil) Thickness Geomembranes is an installation guideline for factory fabricated fabric-supported heavyweight geomembranes (> 0.64 mm or > 25 mil in thickness as measured by ASTM D5199, D751 or D1777.)
Guideline for Installation of Factory Fabricated Compounded  0.25 to 1.52 mm (10 - 60 mil) Thickness Unsupported Geomembranes is an installation guideline for factory fabricated compounded unsupported geomembranes of 0.25 to 1.52 mm (10 - 60 mil) thickness. The geomembranes covered in this guideline include the following polymers: Chlorosulfonated Polyethylene (CPSE); Polyvinyl Chloride (PVC) and alloys of PVC with other polymers; alloys with Ethylene Interpolymer Alloy (EIA); alloys with nitrile or other types of rubber; blends and alloys with other compatible polymers; Ethylene Propylene Diene Monomer (EPDM).