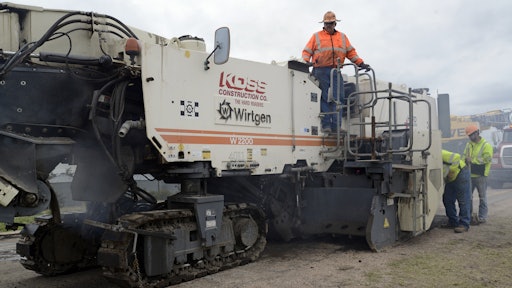 A  milling machine with over 15,000 hours is still grinding pavements across the fruited plain, and the men who manage it are determined to keep it going.
The W 2200 from Wirtgen America is special for another reason: This W 2200 – serial number 0821100181340039 – is the first Wirtgen mill in the United States with a 12-ft. 6-in. standard drum. The mill operates 10 to 12 hours every work day, and its long-time performance is emblematic of the quality that Wirtgen builds into its machines, but also of the care that the owner and crew provide for it.
Now, instead of it becoming a museum piece – in late spring at 15,136 hours and counting – the owner of Koss Construction Co., Topeka, KS, is determined to keep its historic W 2200 going via a rigorous maintenance program that sees servicing at standard intervals.
Historically high hours
The W 2200 hit 15,136 hours in mid-May. That number represents nearly two years of nonstop work day and night without pause. The gear box is original, and is serviced every 500 hours. The mill itself is serviced every 200 hours. Koss has installed two clutch assemblies, the first at 5,000 hours, and the second at 10,000 hours. Two drive couplers have been replaced.
And the cutter drum with Type III holders was upgraded to the HT-11 holder system last year. Koss replaces cutting tool holders about every two years. Three years ago the leveling system was upgraded by Wirtgen America to a current Level Pro system.
Moreover, all the seals and bearings in the sheaves, and all track drives have been replaced. Track assemblies have been replaced three time. Wear items like primary and discharge belts have been replaced six times in its 15,136-hour lifetime.
History means a lot to Koss. They've been in business for 103 years and their slogan is the Hard Roaders Since 1912. Koss also owns a "younger" Wirtgen W 2000.
It takes a lot of loving care to keep a workhorse like this W 2200 in operation over the years - since 2002 - and crew foreman Steve Hart has been with the mill for 11 years, and operator Scott Brixley for four years. They report to division manager Kelly Moore.
"We will do everything from profile milling to concrete," Hart says. "It depends on the season, but we work upwards of 300 days a year. The full-lane drum is a big advantage over half-lane machines, considering what we do. Occasionally a 7-ft. machine may be an advantage in doing shoulders, but we usually make it work with this one."
Hart maintains a daily log of the machine's use. "I keep it for my own benefit, so I can go back and answer questions later," he says. "We've worked in Iowa, Minnesota, Nebraska, South Dakota, Arkansas and Oklahoma and take her everywhere we go."
Furthermore, the W 2200 is the only mill that the crew has. "We don't have a back-up mill," Hart says. "We count on this one. It's been dependable in every way. We've had very, very little lost time on this machine. We do keep a good inventory of parts ourselves in our parts trailer. The service truck we have now has a small crane on it. Very seldom do we run into something we don't have. We do all of the maintenance and most of the repairs ourselves. Of course we can't carry a complete mill with us."
One secret to cutting bit longevity is to keep the machines supplied with water, said Rhino Parts salesman Tom Sanders. "If you run them without water, you'll burn them right off," he says. "These mills are like big drill presses; If you operate a drill press without water, you'll burn it up."
Cutting Nebraska I-10
When visited, Koss was using this venerable W 2200 to mill pavement in the reconstruction of I-80 near Sidney, NE, in the Nebraska panhandle. Koss' crew was using its full-lane machine to plane asphalt off a 3-ft. shoulder. The W 2200 would run left side on cross slope, and right side a little above grade.
"That way we can get all the material we possibly can off this narrow shoulder without cutting into the concrete slab," Hart says. "The reason we have to cut it like that two different slopes are present: shoulders are going one way, and the main line the other. We will be daylighting on one side, and 3 to 3½ in. on the other. We will be watching for the outside of the concrete slab as we don't want to cut into it."
After the asphalt is removed and stockpiled, the RAP will be crushed and sized by a mobile crusher, and will go right down as a base for a new pavement.
"Koss Construction has been using Wirtgen W7/20x bits in this mill for about five years now," Sanders said. "They like that the carbide and the bodies work together well in all the applications."
For concrete, Koss will go to the W1-13-G/20 cutting tool, with carbide imbedded in the body.
"That's so the carbide won't fracture prematurely while milling the concrete," Sanders says. "You get tremendous forces and quite a bit of vibration while milling concrete, and this is the ideal bit for it."
The mill has dug as much as 11 in. of concrete in one pass, Hart says. "It's a lot harder than asphalt on the machine, teeth and holders," he says. "Last year we dug a lot of concrete in Arkansas on I-40. It was a stringline job and we had to run grade off the stringline while using cross slope. The concrete varied from 4 to 6 in. and it was hard."
For another memorable project, Hart's crew cut asphalt in single-digit temperatures.
"Water freezing can be a problem in those situations," Hart says. "But the Wirtgen mills have a good water system on them, and you can drain them. They're equipped to have air blown through the system, and we treat lines with antifreeze at night so it's ready to go in the morning."
While Koss is willing to reinvest in the machine to keep it going, there is more to it than meets the eye.
"You've got to put a little love back in the machine," Hart says. "You have to love it and take care of it, and keep the maintenance up. This old mill still digs 11 in. on both sides. It still has a lot of power, it's a good mill. The way it's performed and has lasted has exceeded everybody's expectations. Within the entire company, I would say it's the best piece of equipment they've got."