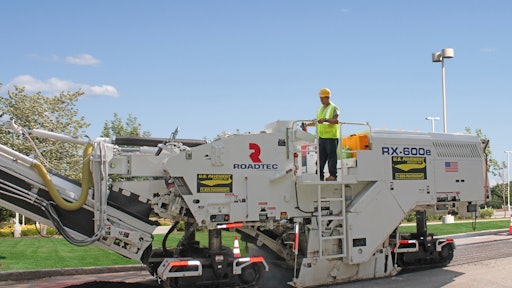 Since its inception in 1985, U.S. Pavement Services Inc., Woburn, MA, has experienced significant business milestones that occur at 10-year intervals.
At first, Mike Musto, the founder/owner, focused on asphalt pavement sealcoating. His business of applying sealcoating grew by helping customers to prevent asphalt cracks, imperfections, and the premature asphalt repairs. In 1995, U.S. Pavement added asphalt paving to its services leading to a move into heavier paving work. 
In 2005, the company created a network of other paving companies to provide participants with a powerful marketing tool as well as greater business depth and buying power.  Collectively there are currently 220 members, representing more than 4,000 employees and combined sales of approximately $850 million. 
The most recent milestone, in 2015, the company has added milling to its menu of services.  With the addition of milling in-house, the company estimates it will increase its bottom-line significantly and provide 25% to 35% more capacity in production.
"Adding milling capabilities, makes good logistical and economic sense," states Andrew Musto, chief operating officer with U.S. Pavement Services. "We keep all services in house and we're not dependent on a subcontractor's availability or schedule."
Tackling Target
The addition of asphalt milling has helped U.S. Pavement to be more competitive. With 135 employees at peak season, the company is considered to be mid-size in its market. U.S. Pavement won the bid to refurbish the parking lot surfaces for five Target stores in the Boston metro area — a $2.25 million project.
The Somerville, MA Target location was the first location of the contract the contractor tackled.  The busy store opens daily at 8 a.m. and closes at 11 p.m., except Saturdays when it remains open an extra hour, closing at midnight.
"We were given a two-week schedule to mill and pave 11,200-square-yards of parking surface," says Bill Garvey, director of construction with U.S. Pavement Services. "We created a strict production schedule to complete the project in four phases, making sure we did not impede customer access to the store. We did not want to be the cause of any decline in their daily sales."
Most of the asphalt parking-surface requires 2-inch-depth milling, while approximately 10% of the project requires full-depth 4-inch milling. The milling was performed with U.S. Pavement Services' new Roadtec RX-600e half-lane cold planer. Roadtec New England sales representative Rick Pare helped the company in selecting the 600-hp, four-track milling machine, which they first saw at the World of Asphalt industry trade show.
"It was easy to switch the Roadtec machine from 2-inch to full-depth milling," states Garvey. "There was no hesitation or adjusting, which is good because we can maintain our tight schedule."
The worn asphalt and binder was removed and trucked off site. Most of the old asphalt is being converted to RAP (reclaimed asphalt pavement).
Overcoming challenges
The challenge for the three-person milling crew was to quickly complete its task in each production phase so that asphalt paving crew could follow.
"The milling results needed to be on grade and high quality because we couldn't afford any extra time for rework," Garvey says. "Because we needed to complete the Somerville lot in four sections in order to keep the store's customers happy, we realized how beneficial it is to have milling in house and under our control."
Andrew Musto estimates that the costs of the milling portion of the Somerville Target parking lot rehab would be 20% higher if they had sub-contracted the milling like they have in the past. Additionally, "it would have been a scheduling headache with the sub because of the mill-pave-mill-pave production flow we needed to accommodate the store and its customers."
U.S. Pavement Services attributes much of the ease in which they have adopted asphalt milling has a new profitable service to several things:
New, state-of-the-art equipment, which has the technology making it easy to learn and operate.
Attentive training and support from the equipment manufacturer and its field rep.
The Roadtec RX-600e controls are designed to be operated with one hand from either side of the platform, simplifying operation.
And, of course, they have some smart employees who can flatten the learning curve and quickly become comfortable with a new machine and service.
As the Target stores project comes close to completion, Andrew Musto reflects: "I'll remember the Somerville Target project as being a great well-oiled machine with our crews milling and paving simultaneously and shoppers coming in and leaving the store without a problem. It was like watching a championship team execute that perfect, game-winning play."