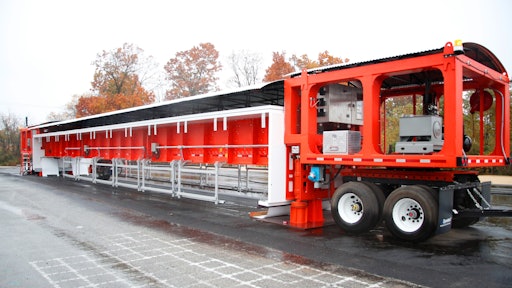 Pavement longevity is the Holy Grail of road building. Engineers are constantly testing new mix designs and paving techniques with hopes that they can achieve long-term results on the roadways. However, the success of these changes can take years, as results depend on how the pavement performs under traffic.
However, a program recently started by the Virginia Department of Transportation (VDOT) and the Virginia Tech Transportation Institute (VTTI) that's been 10 years and $3 million in the making, could be a new tool to help speed up the process.
"What we'd like to do is get the results back faster so if we find a paving design or paving material that works well, we can put it into practice much faster," says Dr. Brian Diefenderfer, a VDOT senior research scientist.
As part of VDOT's accelerated pavement testing program, the new machine, called a heavy vehicle simulator (HVS), will test pavement by running a heavy wheel assembly back and forth across it. The 54-ton machine can produce the same wear and tear that cars and heavy trucks do to highways.
VDOT's test facility is located at VTTI in Blacksburg, Va. Along with the HVS, it consists of six lanes that are each 300 feet long. The 300-foot length can be divided into two or three smaller test cells for replicates, different combinations of instrumentation or test variables. Results from the simulator can be produced in a few months rather than several years.
Engineers will be able to see determine how various pavement materials and designs respond to different climates with special heaters inside of the simulator. 
What can the HVS do?
The HVS, built by Dynatest, will run a wheel assembly – which applies a heavily weighted load to a test pavement – back and forth, day and night, for several months over a 4-foot-wide by 45-foot-long pavement section to simulate the wear and tear induced by repeated passes of heavy trucks on a highway.
The machines are designed to test pavements by applying a loaded wheel to a built test section. Often, the pavement test sections contain instrumentation to measure items such as pressure, strain and temperature. The HVS is enclosed within an environmental chamber so pavement temperature can be controlled. VDOT intends to test at high temperatures for rutting tests and cooler temperatures for cracking tests.
The accelerated pavement testing program will also enable VDOT to determine how different pavement designs and new materials respond to load testing before putting them on the road.
These include:
Pavements with increased content of recycled paving materials;
Different additives or binders to increase a pavement's service life; and
Improved configurations of pavement layers under the driving surface for better performance.
"VDOT's first tests include using a recycled base, produced using cold central-plant recycling, and two asphalt overlay thicknesses," Diefenderfer says. "These two test lanes will have either a 1.5-inch or a 3-inch overlay to study the effects of thinner overlays on the recycled base. The tests will complement recycled pavement sections VDOT has sponsored at the National Center for Asphalt Technology (NCAT) test track at Auburn University.
"We anticipate testing these first two lanes until late spring 2016. Following this, VDOT will move to the other four lanes, where four reflective-cracking mitigation treatments will be tested over both a concrete and an asphalt base." 
The concrete and asphalt base will be saw-cut before placing the surface layer to simulate a distressed pavement.  The reflective crack treatments will include asphalt binders with traditional and high polymer contents and two asphalt rubber processes.
Sustainable savings
While saving roadways is one priority, saving money is another as VDOT estimates they spend over half a billion dollars a year on new materials and replacing pavement in Virginia.
With faster results and testing of new material, the state could "either bring the amount [$500 million] down or cover more with it," Diefenderfer says.
Other states with similar accelerated pavement testing programs have realized significant savings in their road maintenance and rehabilitation projects. The savings come primarily from being able to more quickly implement the recommended changes in pavement designs and paving schedules.
A Transportation Research Board report found that state transportation agencies in California, Louisiana and Minnesota measured the rates of benefits to costs anywhere from 2-to-1 to 17-to-1, depending on the program. Project-level ratios of benefits to costs went as high as 20-to-1. 
Research showed these benefit-cost values are conservative, as they didn't cover the long-term savings from implementing the findings from their respective accelerated pavement testing programs. 
Caltrans found that – due to various recommendations for changes in pavement designs for maintenance and rehabilitation from the University of California's accelerated pavement testing research program – it could realize savings of $56 million by increasing the period between overlays by an extra year and a half. 
"You can't test high-risk things with the traveling public," Diefenderfer says, referring to the use of test roads to get the same results the HVS would get. "These tests using the HVS also allow for reduced disruption on the road and increased safety for motorists and VDOT staff."
 "VDOT and VTTI have a successful and extensive record of partnering to bring about substantial improvements in the transportation system," says Dr. Tom Dingus, director of VTTI. "Collectively, we have created the resources necessary to test and develop myriad applications, from next-generation vehicular technology to infrastructure improvements. By launching the use of a state-of-the-art accelerated pavement testing program, we will expand on this work by helping to maintain and sustain the literal foundation of driving."