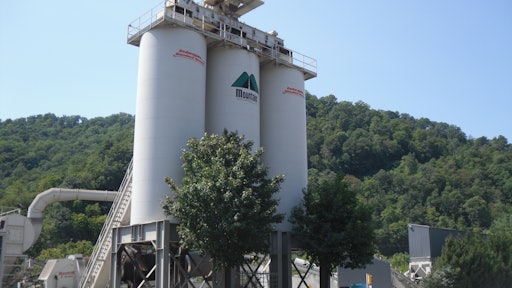 Asphalt plants have long been deemed as bad neighbors due to the smell, noise or level of "pollution" people seem to think these businesses create.
Add to that the growing need to be more sustainable in every aspect of your business, and plant owners are facing some huge challenges ahead to make their operations seem more "green." In the U.S. we see this with the development of programs like LEED v4, Envision, Green Globes, Invest, Greenroads, Greenlites, etc. which look at a project's sustainability from cradle to grave. The asphalt industry needs to be concerned about plant sustainability because your customers are increasingly concerned about how sustainable products are.
"While these issues are clearly important to our industry, the real reason we need to be concerned about sustainability is that it is the right thing to do," says Ron Sines, P.E., vice president of asphalt performance for Oldcastle Materials. "Reducing or eliminating our negative environmental impact, being a good neighbor active in our communities and a valued member of the local economy can only make our businesses stronger."
While many plant owners may be reluctant to invest in sustainability, there are some things you can implement today that will immediately improve your plants efforts to become more sustainable and not cost you a fortune.
Start with education
It all starts with education. "We need to make sustainability something real and tangible," Sines says. "Sustainability needs to be more than a buzzword. We need to educate employees on what our goals are."
The asphalt industry has several tools that can help pant managers see what impact their operations have on the environment.  The National Asphalt Pavement Association's (NAPA) Greenhouse Gas Calculator is a good place to start to better understand the impact of an asphalt plant on the environment. Clearly the single largest contributor to CO2 emissions is the fuel consumed by the plant at the burner tip and hot oil heater.
However, the tool also calculates the greenhouse gas emissions related to asphalt pavement manufacturing gate to gate as CO2 emissions. It also calculates emission offset credits for recycling and some fuel use.
What's even better is the calculator includes a gauge to help identify the sweet spot for production where you're not wasting fuel or under producing because you're trying to be environmentally conscious.
"Plant owners and their employees need to understand that the decisions they make on every ton, every project, every day impact the sustainability results achieved at the company," Sines says. "They all roll up and help us see what our environmental impact is."
Sines says customers also need to be educated so they can make informed decisions on project design and material selection.
Increasing efficiency in plant operations
While education is paramount, there are also some low-hanging and relatively hassle-free improvements that plant owners can implement that will immediately improve efficiencies and therefore the sustainability of the plant.
Repair or replacement of plant insulation is something that can be completed quickly and will have a significant impact on the amount of energy needed to operate your plant. Uninsulated asphalt and hot-oil lines, flanges and jumpers require significantly more energy to operate than when they are properly insulated.
"Think of a missing insulation as leaving a window open on your house in the middle of winter," Sines says. "Close the window and your furnace runs less and your fuel bill goes down. If plant owners and operators took a close look at their plant they are likely to find lengths of asphalt or hot-oil piping, flanges and jumper which have missing or inadequate insulation. Individually, these may not be considered significant sources of energy loss, but together they end up costing a lot of money."
Tuning both the drum and hot-oil burner to ensure complete combustion and ensuring liquid fuels are at the proper viscosity or that gas fuels are at the right pressure will also reduce energy demand.
Schedule production and operate the plant to limit the amount of waste generated. Accurate orders, limiting the number of mix changes and knowing plant timing will all reduce waste generated every day you produce asphalt mixtures.
"Reductions in raw materials used (whether it is aggregate and asphalt, burner fuel, or equipment fuel) means I have to buy less to produce the same amount of material," Sines say. "This savings should go directly to the bottom line for any producer."
Automation can also help with improving plant sustainability as equipment which monitors real-time burner fuel usage and knowledge of appropriate fuel use for the conditions the plant is operating under can indicate when plant adjustments or maintenance may be required.
"It's all about measuring and reporting things," Sines says. "Sure you can say you want to reduce burner fuel, but how much burner fuel should you actually be using? Set a target and measure yourself against that. Then if you don't achieve that, look at your operation and make changes to achieve it."  
Properly calibrated plants (plant timings, temperature thermocouples, binder content, weigh bridges, etc.) will reduce the waste generated at plant start-up and shutdown and provide proper temperature control during production.
Finally, institute a no-idling policy for all equipment on site, plant loaders and delivery trucks.  Any reduction in the energy consumed will reduce the plant's carbon footprint and improve sustainability.
Looking to the future
Sustainability is not going away. In the future we are likely to see it become a large part of our business every day. Whether this is through providing Environmental Product Declarations (EPDs) for your products, requests for information on your sustainability efforts by potential customers, or providing certifications for green rating systems, sustainability will impact the asphalt business for the foreseeable future.
Steps can be taken now to better understand sustainability and improve how our plants operate, but plant owners should also be focused on future sustainability goals for their company. Owners should become engaged in the process which will shape how sustainability requirements impact our industry, and implement sustainable practices at your business to help you be prepared for when this happens in the future.
Sines recommends these steps as a starting point for future plant sustainability discussions:
Develop a plan that makes sense for your company and plants which makes sense today and provides a path forward for tomorrow.
Provide training to help every employee understand how the decisions they make while completing their job impact how sustainable plants and products will be.
Look at plants and plan modifications or improvements which will allow for the use of increased RAP percentages while producing a quality product.
Be active in local associations working with state and local agencies on specifications which encourage innovation and sustainable practices. 
"We have the opportunity to be actively engaged in shaping how sustainability will impact our industry," Sines says. "If we don't, others will do this for us, and their interests may not be the same as ours. Plant owners may also be concerned that making themselves more sustainable will cost them money in a highly competitive industry. But the truth is completing projects or maintenance to make plants more sustainable will also make them more efficient and lower their operating costs. Seems like a win-win situation for any producer."