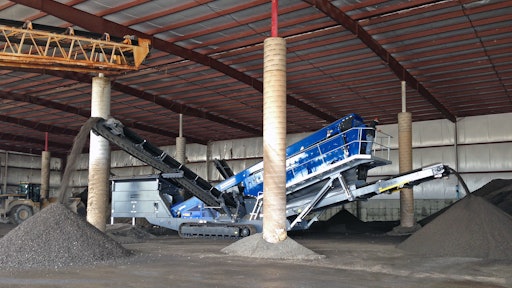 According to the FHWA, there are approximately 2.8 million miles of paved public roadways in the U.S., which have used approximately 18 billion tons of asphalt mixes.
Approximately 99% of asphalt pavement material that is removed from a roadway is recycled back into infrastructure-related materials and products. The practice of using reclaimed asphalt pavement (RAP) in new asphalt mixtures has increased in recent years because of its economic and environmental benefits.
Recent NAPA surveys of the asphalt pavement industry have reported that across the U.S., the average RAP content in new asphalt mixes is now around 20%. The percentage of RAP used in new plant mix varies considerably by state, however, only a few currently use more than 25% RAP in the design, production and construction of asphalt mixes.
With the increase in the amount of RAP used in modern mix design, good RAP management practices need to be employed to ensure the greatest economic benefit for RAP and the highest quality of recycled asphalt mixes.
"The management of RAP is important because it holds many resources with high value to the end user, such as oil and sometimes scarce aggregate sizes," says Patrick Reaver, product development manager for Astec Mobile Screens. "If RAP is not managed properly, you can create contamination or lose control of what mixture of these resources were used, thereby decreasing the value of the RAP."
Let's take a look at managing your RAP at the plant and the role crushing and screening equipment plays.
Inventory management
RAP combines a high residual asphalt cement content with aggregate that has already been acquired, permitted, shot, processed to meet state specifications, and transported. This makes RAP a valuable product to the asphalt producer. But the transportation, storage and utilization of RAP is always a logistical challenge.
"Producers apply different monetary values to recycled asphalt," says Joe Schappert, technical trainer for Kleemann. "Some value RAP the same as other aggregates, $8 to $10 per ton; others as high as $41 per ton. This is why it is so important to manage recycled asphalt materials at each stage."
Once milled asphalt is crushed and reclassified by size, the asphalt producer can use 15% to 25% recycled material in its new asphalt mixes. This helps the producer save money on new raw aggregate products, as well on purchase of asphalt cement.
When asphalt millings are removed from the road surface, the contractor needs to find a place to store the millings or waste products until they can be reused.
According to NAPA's "Best Practices for RAP and RAS Management," poor management of RAP stockpiles is commonly cited as a reason agencies are reluctant to increase allowable RAP contents in asphalt mixtures. For production of quality mixes with high RAP contents, excellent materials management practices are essential.
The single most important "best practice" is to treat RAP the same way you treat a virgin product, says Reaver with Astec Mobile Screens. "This means keeping the RAP 'clean,' dry, separated by job, and returning the product back to its original size."
Whether or not to put all incoming RAP materials into a single pile or to create separate stockpiles for RAP obtained from different source is a big decision and may depend on several factors:
Components in the RAP, such as special classes of aggregate, steel slag, or asphalt rubber, that warrant handling the material separately from other sources
Whether the state or primary local agency allows RAP from other sources in asphalt mixes produced for its agency specifications
Whether or not the state or other primary local agency requires captive stockpiles or allows continuous replenishment of stockpiles
The space available at the plant site for RAP processing and stockpiling
The target RAP percentages in the asphalt mixes to be produced
How much RAP comes from a single project
Some agencies' specs allow only RAP from their projects to be used in their mixes. Other agencies allow the use of RAP from multiple sources, including "unclassified RAP," that has been combined and processed into a single uniform RAP stockpile.
When possible, store processed RAP stockpiles under cover, or at least in an area with good drainage. Stockpiles of crushed and classified RAP have a short lifespan before further reprocessing is required.
RAP re-use within two to three months is recommended. Longer storage periods may be expected when the material is under cover. Also, avoid driving loaders on RAP stockpiles, which leads to premature compaction of the processed RAP.
"RAP should be placed on a slope paved surface to drain the water, and the loader should charge material from the high side of the slope," says Reaver. "Where possible using fabric buildings or other methods of covering RAP creates great benefit from reducing moisture content to also minimizing the amount of sunlight that RAP is exposed to, therefore minimizing how much it sticks back together."
Processing RAP
There are several best practices to follow to process the RAP into a finished product where it can to be introduced to the hot asphalt plant.
The first is actual classifying (correctly sizing) the material to the appropriate size. "This may sound like common sense, but daily inspection of your screen media is crucial," says Schappert. "Any oversized material in your RAP can lead to oversize material in your plant mix, and eventually, oversized rock on the actual road surface (in the mat).
"Oversized material on the surface can lead to financial penalties from the state or agency customer, and the contractor may be required to remove all the new asphalt because of the inconsistency of the mix," he warns.
The most widely used sizes are ½  x 0-in. to 5/8 x 0-in. Some states also allow producers to used 3/4-minus RAP in subbase and binder.
"As much as 60% of millings are 5/8 x 0-in.," says Schappert. "At Wirtgen America, we recommend the use of an impact crusher. Use of this impactor allows the use of a 5/8-in. screen in the bottom deck of its prescreen to remove some of the already-sized material. This material is then conveyed to the finished pile and blended with the crushed material."
This not only reduces the amount of material actually being delivered to the crusher, but reduces the wear in the crushing chamber and increases the capacity of the crusher for more material that needs to be reduced in size, he continues. "If additional sizes are required, we can place a two-deck or three-deck tracked screen plant behind the crusher and make the additional products."
Another best practice is to crush only what you need for a two- to three-month period. After this time the RAP will begin to gather moisture, and re-bond to itself. This results in large chunks, and further processing before it can be used in the asphalt plant. If possible this period can be extended by storing the RAP under cover.
The role of equipment
"RAP processing is a very different process from that of traditional aggregate crushing, and requires equipment to match these demands," says Reaver. "Many times it is one of the last things thought about in the overall production of asphalt pavement; however, where producers try to use equipment previously designed for aggregate production, maintenance, production and efficiency will suffer."
The role of crushing and screening equipment in managing RAP is to take the product back to its original size without over crushing or generating excess dust, he says.
"Features that are important include efficient crushing and screening and units sized to match job requirements," Reaver continues. "Also equipment should be capable of operating in the harsh environments associated with processing RAP and have features such as remote-mounted radiators, pre-filtering gensets, minimizing shelves for material to build up, and conveyors capable of handling 'slabby' material."
A variety of crusher types are used for crushing RAP. According to NAPA's "Best Practices for RAP and RAS Management," many contractors have found that the best type of RAP crushers are horizontal-shaft impactors (HSI).
"One of the more efficient ways to process RAP is utilizing HSI and High Frequency Screens due to their ability to vary many operating parameters, thereby creating an overall greater efficiency for the system," says Reaver.
HSI crushers typically use a three-stage impact bar arrangement that can be set to size material according to the desired top-size. However, crushing to smaller top sizes will increase the percentage of material passing the No. 200 sieve, which often limits how much of the RAP can be used in mix designs while still meeting VMA and dust-to-binder ratio criteria.
The term crushing is a bit confusing. "We aren't really crushing and reducing the size of the aggregate in the RAP," says Schappert. "We are separating the binding material from the aggregate. The impact crusher has been found to be the most cost-efficient way to perform this task."
Since crushing RAP will create more aggregate fines, it is best to set up the crushing operation so that the RAP is screened before it enters the crusher. This will allow the finer RAP particles that pass through the screen to bypass the crusher.
"We feel that all RAP should be screened first prior to crushing, this takes advantage of the milling machine and the fines that have already been generated and removes them before creating additional fines at the crusher," says Reaver.
Some RAP crushing units are set up so that all of the RAP is conveyed from the feeder bin into the crusher, followed by a recirculation circuit after the crusher. The recirculation circuit is designed to return larger particles that do not pass through the screen back to the crusher.
Because all the material must go through the crusher in the first pass, however, there is a good chance that breakdown will occur for some smaller particles that did not need to be reduced in size.
There are times when finer aggregate products are required for specific projects. Some of these can be 1/8 x 0-in. and 1/4 x 0-in. For these sizes, "screen media takes a major role in making these fine products," says Schappert.
Thinlays, are a suite of thin asphalt overlay mixes designed to be placed at thickness as thin as 5/8-in. on an existing milled or unmilled road surface, require finer sized products including RAP.
Fractionating uses a high-frequency screen to classify finer aggregate products less than 1/2-in. The primary advantage of fractionating RAP is having stockpiles of different RAP sizes to provide more flexibility in meeting mix design requirements.
"We feel RAP should always be processed to the point of taking it back to its original state," says Reaver. "This is especially true when mixes utilize greater than 20% RAP."
Follow these best practices for processing and stockpiling RAP, and you'll be sure to produce a better quality product.
"In the field, every material and application must be analyzed to see what best works for your application," says Schappert. "Many factors contribute to a successful RAP program. Partner with your local dealer to see what is best for your application."