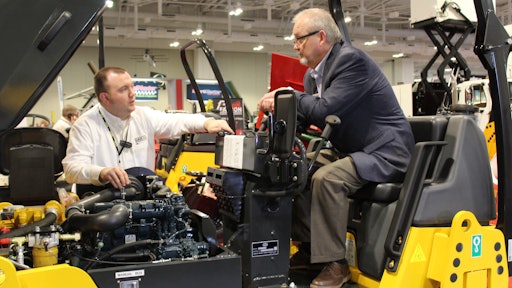 National Pavement Expo's conference sessions will cover a broad variety of paving topics when NPE visits the Huntington Convention Center of Cleveland, Feb. 7-10 in Cleveland, OH. The four-day conference will offer 54 technical and management sessions (including 39 new topics). Asphalt paving sessions will cover the basics for crew members and those new to the business as well as more advanced "how to" topics for those looking to improve efficiency on the job.
Here's a paving-and-repair focused sampling of some of NPE 2018's sessions.
Applying "Best Practices" to Your Paving Operation, presented by paving jobsite specialist John Ball, Top Quality Paving, is a "how to" program for contractors, their crews, and newcomers to the paving business that will take contractors step-by-step through the paving operation. Ball relies on videos he's taken on consulting jobs throughout the year to demonstrate various paver operations, proper and improper techniques, paving "best practices," and problems and their solutions. Ball will cover paving, rolling and handwork basics; paver, tractor and screed operations; proven rolling techniques; state-of-the-art joint construction and the impact of teamwork and communication on job quality.
Basic Pavement Defects: Causes, Solutions – and How to Set Your Price! Pavement Maintenance & Reconstruction magazine Advisory Board member Nick Howell, T & N Asphalt Services, connects the dots from the pavement defect, its cause, the "best practices" repair solution – and how to set your price to fix it. Defects covered will be alligator (fatigue) cracking, "normal" cracking, potholes, surface oxidation and raveling. For each defect Howell will work through a job-costing example to uncover all the cost elements to include before adding in your profit and determining your price. "A repair-and-job-costing class for contractors – not for accountants!" according to the description. 
Improving Your Infrared Pavement Repair Operation. Another Pavement Advisory Board member, Tom Eosso, Eosso Brothers Paving, has become the go-to infrared contractor at NPE's conference. He'll cover the basics of the infrared process and how to perform the work (including a step-by-step explanation of a basic infrared repair). Relying on photos and on-the-job video, Eosso will "work through" examples of the variety of jobs and repairs that can be completed successfully using infrared technology. And, he'll highlight specific infrared field techniques and approaches to help make infrared pavement repair efficient, successful and profitable. 
Paving specialist John Ball will make his presence known throughout the NPE conference (he presents four sessions) including Solving the Paving Puzzle: Video Solutions Show How a Job Fits Together. Covering all phases of a typical paving job, Ball (who spends more than 30 weeks a year shooting video on jobsites to help contractors improve their operation) will use that video to create a "case study" for this unique paving session. Ball will "take apart" an entire paving job, then put it back together so attendees can see how everything works together including job planning (including determining tonnage, delivery pace and production speed), crew meetings, paving layout, paving, and rolling. Plus, video will reveal "best practices" for each element of the job.
An annual NPE paving expert, Jim Scherocman, P.E., consulting engineer will present Identifying, Preventing and Solving Mat Problems to help paving contractors identify potential problems in the asphalt mat so they can provide a better end product for their customers. Scherocman will cover how to differentiate among four primary problem areas: the properties of the mix itself (checking, shoving, rutting, moisture content, bleeding); site related conditions (milling, minimum layer thickness, tack coat application, soft subgrade); equipment related problems (screed settings, surface shadows, streaks); and long-term durability issues (raveling, sliding, fatigue cracking, delamination, drainage structures). He'll also discuss how to prevent these problems from happening and how to fix them if they do occur. 
Scherocman follows that session with Effective Compaction of Hot Mix Asphalt, which he describes as "the single most important factor in the ultimate performance of a hot mix asphalt pavement." A highly-rated session every year at NPE, this seminar will outline the basic elements of compaction and the use of various types of rollers, including static steel wheel, pneumatic tire and vibratory steel wheel rollers. Scherocman will cover compaction of both stiff and tender hot mix asphalt mixtures and will emphasize the use of different rollers and rolling patterns for different paving situations. 
Fundamentals of Asphalt Pavers and Asphalt Paving, presented by Nigel McKay, Weiler, covers paving basics "from the ground up" for new hires, anyone new to the paving business, and anyone considering becoming a paving contractor. McKay will cover asphalt paving equipment, including "tractor basics" and the differences between track and rubber-tire pavers, and he'll discuss each component of the paver – augers, screws, conveyors and screeds -- including what each component does, how each works, how the components work together, and how operators can adjust components to get the desired end result of a high-quality mat. He also will offer a checklist of tips to help operators make sure the paving machine is operating at peak performance. 
In a session introduced at the 2017 NPE, John Ball decided to tackle paving jobs via drawings. He has updated Diagram It! How to Pave a Parking Lot & a Cul-de-Sac from Start to Finish and will use step-by-step diagrams and some video to teach how to determine the amount of mix for each job, how to determine haul truck size and delivery schedule, how to "line-out" the start of the work and plan the paving, and how to achieve the required slope and density. He'll "solve" some issues faced when paving a cul-de-sac – you need a skid steer and a skilled haul truck driver – and he'll present "best practices" to guarantee quality and efficiency. As the full description says, "Bring your pencils!" 
How to Run the "Perfect Paving Project" is a new paving session from Pavement Advisory Board member Connie Lorenz, Asphalt Restoration Services, who says that while "there's no such thing as a 'Perfect Paving Project' – commercial customers still expect it. So Lorenz has developed a "pursuit of perfection" session that will help contractors equip and motivate their team for success. Topics she'll cover are: what to include in the essential pre-con meeting, tips on communicating with clients (and a unique suggestion to help them better grasp what's going to be happening on their property), how to plan for and handle the "unexpected issues" that can arise on any project, the value of a "team walk through," and how that leads to a successful end-of-project client meeting. "This detailed and tips-focused session will help you get as close as possible to the 'perfection' you (and your clients) seek!" according to the NPE brochure.
Just as John Ball kicked off NPE Feb. 7 with his 3-hour workshop, he ends on Feb. 10 with this 90-minutue session,
Troubleshooting HMA Joint Construction.
Ball will emphasize proper construction techniques of butt and tapered transverse joints and standard and wedge longitudinal joints, and he'll provide practical tips on joint construction hand work. He'll also explain why construction of the first lane of paving is important in joint success, how the screed can improve joint construction, he'll provide an update of the latest research and "best practices" tips, and offer insights on joint compaction, including rolling from both the hot and cold side, as well as joint compaction Dos and Don'ts.
For details including complete session descriptions and the full four-day schedule visit www.nationalpavementexpo.com