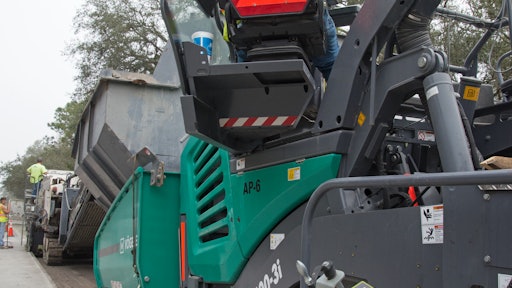 In February 2018, a failing rural road in a rapidly growing area of Seminole County, Florida, just north of Orlando, was widened using in-place recycled and asphalt emulsion stabilized materials. The project was executed swiftly and with minimal impact to traffic, saving taxpayers both time and money.
Asphalt Paving Systems, Inc. (APS) began by widening and recycling the 10-ft. southbound lane of Lake Markham Road to 12 ft. The 12-ft. northbound lane was in-place recycled days earlier.
"We're taking a 20-ft. roadway and widening it out 2 ft. in each lane to produce a 24-ft. finished roadway," said Tommy Donald, regional manager for APS based in Zephyrhills, FL. It first used a a smaller Wirtgen W 1000 cold mill to make the 2-ft. widening cut, boxing it out. "Now, we are following with our recycling train on the main lanes, recycling down 8 in. 
Down vs. Up Cut
A distributor truck placed cement on the disintegrating pavement at 22 lbs. per sq. yd. "That's about 2.5% by weight of the existing material," Donald said.
This was followed Wirtgen 3200 CR cold recycler with a 10.5-ft. cutter drum offering a working width of 10 ft. 6 in. "Because we are widening a 20-ft. roadway, the 10.5-ft. width is optimum for this particular scenario," Donald said.
In addition to the conventional up-cut method, the 3200 CR (as well as the larger 3800 CR) can perform what is known as down-cut milling, a recent development by Wirtgen designed to optimize the cold recycling process. The down-cut process allows the particle size to be precisely controlled during material processing, especially when milling very old and brittle asphalt roads. This enabled the recycled material to be rear loaded directly onto the paver.
Filling the Void
"We're running 2.25 gal. per sq. yd. of cationic slow-set [CSS-1h] asphalt emulsion, with about 65% residual asphalt content," David pointed out. Water in the emulsion (35%) serves to hydrate the cement, resulting in a Marshall Stability value of 3500 for the stabilized product.
The 3200 CR fed the asphalt emulsion-stabilized recycled asphalt pavement directly to a Vögele Super 2100-3i paver, where it was used to fill the full 12-ft. width in one pass southbound.
"Because we're dropping the surface an inch and a half, we're able to generate enough recycle material off the main lane to fill in the void where it was widened," Donald said. "The Wirtgen equipment gives us the ability to widen and recycle all at the same time."
The paver's AB 600-3 TV tamping-vibrating screed averaged 60% to 65% of target density coming right out of the screed.
"We have an older 2100 with pressure bar/tamper bar screed, and the compaction results we were getting from it in the recycling train were really good," Donald said. "That heavy screed controls this kind of stiff material, especially in heavier lifts. Previously, we used a different paver and screed, and the material would push that screed around, controlling the screed so to speak. The Vögele screed gives us more control over the material."
Following the paver, a Hamm HD+ 120 VV HF tandem steel drum roller provided breakdown compaction in vibratory then static modes over six cycles. It was followed by a 22-ton GRW 180i pneumatic roller.
"[The roller operators] continuously roll that until we achieve our density number of 96% to 98%," Donald said. "The pavement then will receive 2 in. of hot mix asphalt surface course placed in two 1-in. lifts by us with the Super 2100-3i."
Tons of Results
Once completed, a total area of 42,240 sq. yds. and 19,008 short tons of material was recycled along the 3-mile stretch of road.
"The beauty of doing it this way with the in-line, in-place train is that you are boxing out your widening as a 2-ft. wide, 8-in. deep trench in front of the train, then filling it right back in with the recycled material," said Donald. "Doing it this way eliminates the longitudinal cold joint that you get with conventional widenings. It's eliminated as you have the same type material from shoulder to the crown."