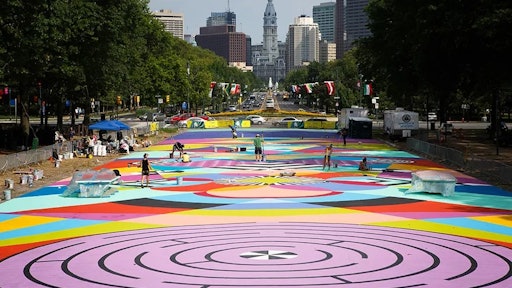 Steve Weinik
Over the last decade, U.S. cities have carved out public places from existing streets using little more than paint. A new grant program and guide announced today by Bloomberg Philanthropies will fund the creation of 10 street murals in 10 U.S. cities, as well as track the safety, economic and civic impact of these projects.
The Asphalt Art Initiative will award 10 small or mid-sized cities with grants of up to $25,000 to create colorful murals on streets, intersections and crosswalks, or vertical surfaces of transportation infrastructure like utility boxes, traffic barriers and highway underpasses. Cities that apply must have populations ranging from 30,000 to 500,000 and must implement the project by the end of 2020.
During New York City Mayor Michael Bloomberg's administration, the city reclaimed 180 acres of road space, creating 60 park plazas in large part by rerouting traffic and simply painting the surface of the road. The effort transformed many city streets from something other than the "sea of gray" that urban corridors tend to be.
Studies show that colorful designs can have traffic-calming effects on roadways while identifying space for pedestrians. They also tend to make underpasses and road barriers less of an eyesore. Projects like this can also be an avenue for community engagement within a changing city.
Last year, for example, OakDOT partnered with the East Bay Asian Local Development Corporation, one of the city's largest affordable housing developers, as part of revitalization efforts near West Oakland's historic California Hotel.
A painting project played an important role in signaling that change was coming to the once derelict hotel and the area around it that was dominated by a freeway. The murals depicted piano keys, musical notes, and a hall of fame that lists performers like Ella Fitzgerald and Ray Charles, who came to one of the first venues to welcome African Americans in Oakland. With new ground-floor uses to the hotel's former music venue, the painting signaled that music and business were coming back to the corridor.
However, unconventional crosswalks are opening up a gray area for local transportation planning, as the Federal Highway Administration has been asking cities like Ames, IA, to remove the colorful street markings to comply with its strict federal safety guidelines.