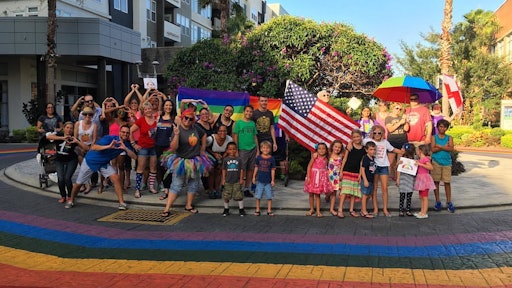 On Sunday June 12th 2016, 49 men and women lost their lives to a shooting at an Orlando nightclub.
Those in Orlando and around the world grieved for those lost with memorials and acts of love. During the days after the attack, the downtown district streets were shutdown as memorials were set up for the victims. In this time of incredibly painful human tragedy, the community was also faced with an economic catastrophe for their local businesses. A ‪Downtown South‬ coalition formed to engaged stakeholders to develop a revitalization strategy that ensured the vibrancy of the local community. 
The coalition wanted to ensure the safety of those grieving and make the vigil a safe and comforting place.
"We chose the rainbow roundabout because we wanted to create a space where people felt comfortable, a place that allowed people to come together and enjoy their surroundings and each other," Charlotte Manley, the Immediate Past President of Downtown South says. "Civic Art, when integrated into a development, does just that. It helps strengthen the social, physical and economic fabric of a community."
Downtown South reached out to Straight Line Southern, a striping company based in Orlando, for help. Mark Letourneau took it upon himself to create a stunning visual around the vigil that would hopefully inspire love and not hate. 
A Touching Tribute
Letourneau was contacted a few days after the shooting to help create a memorial for the victims.
"We've had a long relationship with Doug Fisher from Kimco Property Management," Letourneau says. "He reached out to us with the idea of a memorial days after the shooting with a rough drawing of what he wanted to do around the traffic circle."
Letourneau and his crew primarily paint parking lots, so a job of this nature was out of his comfort zone. 
"I told Doug something like this should be done by an artist, but he said he didn't know an artist he only knew me and wasn't going to take no for an answer," Letourneau says.
So Letourneau, a 30 year striping veteran, and another member of his crew spent 9 hours trying to get this just right.
"We didn't even know what we were going to do until we showed up," Letourneau says. "All we had was this rough crayon drawing of a circle of rainbows around their traffic circle but when we got there, we saw it was a stampcrete rough surface, not asphalt like we originally thought"
The rough surface made it impossible to paint round circles as intended, but Letourneau came up with a different plan.
"I started measuring out different straight line sections around the circle and tried to envision what this could look like," Letourneau says. "We started laying it out, snapping chalklines and I came up with the idea of making 102 different rectangular sections together."
When finished, the layout was to have 17 sides and 6 colors for a total of 102 individual sections. The sections represent the 102 victims (49 dead, 53 injured).
To get the colors just right, Letourneau mixed red, yellow and blue paint onsite to create the rainbow colors for each section.
Starting on the inside, Letourneau would paint one complete color section and then move to a different color section on the outside to allow the inside time to dry and then alternate.
Using latex paint and two Graco LineLaser striping machines, just over 15 gallons of paint was put down in one night. 
"The latex paint cleans out pretty quick with just water, so that wasn't a challenge," Letourneau says. "The whole job went much smoother than we thought and at the end of the day it just feels good to do something to remember the victims," Letourneau says of his work. 
Nearly 40,000 vehicles a day travel down Orange Avenue, ensuring the Circle of Remembrance will have a lasting impact in the community.