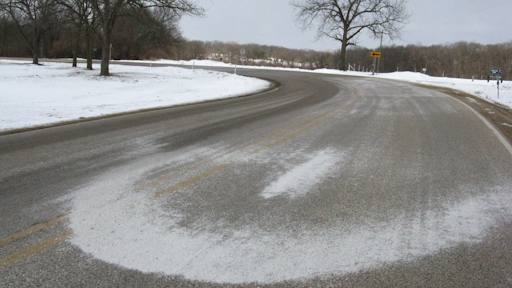 Every winter season, the U.S. spends $2.3 billion to keep roadways clear of snow and ice, with another $5 billion in estimated damage to the transportation infrastructure and natural environment. To keep costs dow, agencies have been challenged to provide a high level of service within their budget and staffing constraints, while minimizing the corrosion and environmental effects associated with the use of salt and other chlorides. 
A recent proposal in the Michigan state legislature would require the Michigan Department of Transportation to launch a pilot study on the use of "organic additives," including juice from sugar beets, to "control ice on public roads, highways and bridges." 
The beet-juice solution, already in use in several places, wouldn't replace traditional road salt, but mix with it to create a sticky substance that some transportation officials say adheres longer and more effectively to the roads. The solution would reduce the state's reliance on traditional salt, helping to reduce runoff while also preventing ice from forming. It's overall less costly and poses fewer environmental problems than plain salt, according to state Rep. Brian Elder, a Democrat and the bill's main sponsor.
"To secure safe, quality roads for Michigan families to drive on and to protect our natural resources, we need to get creative and implement sustainable solutions," Elder said in a statement. "Adding natural components to reduce salt usage on our roads will not only make our safety efforts more effective during the tough winters, it will ensure that, come spring, the 'Pure' remains in Pure Michigan."
Under the bill, DOT officials would be required to test the substance in at least five places that contain "roads, highways and bridges that are subject to deterioration from salt," as well as a body of water that's at "high risk" of contamination from chloride runoff. Results would be due back to the legislature by the end of 2022, and would include steps for "increasing statewide use of organic additives."
Organic Substances Already Working to De-Ice Roads
Several cities in Michigan, including Frankenmuth and Farmington Hills, already treat their icy roadways with "sugar beet byproducts from farms in Michigan," according to a committee analysis on the Senate version of the bill. Public works officials from Farmington Hills told legislators that the addition of beet byproducts had decreased the city's salt use by 30 percent, largely because the mixture keeps the roads clear for longer periods of time, and in colder temperatures, than salt alone.
Michigan is a top producer of sugar beets—farmers in the state harvested 4.9 million tons of the vegetable in 2016, according to estimates from the state Department of Agriculture—and is home to the third-largest beet-sugar processor in the country, meaning that much of the additive could be obtained from local sources. 
Other states are already testing the use of natural substances to treat their roadways as well. Wisconsin has been using cheese brine as a salt additive to help lower the cost of winter road maintenance. 
Salt brine is usually made to 23.3% salt by weight as this is the lowest freeze point for salt brine at -6° F and since dairy farms turn out thousands of gallons of brine waste in the cheese making process each year, using the material to help salt roadways is a win-win. 
Not only is using organic waste materials better for the environment, they are also more economical for municipalities to use. Polk County in western Wisconsin conducted a study and found that when using cheese brine combined with road salt, it reduced salt use by 30 to 40%. Typically, manufacturers have to pay to get rid of this brine. But, partnering with DOTs could be a mutually beneficial relationship.
Organic waste like grass clippings and food garbage that ferment into calcium magnesium acetate are also being tested to de-ice roadways. The compound is similar to fertilizer and can be extremely effective removing ice from roads. The problem is, it is very costly to properly remove enough of the acetate from the compound to make it effective. Plus, the fertilizer-like product is known to have worse environmental effects than using road salt.
Similarly, pickle brine and potato juice have also been used to deice roads. The two liquids act similarly to cheese brine and beet juice.