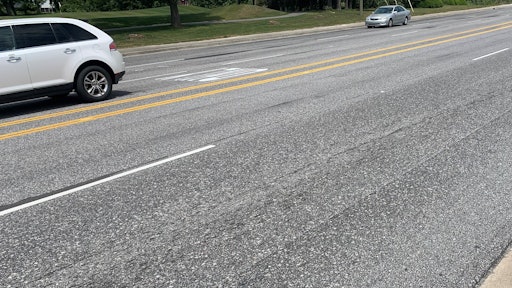 Photo courtesy of Jay Thompson
South Carolina's "Grand Strand" is a stretch of Atlantic Ocean beachfront that is home to 14 coastal communities. The area is a major vacation destination, drawing more than 19 million visitors annually and creating heavy travel on local roads.
Four-lane highway SC 544 in Conway, SC is one of the primary routes to the southern end of the Grand Strand, which includes Surfside Beach, Garden City, Murrells Inlet and several large campgrounds. Years of traffic—not only during the summer season, but year-round, due to the large number of residents that use SC 544 for their daily commute to and from work as well as a to a nearby university—had taken their toll. A section of SC 544 was severely deteriorated, with a prevalence of potholes in the existing asphalt, requiring significant rehabilitation.
As part of the South Carolina Department of Transportation (SCDOT) 2020 Pavement Improvement Plan, three separate sections of SC 544 were repaved, totaling about four miles of replacement. A noteworthy aspect of the project was the thickness of the lift. 
"While a 2-in. mill and overlay is standard for this area, this project required a 5-in. mill and overlay conducted in a one-lift operation," explained Justin Richardson, senior resident engineer with SCDOT. "No one in this area has performed this scope of work before."
"Thicker lifts allow us to work through the winter. Extra thickness retains heat and helps to facilitate compaction—which can be difficult to achieve with thin layers during cold weather," explained Jay Thompson, former state pavement design engineer at SCDOT, now with SEPI Engineering & Construction, Inc. "Another benefit to thicker lifts is that they can improve safety by matching existing elevations, as opposed to having drop-offs that are created between one night's work and the adjacent lane. They also eliminate the need for driving on milled surfaces, since there are no temporary surfaces used during one-lift operations. Production may be increased by performing a single thick lift, as well."
SCDOT has been working to conduct more thick, single-lift mill and overlay operations for several years.
"Prior to the SC 544 project, we had performed several thick lift applications for interstate reconstruction," said Thompson. "We knew that these applications resulted in structurally sound pavement. But we were looking for a more cost-effective way to achieve rideability."
During any asphalt pavement installation, rideability can be adversely affected by the "bump" that is created when a paver starts and stops work. Thick lifts are particularly vulnerable to these discontinuities, since thinner, additive layering can correct problem areas from previous placements. Typically, a final surface layer of asphalt is applied to achieve smoothness. But diamond grinding, in which a thin layer of pavement is removed using a stack of closely spaced diamond tipped saw blades, is a more cost-effective solution, and it conserves resources, as well.
SCDOT had previously participated in a study conducted at the National Center for Asphalt Technology in which diamond grinding had proven its value on a test strip. To understand diamond grinding's full capability in highway applications, and to create a spec for the SC 544 work, SCDOT turned to the International Grooving & Grinding Association (IGGA).
"The IGGA was instrumental in helping us put together the spec. They gave us examples from other states where the same type of work had been performed," said Thompson.
Project Execution Encounters Challenges
SC 544's existing 4-in. to 5-in. asphalt layer was worn on top, but underneath, the road base was in good condition despite the fact that it was constructed at different times and of various materials, including cement-treated and graded aggregate foundations.
While thinner courses of asphalt flatten in comparatively predictable ways under the pressure of asphalt rollers, the use of a 5-in.  lift resulted in several "unknowns" for the project team to address. One of these was the percentage of compaction, sometimes called "rolldown," that would occur in the asphalt mat. Thick lifts can complicate the compaction process because of their tendency to displace. The project team took special care to determine the rolldown value, with roadway contractor Palmetto Corporation General Contractors performing various trial runs prior to placement of asphalt on SC 544, comparing the asphalt mat's thickness immediately after placement by the paver to its thickness after compacting operations. A related concern was that specified asphalt roadway density be achieved. Crews measured density during the asphalt laydown process, verifying that all of the asphalt roadway densities met or exceeded the specified standards.
Another challenge for the project team was that the work had to be performed at night. Complex lane closures were required because of the many residences, schools and businesses located along SC 544, as well as the fact that delivery services depend upon SC 544 to transport goods supporting the Grand Strand's tourism industry. Despite the scope of pavement reconstruction work, the roadway needed to be reopened to traffic each morning, with no uneven lanes or milled surfaces remaining that could create issues for the travelling public.
The project team calculated the asphalt layer thickness to include adequate material above the existing concrete gutter, as well as above the newly constructed adjacent travel lane, to accommodate the small amount of material that is removed during the diamond grinding process. The objective was a finished surface that achieved positive drainage across the entire pavement while maintaining the contract-specified asphalt layer thickness.
"While an additional pass over the road is required for diamond grinding, the cost is justified by the fact that the overall thick lift process extends our paving season—not to mention the improved finished product, as well as improved worker safety associated with getting on and off the road quickly," said Eric Faulk, chief operating officer, Palmetto Corporation, who was the general contractor for the project.
Smooth & Successful Outcome
In all, 106,632 square yards of pavement were diamond ground, creating an ultra-smooth, high friction and extremely quiet riding surface. The SCDOT Office of Materials & Research conducted rideability tests, with the first test being performed after the new asphalt pavement was completed, prior to diamond grinding, and a second one performed after the diamond grinding was complete. Prior to grinding, International Roughness Index (IRI) measurements were as high as 132 inches-per-mile and the average smoothness was 80 inches-per-mile. After grinding, IRI measurements were as low as 21 inches-per-mile and the average smoothness was 35 inches-per-mile. The average reduction in roughness was 56 percent.
"We removed a 1/4-in. layer from the project over the course of two and a half weeks, with minimal traffic disruption," said Duff Parker, manager, grooving & grinding division, Swank Construction Company. Swank is based in Pittsburgh, PA and performs work in multiple states. "The surface was aesthetically pleasing and the ride was one of the smoothest that I've experienced."
"This was a seamless process," confirmed Faulk. "I can't say enough good things about it. Initially, because our team was unfamiliar with diamond grinding asphalt, we were skeptical. But we were pleasantly surprised and are now encouraged that diamond grinding is a great solution. In fact, the team was able to achieve the maximum possible smoothness for this road—and in South Carolina, where there are financial incentives for contractors to improve rideability, fully meeting those goals is a real 'win.'"
Furthermore, "diamond grinding proved successful in addressing a classic trouble spot when it comes to paving: the transition area between a bridge and the surrounding pavement," continued Faulk. "On SC 544, the diamond grinding achieved a very smooth tie-in between the road and the bridge."
An additional advantage to removing and replacing the entire 5-in. depth of asphalt in a single operation, according to Richardson, was that SCDOT found it to be a tidy process.
"Traditional mill and resurface operations can be very messy, with milling debris collecting in the gutters as well as pavement raveling creating debris on the roadway," said Richardson. Because the single-lift operation conducted on SC 544 eliminated the use of temporary milled surfaces, and because the thicker lift depth provided a more confined workspace, most of the debris associated with milling and raveling was eliminated.
Richardson, who served as the project manager representing the SCDOT – Horry Construction office, was responsible for ensuring that all work met or exceeded not only SCDOT standard specifications but all project-specific special provisions, SCDOT supplemental specifications and more.
"I have served in various capacities on other asphalt resurfacing projects on various primary and secondary routes within the district," said Richardson, "But this was the first project I worked on that involved diamond grinding of pavement. I found the project informative and engaging."
The fast, clean project was also appreciated by local drivers.
"There were very few complaints from the traveling public about the work," said Richardson.
The project was completed on May 31, 2020 and the total project value was $4,550,593.60 
"In these uncertain times, innovative, cost effective treatments are more necessary than ever as highway funding fails to meet the needs of the driving public," said John Roberts, executive director of the IGGA. "This is yet another example of how diamond grinding can speed production, increase safety and provide a high-quality pavement while maximizing the benefit of scarce taxpayer dollars. Kudos to the SCDOT for looking outside the box and finding success with their innovative endeavors!"
Kristin Dispenza has been a member of the AOE team since 2013, developing trends articles, case studies and other PR materials. She received a Bachelor of Science degree from The Ohio State University College of Engineering/School of Architecture and has more than 25 years of writing and editorial experience. She can be reached at kristin.dispenza@aoeteam.com.