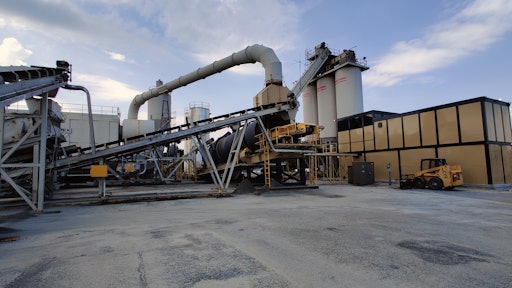 Like most asphalt plants, upgrades are slowly made over the years when the existing components that are in place no longer serve the needs of the company. This is certainly true for Oxford Construction's plant in Albany, GA which has been upgraded little by little over the years until it underwent a major overhaul this last year. 
The plant was installed at this location in 1998. Since then, they've added a third silo, added cold feed storage bins, upgraded the baghouse in 2007 and in 2010, they upgraded the controls to a modicon system.
The plant averages around 135,000 tons a year but has produced upwards of 200,000 in good years. However, ten years passed since the plant had seen any additional improvements. When the plant needed another upgrade this year including new controls, a new control house and a new drum, Oxford turned to ALmix.
Relationships Build Trust
Bruce Melton, president of Oxford Construction Company, has been with the company for 40 years and for much of that time has worked with Steve O'Neal, Sales Manager at ALmix. 
"I met Steve when I came to work for Oxford in 1980 and he sold us our first portable plant in 1987," Melton says. "A Standard Havens Low Rider."
The company, which operates four hot mix asphalt plants in Albany, Bainbridge, Blakely and Lumpkin, GA, purchased several Cedar Rapids and Terex plants over the years with help from O'Neal. So, when it came time to upgrade the Albany plant again, Melton turned to someone he trusted. 
"In 20 years, we had run 3.7 million tons through that plant all on the original drum," Melton says. "We had done a lot of patching and repairs over the years and that's a lot of tons to run through a drum so it was time for an upgrade. I've had a relationship with Steve for 40 years and he's been pushing me to look at purchasing an ALmix plant for nine years."
Melton says the company would have liked to have purchased an entire new plant but like many companies are still recovering from the 2008 recession and decided to upgrade the plant in major component pieces. The company knew they needed to upgrade from the existing modicon system on the plant as it was no longer supported by the factory and Oxford had to rely on independent contractors to do any type of work on the old control system.
"After talking with Steve and looking at several different options over the course of the year, we decided to install a complete new control house, new controls, new drum, new drum frame and burner all completely new," Melton says. 
Merging Old & New
Many plant owners know the challenges of marrying old components to new ones and the transition at Oxford's Albany plant was no different. 
"We decided to install the ALmix Insignia Control System but we also had older components that we needed it to meet up to including the baghouse, the cold feeds, silos, drag slats and more," Melton says. "ALmix came in and installed the new control package, mating them up to the new and existing components."
Following recommendations from the team at ALmix, Oxford eliminated the Cutler Hammer controls and installed Allen Bradley sensors. They also eliminated the Nordic soft starts and went to VFD drives. To help improve the plant's proportioning accuracy alongside the new control system, ALmix installed upgrades to the plant's cold feed, RAP, dust return and AC metering systems including new belt feeder motors, new conveyor belt scales, a new dust return system and a new AC metering skid.
ALmix was also on location to help train plant operators on the new control system. 
"On our old plants, they all had the same controls so we could easily swap operators at different locations as we needed," Melton says. "So far our operators are liking this system, it's very intuitive but it's going to take some getting used to."
Efficiency Gains Competitive Edge
Melton hopes these new upgrades help Oxford Construction stay competitive in their market. The company, which has been in business for almost 75 years, is one of the largest highway/heavy contractors in South Georgia. While Oxford's biggest client is the Georgia D.O.T., the company serves a diverse client base for private, commercial, industrial and governmental projects throughout Southwest Georgia. 
To increase production efficiency and overall mix quality, Oxford opted to upgrade the plant with a new 100" diameter UF Series drum from ALmix. "The drum at this plant was very tired," Melton says. "The new drum is already making a good homogeneous mixture for our projects. We know it's gonna be an upgrade for the mix in the mix quality and productivity and we're confident it's gonna be a big improvement."
Melton says that going forward, the company plans to continue to work with ALmix to replace the drag slats and silos. The three 200-ton silos and drag slats have not been replaced since 1998. Cold feed replacements and a new baghouse will eventually be on the upgrade list over the next four or five years.