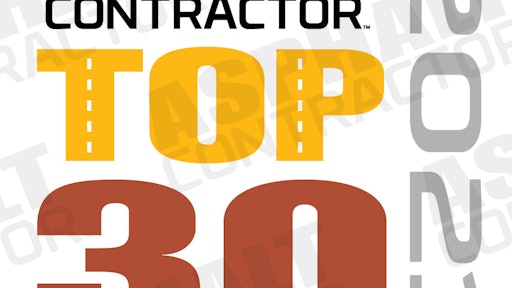 Next to your employees, your equipment fleet is one of the most important aspects of your company that you manage every day. It's the lifeblood of your business and making the right equipment choices can mean the difference between a profit or a loss on any given project.
Every asphalt contractor has his or her favorite piece of equipment. Some pieces have proven their prowess for adding profits. Others are popular for their ease of use and high productivity. And then there are those exciting new introductions which offer the latest innovations.
To honor those products which achieve those ideals, we bring you Asphalt Contractor's Top 30 Editor's Choice Awards each year. On page XX of this issue, you'll find a selection of equipment and tools chosen by our editorial staff for meeting a set of criteria, including longevity and consistency in the market, productivity and innovation.
As you browse the pages, you'll notice the emphasis this year on innovations and new technology. There were a lot of great product introductions in the last 12 months and you all took note by requesting additional information on those products and sharing our social media announcements. 
And since it's more important now than ever before to make sure the equipment and technologies you use each day is dependable, you'll also see products listed that have been proven by contractors over the years chosen as well. 
To gauge your preferences, we also factored in how much interest these products received on the Buyer's Guide at ForConstructionPros.com/Asphalt.
We offer key points of interest on our website about the features and benefits of each of our winners. For more information, including videos, brochures and more, on any of our winners, visit ForConstructionPros.com/Asphalt and simply search its numerical code.
Don't forget that thousands of other products of every type and category are available in our Buyer's Guide at ForConstructionPros.com/Asphalt, your go-to source for product information.
New Equipment & Your Bottom Line
Innovation happens in the construction industry very quickly. Adoption of such innovation however is not something we're very good at. Asphalt contractors are continually given options to improve their productivity and bottom line with new equipment and technology, but many times choose to continue to do things the old way because that's how it's always been done. 
One way asphalt contractors and producers can keep up with our ever-changing industry is by familiarizing themselves with the newest equipment upgrades and technology the industry has to offer. From new iron to innovative ways you can keep track of your materials, manufacturers are working hard to make your job easier.
Still on the fence about new equipment and technology? Consider 2021 your wake up call. With a possible infrastructure bill coming this year, things are going to pick up quickly and if you don't have the right equipment and technology on hand, your company won't be able to compete. 
While you may not feel comfortable making a huge investment right now, can your company afford not to if you want to stay competitive? Companies that invest in their people, technology and the equipment needed to get the job done will be poised for another successful year. What are you excited about in the Top 30 Editor's Choice Products for 2021? Let me know at jlombardo@acbusinessmedia.com