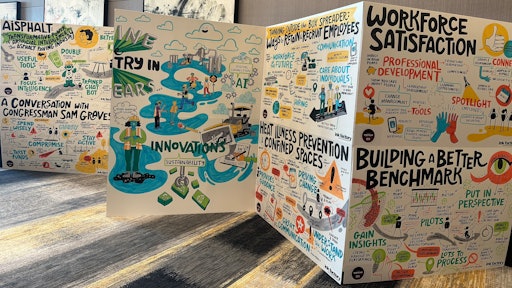 Brandon Noel
The halfway chapter of 2023 has officially closed for the asphalt industry, as the National Asphalt Pavement Association's (NAPA) July conference in Kansas City, MO, came to an end. The midwestern city was a beautiful backdrop, and generous host for the gathering, even if venturing outside greeted you with both heat and air quality advisories. However, for those of us in town for NAPA, most of the time was spent in session or committee meetings hearing about these big topics.
Artificial Intelligence: Technological Wonder or Digital Snake Oil?
The first general session of the conference set a tonal theme for the rest of the conference in general. Artificial intelligence is going to be apart of the asphalt industry's future, in one way or another.
In the June issue of Asphalt Contractor, my cover story centered on my own independent experiments with the publicly available ChatGPT language model, and how it might have some varying applicability for our sector. What was unveiled here was potentially a much more specifically tuned and useful tool.
In a partnership with XBE, a company that provides operations management solutions for the horizontal construction industry, NAPA revealed its AI-powered service called, "Hey, NAPA." It's based on a service that is currently available on AsphaltPavement.org and HeyNAPA.com, and what makes it different than ChatGPT is what data library it was trained on.
When users login to Hey, NAPA, they will be chatting with an algorithm that has the entirety of NAPA's data, best practices, and documented guidance at its disposal. In contrast to some of the weaknesses ChatGPT has – Hey, NAPA can cite its sources for the information that it provides in response to your questions. Read the full press release for Hey, NAPA here.
XBE's CEO was a keynote speaker, and to say he loves AI is an understatement. Speaking with a few contractors and associates off the record, some think he may have been overselling what it can do, and the benefits it can provide. This is included suggesting between 50% and 100% returns on capital investments by integrating AI into almost every corner of your business and operations. Only time will tell.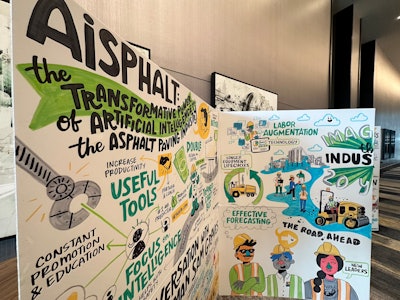 Watershed Data: The More the Merrier
The drum beat of EPDs resulted in a considerable uptick in the participation for the EPD program. During the sustainability committee Joseph Shacat, head of that department for NAPA, revealed that there has been a nearly ten fold increase in the number of EPDs since March of 2022. This all made possible through the Emerald Eco Label tool, which helps plants file their EPDs, and you can read more about that process here.
During the Tuesday afternoon micro-session "Building a Better Benchmark," NAPA revealed 1073 mix design EPDs are now on file from 336 different plants nationwide, and spanning 91 organizations. Unfortunately, what this influx of data reveals is a bit concerning.
What is considered a "low embodied carbon" product is the best performing 20% of similar materials or products, if that's not available, then top 40%, and if that isn't then simply above industry performance average.
According to the currently published EPDs, the GSA and FHWA thresholds for kilograms of carbon dioxide per metric ton (KgCO2e) are:
Top 20% = 55.4
Top 40% = 64.8
Better than Avg. = 72.6
These figures aren't final. As more data is added through published EPDs, especially from underrepresented regions, the "low carbon" thresholds will shift. That's good news when you consider the results of the current results. Many of the published EPDs show that the KgCO2 is blowing past the recommended total limits at the A1-2 stages, not including the A3 emissions.
This means it is all the more important to file more EPDs nationally, gathering as much data from as many varied regions across the country in order to bring these guidance thresholds closer to the "real world" industry figures. What the government doesn't know, can still effect you.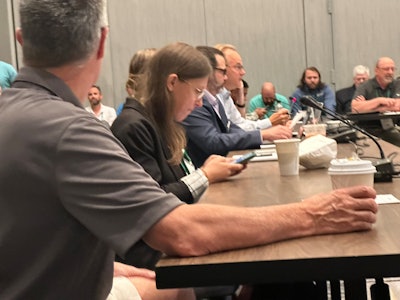 Safety Doesn't Take A Backseat
During the regional committee meetings, work zone safety improvements brought meetings to a halt almost every time. For everyone in the room, it was a passionately discussed project.
According to Howard Marks of NAPA, enhanced funding guidance to allocate existing budget dollars to implement work zone safety improvements (like so called blue-light police protection, photo enforcement, etc.) has to go through each state DOT. This is the big issue. How can states access these federal funds? Each DOT has a different process, and NAPA members have to lead the charge.
During the micro-session on Heat Illness Prevention and Confined Spaces, Coral Rodriguez-Todd of Duval Asphalt (Jacksonville, FL) gave an excellent lecture on how companies can develop effective hot weather practices to protect workers frequently exposed to high heat environments.
Building a hot weather prevention checklist, employee/leader education, and accurate reporting for health and safety records. Improving heat health protection can positively impact the labor force during the busy months and the foreman/managers play a large part in how effective these plans can be. As Rodriguez-Todd said, "You can have this great plan, but on the job, workers are going to follow what their direct foreman says, more often than not."
Long heat waves, droughts, and so-called "wet bulb" temperatures are increasing, driven by unchecked climate change, and protecting your workforce is the least anyone can do. Meanwhile, in Texas, the state recently removed mandated water breaks for those most vulnerable to high heat situations. Take matters into your own hands, and make the job safer.