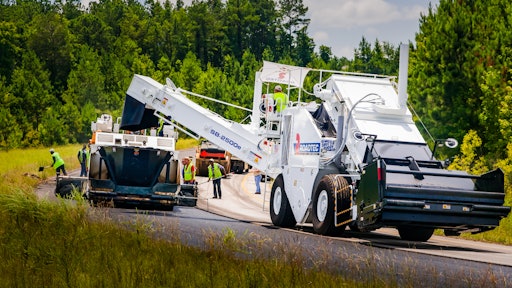 In the road building industry, we don't just believe in the phrase "an ounce of prevention is worth a pound of cure," we swear by it. That's because the product we rely on, asphalt, is extremely perishable and if we don't get it put down in a timely manner, everyone is in trouble.
To help contractors put asphalt down faster, the use of Material Transfer Vehicles (MTVs) has been increasing as a way to use less trucks while reducing material and thermal segregation. Many states are also starting to require the use of these machines during paving so any breakdown in this equipment would be detrimental to the success of the job.
"An MTV breakdown on a jobsite can bring the entire operation to a stop, from the plant to trucking to the paver," Donnie Smith, senior product specialist at Weiler says. "Proper and preventative maintenance will increase the life of critical components, in turn, reducing operating costs. Proper cleanout of the machine along with regular scheduled greasing, oil and fluid changes and inspections help ensure the machine is running at optimal performance."
Vijay Palanisamy, product marketing manager at Dynapac agrees.
"Due to the high investment cost nature of purchasing a MTV, every hour a machine is parked for maintenance directly impacts the top line and bottom line of the contractor," he says. "Both preventive maintenance that can be done at job site and annual maintenance at the shop to go over wear parts is suggested to help keep these machines running in prime condition."
Clean Machine
Manufacturers of MTVs say the number one thing you can do to keep your machine running properly is to make sure it's clean.
"Cleaning is everything about wear life," Kyle Neisen, product manager, pavers & MTVs for Roadtec, Inc. says. "It is one part of maintenance that can dramatically increase the life of wear parts. It saves money and time, and increases efficiency."
Smith adds that contractors who are diligent about cleanout typically see significant improvement in wear life.
"We continually stress the importance of following recommended daily and weekly cleanout procedures," he says. "It is easy to see the correlation between machine cleanliness and wear life."
The daily cleanout process includes the following:
1.      Ensure all excess material is out of the hopper and conveyors. You can do this by leaving it run for 10 minute prior to completing cleanout to loosen any material.
2.       Spray down the machine including dump hopper, augers, chains and hopper.
3.       Open front dump hopper cleanout door and remove excess material from hopper, especially material buildup at the corners of the outer augers.
4.       Raise the front dump hopper and clean excess material around.
5.       Open storage hopper cleanout doors and remove excess material from hopper, especially material buildup at the corners of the outer augers.
6.       Close all doors and spray down machine including dump hopper, augers, chains and hopper. 
Contractors should also follow the recommended maintenance schedule with weekly cleanout of conveyors that includes opening all conveyor doors for inspection and cleaning. While doing this, maintain proper and even chain tension, spray down conveyors before and after operation daily with either the internal spray down system or manually.
In addition to cleaning out the machine, contractors should be sure they are working with a clean and reputable asphalt plant as machine wear can be directly related to the plant.
"As the first piece of equipment on the jobsite, the MTV is the first to get a part of the plant through the machine,"  Smith says. "If there have been maintenance issues there, the damage a piece of plant can have on an MTV can be very significant, in addition to causing the entire paving operation to stop for repairs. When a company looks back at the operating costs of an MTV, many times it is not noted that a piece of the plant caused the damage that may have included replacement of chains and/or augers prior to normal wear life."
Aggregate also has a significant impact on wear life. Depending on the type of rock being used, some components will wear faster regardless of the level of cleanout.
Maintain Wear Parts
In addition to keeping the machine clean, maintenance should be done on the machine to help increase uptime.
"Maintenance should be performed daily, on the jobsite," Neisen says. "This will prevent a majority of issues that could cause work to halt. These are simply checks and procedures that only take minutes. If a crew gets into the habit of performing daily maintenance, it's quick and easy and the payoff, in terms of productivity, is exponential."
Wear parts on an MTV include: bearings, sprockets, augers, chains and conveyor floor liners.
Wear on a sprocket is easily visible. When a sprocket is worn or cupped, it causes damage to chain rollers. Replacing a chain is much more expensive and time consuming than replacing a sprocket. That's why it is so important to perform sprocket inspections daily. Proper maintenance and replacing of sprockets will increase the life of the chain rollers and the entire chain.
Manufacturers will specify a maintenance schedule in their operation and maintenance manuals and maintenance is to be performed at what machine hour intervals they need to take place. See sidebar for general hours of service details.
"Following the recommended maintenance schedule, whether in the field or in the shop, will lead to best results for the contractor,"  Smith says. "A complete machine audit and "deep" cleaning in the off-season is another great way to inspect the machine and perform preventive maintenance and repairs."
Improve Uptime by Decreasing Operating Costs
Uptime is a huge buzz word in the industry. They less time you spent repairing your equipment, the more time you can spend working and manufacturers are working hard to develop equipment that increases uptime while reducing operating costs.
There are three main operating costs of owning a MTV:
1.       Wear Parts & preventive maintenance costs (50%)
2.       Fuel and Transport Costs (25%)
3.       Labor costs (25%)
"Beyond completing proper maintenance, contractors should choose a MTV that reduces the above three important operating costs drivers," Palanisamy says. "This means that from the beginning of machine ownership, the maintenance requirements are reduced. Reduced maintenance not only helps in operating costs, it also help contractors increase uptime so that additional production is gained."
And reducing maintenance starts with the machine you purchase. Newer equipment is being developed with increased fuel efficiency, fewer wear parts and a smaller footprint which can reduce transportation costs.
"Traditional MTVS are huge consumers of wear parts," Palanisamy says. "The frequency of changing the wear parts every season with less than 1000 operating hours adds huge rebuild costs for the contractor at the end of every season.
"And even though machine manufacturers can't change labor costs, they could influence the efficiency of the crew by increasing operating comfort and reducing the clean-up time needed at the end of the day with a newer machine."