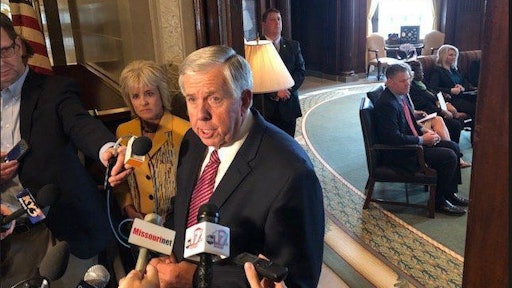 Kurt Erickson, stltoday.com
On his second full working day as Missouri's governor, Mike Parson offered initial support Tuesday for raising the state's gasoline tax to help rebuild the state's roads and bridges.
"I'm going to be supporting infrastructure in the state of Missouri and, yes, if that's (increasing state fuel taxes) part of the infrastructure plan," he said. "I think that is important. We need to make sure we've got a good plan in place."
Missouri lawmakers agreed to place a question on the general election ballot calling for a phased-in 10-cent increase in the state's 17-cent per gallon motor fuel tax.
If approved, the state's fuel tax for gas and diesel would rise 2.5-cents per year beginning in 2019, topping out at 27 cents in 2022. The proposal also would raise taxes on alternative fuels, including natural gas and propane.
The increase would bring Missouri above the current national average of 24 cents per gallon.
Parson took over when scandal-plagued Gov. Eric Greitens abruptly resigned after just 17 months in office in exchange for St. Louis Circuit Attorney Kim Gardner dropping a felony charge against him.
(more on new MO governor's disposition toward gas tax increase . . . )