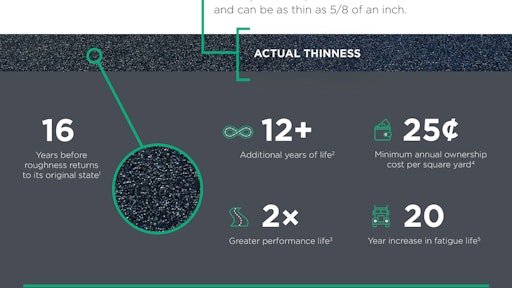 According to the National Asphalt Pavement Association's (NAPA) market research, the number one concern of state departments of transportation and public works agencies is maintaining the U.S.'s transportation network despite limited funding. Pavement preservation helps extend a pavement's performance and improves service quality. Thinlays are a suite of thin-lift asphalt overlays designed to improve ride quality, reduce pavement distress, maintain surface geometrics, reduce pavement–tire noise, reduce life-cycle costs and provide long-lasting performance
With Thinlays, agencies can extend the life of pavements that are in good to fair condition, decreasing life-cycle costs, improving ride, and decreasing roadway noise. In a new guide, Thinlays for Pavement Preservation (Information Series 141), NAPA provides comprehensive guidance on the proper use of Thinlays, including how they fit within pavement management systems, when and how they should be used based on existing pavement condition, how Thinlay mixes should be developed and specified, and best practices for Thinlay construction.
This guide also helps users compare the cost and performance of common pavement preservation techniques. The guide was authored by Mike Heitzman and Ray Brown at NCAT with John Hickey of the Asphalt Pavement Association of Oregon and was developed through NAPA's cooperative agreement with FHWA. It is now available through the NAPA Online Store.
NAPA also designed this infographic outlining the economic and performance benefits of Thinlays.