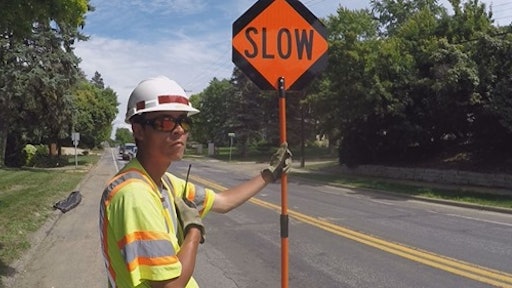 Last month, Minnesota passed a bill that gives work zone flaggers the ability to call law enforcement and identify motorists who disobey their directive. Law enforcement can then locate the violating vehicle and decide whether or not to issue a citation. The Minnesota Asphalt Pavement Association worked with Associated General Contractors and Citizens for Safe Work Zones to pass the bill, which has been a multi-year effort.
The law, which went into effect Aug. 1st, allows flaggers to report drivers to law enforcement within four hours of the incident. Law enforcement can then issue a citation to those drivers if there's reason to believe they were driving unsafely.
Minnesota Gov. Tim Walz highlighted the new law Friday near a highway construction zone in St. Paul.
"Work zones are incredibly dangerous. The flaggers who are the first ones in those work zones in many places are at risk," he said. "This piece of legislation, just to let people know: You come into a work zone, and you disobey what the flaggers are doing, you put people at risk. Those flaggers are now empowered to take down that driver's license number, and you will be getting a talk-to by State Patrol."
There were 31 fatalities and 123 serious injuries in Minnesota work zones over the past three years.
The work zone law is one of a series of traffic-related changes that went into effect Aug. 1, including a law banning drivers from talking on the phone unless they're using a hands-free device.
Another new law takes aim at drivers who go slow in the left lane of multi-lane highways.
Walz has been traveling the state all week to highlight the changes.
"Hands free, work zone safety, stay out of the left lane unless you're passing, pull over and give room to utilities and emergency vehicles — it's my hope that those become second nature, like buckling up when you get in the car," he said.