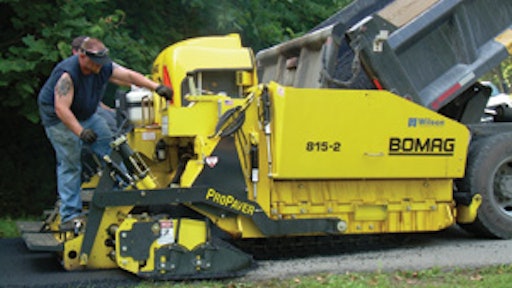 You've been thinking about it a while, but now it's time to purchase your first self-propelled paver. The question is, what do you need to know before you make your buying decision? Certainly, equipment features and benefits are important, as is the price. But even more important, say manufacturers, is how the machine will be used … today, and tomorrow.
Buy a machine that will accommodate only small jobs, and that's all it will do efficiently. The price tag will carry less sticker shock, but bigger, higher-paying jobs would be out of the question. Conversely, buy more machine than you would ever use, and you will be paying for it, and its requisite larger support equipment, for years to come.
So what's the answer? Like any other major purchase you intend to make, begin with a clear picture of how you want to use it, and then do your research.
Understand your application
"Contractors need to ask themselves how much asphalt they want to put down in a day, and then find the machine that will do that," says LeeBoy service manager Mark Bolick. "If the goal is to put down somewhere between 100 to 150 tons of asphalt a day, a tilt hopper (gravity-fed) paver will do the job. If it's slightly higher, say between 300 to 500 tons a day, a smaller conveyor-fed paver will be the ticket. If they anticipate putting down 500 or more tons a day, then they will need a more powerful conveyor-fed paver.
"Contractors need to define their longer-range business goals, too, as well as their expectations for the first year in business.
Again, those who plan to do driveways exclusively will probably start with a less costly tilt-hopper paver. Those either paving or planning to pave larger jobs will want a conveyor model. In either case, it is important to remember that contractors make money by putting asphalt down."
John Hood, manager of product development and sales for Bomag Americas paving products, agrees. "Using a tilt-hopper paver definitely limits the amount of asphalt a contractor can put down in a day."
Hood says that as a rule of thumb, a gravity-fed paver will cost anywhere between $35,000 and $60,000 and, at the high end, contractors may be able to put down up to 300 tons of asphalt in a day, that's 30 tons per driveway for 10 driveways. That's a lot of work, but the same machine won't do larger commercial projects.
"If operators plan to grow their businesses in terms of the job size and work quality, then starting with a smaller conveyor paver is likely the way to go," he says.
Of course, nothing is as easy as 1-2-3, meaning that big is not always more efficient or faster, says Cameron Calder, executive vice president for Calder Brothers Corp. "A conveyor-fed paver will put more asphalt on the ground in the same amount of time, provided the job allows you to take advantage of the increased material feed rate associated with conveyor pavers."
However, do not forget overall job efficiency is the key. On a job where a contractor needs to get in, get out, and perform a quality job, a nice rubber-tire, gravity paver will out perform a conveyor paver, especially where space and obstacles are factors. Obstacles like concrete pads, islands, curbs, overhanging trees and power lines, irregular shapes all restrict the ability to line up the truck and the paver. 
Calder has a simple matrix that allows contractors to match anticipated work to a paver model:
For mostly residential or occasional commercial jobs: Gravity-fed pavers (entry-level or high-end)
For half residential, half commercial jobs: Gravity-fed pavers (high-end) or entry-level conveyor
For mostly commercial, some residential jobs: Conveyor-fed pavers (entry-level or high-end models)
For mostly commercial, some street/road work and rare residential jobs: High-end conveyor-fed pavers.
There are quality issues, too, adds Hood.
"Conveyor-fed machines offer a higher-quality job in part because they don't have to stop to have the hopper refilled as gravity-fed machines are forced to do, and they are usually equipped with heavier screed assemblies that offer a better finished product. When making a purchase decisions, contractors need to consider both production and quality issues."
Bomag offers one gravity-fed paver, the 50-hp model 3313 with 8-ft. to 13-ft. paving widths, one mid-sized conveyor paver, the 60-hp model 4413, with 8-ft. to 13- ft. paving widths, as well, and two 85-hp conveyor-fed units, models 814-2 and 815-2 with 8-ft. to 14-ft. and 8-ft. to 15-ft. paving widths.
Fitting features & benefits
"Contractors looking to buy their first self-propelled paver should weigh the cost of special features versus their benefits," says Dallas Reeves, Ingersoll Rand product market manager for commercial pavers and specialty equipment. "To deliver a top-quality job, they need to have a paver with a top-quality, adjustable screed for laying a uniform mat. A nice-to-have feature is one that allows the screed operator to run the main screed functions from the ground, too. A great, but not necessary feature allows for automatic adjustment of toe points, which can be used for automatic grade control, and can potentially eliminate one person from the paving crew."
He continues, "Before buying a paver, also look at the average operating costs of the machine, maintenance intervals, operator comfort and controls, and how many people it will take to operate it and the support equipment." His recommendation for new paving contractors would be the Ingersoll Rand model 3020 or 3120, with 73- and 83-hp engines, respectively. "Both of these conveyor-fed pavers weigh just under 17,000 lbs and they are ideal for small and mid-size commercial jobs," Reeves adds.
When asked what LeeBoy models he would recommend for new paving contractors, Bolick says the conveyor-fed model 8500 would be a good starting point because it, too, allows them to do smaller jobs and the opportunity to do larger, more profitable jobs where production is essential. It features an 8- to 15-ft. screed system, 16,000 lb. weight, and the power to push a dump truck uphill.
"For contractors paving driveways, the 8500 may be bigger than needed initially, but it will pay dividends in the long run with more capabilities, durability, productivity and the always important resale value," Bolick says. "Among other important features are sonic augers to automatically control asphalt fed to the extensions, and a screed heat system that can be either propane or electric. Contractors can choose between a high-deck and low-deck model. A low-deck paver would be the choice for smaller, more detailed jobs; high-deck units would be the choice for work with long pulls."
For the contractor using a gravity feed asphalt paver, he recommends the LeeBoy 1000F that offers an 8- to 13-ft. Legend Screed system. It weighs 10,000 lbs and is powered by a 37-hp diesel engine.
Calder recommends either one of two of his company's models for new paving contractors: the model 690-F gravity-fed paver or model 1550-C conveyor-fed paver. Both, he says, feature a screed system that provides both depth and texture matching between the extension and main screed, without secondary adjustment to the extensions.
"Overlooking the significant benefits of the rubber tire paver is probably the biggest mistake many first-time paver buyers make," Calder says. "The assumption that rubber tire pavers are strictly for overlaying applications is false."
He notes that a rubber-tire paver doesn't disrupt the stone base material as much as a track paver, and it goes over concrete sidewalks and curb and gutter smoothly, without damaging the concrete. Rubber tire pavers also have higher travel speeds and encounter less bouncing and jarring to both the operator and the machine than their track counterparts, which translates into more comfort for the operator and better machine longevity.
"When evaluating a rubber tire paver make the sales representative explain the flotation characteristics of the model you are looking at, and always ask for a reference," Calder says.
Other features
Compared to gravity-fed pavers, conveyor-fed pavers have more automated features to control paver operation as standard equipment. Some of these features are options on gravity-fed models, but Hood says that if you plan to upgrade to a conveyor-fed model in a couple of years, you probably won't get back the money initially spent on options.
Digital controls and electronics to automate the paver and screed operation make for a better paving job and can take some of the legwork out of the overall operation, he adds, but they are not requisites for beginning paving contractors who may find their operation foreign. Furthermore, electronic devices, including sensors and switches don't mesh well with liquid and heat – constants in a paving operation.
A good example of this is the automated material feed systems, Calder says. "These systems require a sensor – contacting or non contacting – to detect the presence of asphalt." He says contacting sensors work fine, but they are prone to failure because they are in contact with 300°F asphalt, not to mention a laborer's shovel. A non-contacting sensor (which does not touch the asphalt) is a more expensive solution, but ultimately more reliable over the long run. Non-contacting sensors are usually standard equipment on most of the high-end conveyor machines and they are available on their other models, but often as an optional upgrade to the contacting sensor system.
Cost-plus considerations
Even though a paver will be the most important tool in a paving crew's arsenal, it doesn't represent the biggest economic investment, Hood says. In other words, when buying their first paver, contractors need to consider other associated costs, such as a truck to haul a trailer, a trailer, roller, skid steer, people, and so forth.
"As contractors jump from a gravity-fed to a conveyor-fed to increase the quality and amount of work they do, they will likely require a bigger roller, and that will change transportation arrangements. Whereas a 10-ton trailer may accommodate a paver and support equipment, now suddenly a contractor will need a larger trailer and/or it will take multiple moves to get to a job site," Hood says.
"And it's not all about equipment. People are the most important part of any paving crew, and the personnel requirement varies with the type and size of paver. For example, a four-person crew can easily operate a gravity-fed paver. That would include one paver operator, one roller operator, and two support people for shoveling and doing other manual labor. If you step up to a small conveyor, things happen a lot faster. You almost need two guys on the paver at all times, two for manual labor, and possibly another roller operator. That one purchase will add a couple of guys to the payroll. You need to have the work to support your overhead."
Bottom-line tools
Assuming that you have a paver lined up, what other tools do you need to complete your paving crew? Like Hood, LeeBoy's Bolick says the key to successful paving is people. "The operator will have a tremendous impact on the paver's productivity, longevity, and the quality of the work done," Bolick says. "And the quality of the asphalt mat put down will have a great impact on the future business of the contractor. A skilled operator and well-trained crew can make all the difference in the world.
"For a beginning paver, the basic tools of the trade will be rakes (lutes), shovels and depth-gauge sticks. A contractor will need a 15-ton dump truck to bring asphalt from the plant for paving jobs, and the truck might also double as the pulling vehicle for the trailer containing the paver, roller and associated equipment. A small tack tank will be needed to spread tack on surfaces before overlays to provide adhesion between the mats."
For compaction, Bolick suggests the use of a 1.5 ton steel drum roller or a pneumatic roller in combination with a steel drum roller to compact mats. The pneumatic roller kneads the mat and the steel drum provides the smooth finish.
Other tools include a gas-powered vibratory plate compactor for compaction in tough-to-reach spots where the roller can't go (against buildings or in tight areas), and a trailer for moving the paver and roller from job site to job site. The tack tank may be trailered or towed by pickup.
"Another very handy tool I have seen in use by efficient crews is a hand-held power broom," Calder says. "The power broom efficiently cleans up the asphalt spillage in the road way. Don't forget a ribbon for roping off an area where you want to restrict traffic; this can be printed with the name and phone number of your company for some free advertising."
There are some other considerations, too, for first-time asphalt pavers. A new paver, truck, trailer, roller, skid steer, and other equipment will be a hefty initial investment, says Ingersoll Rand's Reeves. "If starting with nothing, though, paving contractors can consider buying used equipment and get into the business for under $100,000."
Whether they buy new or used, product support is critical, and contractors need to be fastidious about cleaning up equipment at day's end.
"For contractors getting into the paving business the cost of their equipment will be a key consideration. It is important for contractors to get the paver that will meet the expectations of their business plan," Bolick says. "When looking at cost, they need to look at the paver as an investment, know the machine's capabilities, its productivity, and keep an eye toward planned growth. Resale value may be a big factor, as well, if they plan to upgrade. At trade-in time, how well a machine has been maintained will have either a positive or negative impact on the trade-in value.
"Local dealer service and support are very important to maintaining equipment and keeping it on the job at maximum productivity."
Based in Neenah, WI, Rod Dickens is a freelance writer specializing in the construction industry.
Companies in this article