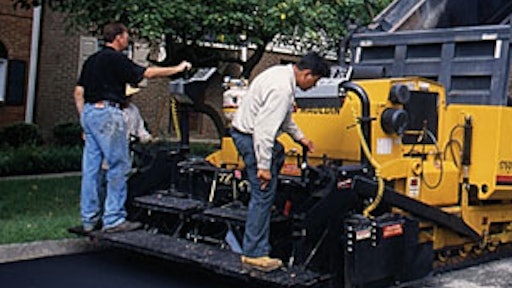 From the operator's station on a new Mauldin 1750-C asphalt laydown machine, Tim Vernal explains his formula for success:
"There is no single secret to success in this business," he says. "It's a combination of events and very hard work. And, even then, there are no guarantees that you will ever succeed no matter what."
But despite a drastic career shift, Vernal, owner and founder of T. R. Vernal Paving Inc., has succeeded in a career he never envisioned. From his first paving job on St. Patrick's Day in 1989, Vernal now owns a firm that puts down an average of 100,000 tons of hot mix asphalt annually.
"From one four-man crew and a pre-owned Mauldin Model 1500 Superpaver rubber-tired asphalt laydown machine, we have grown into a company with 55 employees, three full-time asphalt paving crews, and a site prep crew," Vernal says.
And Vernal is right out there with them. "I'm doing it because this is precisely where I want to be. It is where I feel I am most valuable to my company," Vernal says. "I enjoy working with my crew and the daily challenge of the jobs. I enjoy the tactile experience of handling a quality machine."
Though Vernal grew up with an asphalt paving background in Ohio, he originally planned on a law career. When he discovered law wasn't what he'd envisioned, he decided to form a small paving company to do patching, driveways, and small parking lots. He researched possible locations, settling on North Carolina because of climate, economic conditions, and opportunities for growth.
Today Vernal Paving's main service area extends 40 miles out from Raleigh-Durham's main airport, though the contractor has done work as far away as 120 miles away. "Not to be funny but, we tell our customers, "If you've got the bucks, we'll put the fuel in the trucks'," he says.
Typical of a Vernal Paving project was the resurfacing of the large North Ridge Condominium Complex in Raleigh. The complex had six separate parking lots to pave, and Vernal's crew paved two lots a day with 24 hours spaced between paving days in order to inconvenience the tenants as little as possible. They put down a total of almost 1,400 tons of standard street mix, each lot receiving a single 2-in. lift of about 250 tons a day.
He says all the men in his original crew are still with him, "only they are now foremen of their own crews." And he credits both his operation's manager and his office manager as being instrumental in his success.
And while the paving business is a far cry from the once-envisioned law degree and the three-piece suits and tie that went with it, Tim Vernal has never looked back and offers these tips to contractors:
"You must have an absolute passion for what you want to do," he says. "Don't plan on a 40-hour workweek with all your weekends free for golf at the country club."
"Go out, beat the bushes, and find the most dependable asphalt paver that you can. It's all very nice if you can obtain the financing to buy a brand new, factory fresh model with a great warranty package. The problem is that most of us can't afford to do that at first and still have enough credit left to run the business."
Never underestimate the importance of education. "In many instances, the true value of education is that it teaches you to think, and thinking, whether you are purchasing a paver or founding a company, is one of the keys to success," he says.
Take care of your customers. "You establish a good relationship with customers because you pay attention to the smallest detail of every job," Vernal says. "Don't make rash promises just to get a job. Do what you say you will do. And do it when you say you will. That generates the essential return business."
Companies in this article