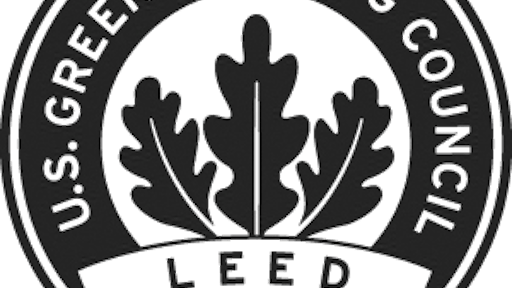 Sustainability continues to gain momentum in the construction industry, and as it continues to become more prevalent steps are being taken to set the standard for sustainable construction. One area contractors may encounter more often is Leadership in Energy and Environmental Design.
What is LEED?
Since 1993, the U.S. Green Building Council has worked toward creating a sustainable future for the country through green building. The first version of LEED was released in 1998 with only a new construction focus. The current version of LEED, version 3, has nine types including New Construction, Existing Buildings, Core & Shell, Commercial Interiors, Retail, Homes, Neighborhoods, Schools and Healthcare. The latest updates will expand the types to cover 21 different areas of the construction industry.
"It's meant to strike a balance between environmental needs and what's most appropriate for the market," says Theresa Backhus, sites technical specialist in the LEED department at USGBC. "It's trying to find that sweet spot between pushing innovation and the realistic constraints of the market."
To date, there has been roughly 10 billion square feet of LEED development in 135 countries. "At the heart of LEED is the fact that it is a voluntary rating system," Backhus says. "It wasn't designed to be a required code. Some municipalities are starting to require LEED or some component of it as a code. We've stressed that it works better as a voluntary system because projects can pick and choose what strategies are most appropriate for each project."
Several factors have played key roles in the evolution of LEED. "Because it's voluntary and we have 20,000 member companies, all of those people can be involved in the evolution of LEED," Backhus says. "It's a really open and transparent process. The goal of LEED is to be a consensus based continuously evolving process."
LEED and the pavement maintenance industry
With nine types of LEED rating systems and counting, the areas points cover can expand a wide array construction segments. As for the pavement maintenance industry, Backhus offers suggestions of what LEED areas contractors should be familiar with.
There are five main credit categories including sustainable sites, water efficiency, energy and atmosphere, materials & resources and indoor environmental quality. "The two most important categories for your industry are sustainable sites and material & resources," Backhus says. "Sustainable sites focuses on the type of materials used on the site, how they are designed, how they are constructed, etc. The materials & resources focus on the selection of materials, amount of recycled content within the materials, how materials will be disposed of, etc."
Each category has prerequisite that are required while there are some optional credits allowing contractors to pick and choose from the information. "The most relevant credits for your contractors in the sustainable sites category will be Heat Island Reduction," Backhus says. "Both Heat Island Reduction—Roof and Heat Island Reduction—Nonroof credits focus on the materials and the placement of the materials both on the hardscape as well as the roof of the building. That includes paving, parking lots, sidewalks essentially any reflective material other than plants."
According to Backhus, a lot of materials will achieve multiple credits, but contractors must consider the tradeoffs. "Storm water management is another available credit for your contractors," she says. "If you're looking at the heat island reduction materials versus the storm water materials you'll be looking at options such as porous pavement or pavement being broken up by landscape. You're not only looking at the type of material being used but also how the parking lot is designed and constructed."
In order to achieve the LEED points with waste water management, the property must be able to successfully manage all of the required storm water. As for the heat island effect, a certain percentage of hardscape or paving doesn't have to be compliant with the SRI threshold as long as the overall area or a percentage of compliant materials outweigh the non-compliant materials.
Another opportunity for contractors to obtain LEED points is through the innovation category. "The innovation category is if a contractor uses a strategy on a project and the services or product isn't covered in the other categories it may be covered under the innovation category," Backhus says. "The innovation section gives you the opportunity to propose strategies that are innovative. For example, that would work if you have a certain application of material that would provide environmental benefits."
When completing LEED projects contractors must also be aware that some information may be required to verify credits. "Contractors may be asked to track a portion of their work via logs or some other sort of data," Backhus says. "The information will track the products they are using. They may also be asked to work more closely with designers."
While pavement maintenance contractors may not encounter many LEED projects, it is worth becoming familiar with the aspects of LEED. "Since the beginning of LEED it has been on a growth trajectory," Backhus says. "There has been consistent growth even when the economy dipped."
To become more familiar with LEED, contractors can become accredited in several different areas of LEED. "Being accredited is helpful to have a better understanding of the requirements, and it is also required to have a LEED AP on projects," Backhus says.
Another opportunity is to join a local chapter. "Whether or not you are a member company or a LEED AP you can get involved with your local chapter," she says. "Your chapter can provide you with a network of professionals already working on LEED projects in your area. It's a great way to get familiar with projects and get familiar with contractors working with LEED."