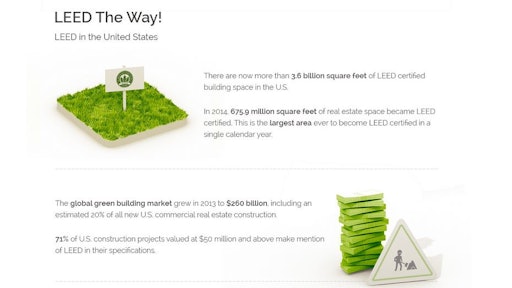 The construction market is inexorably being transformed by sustainable practices, according to Lance Surety Bonds' newest infographic on the U.S. green building market. An important factor driving the change is commercial buildings certified Gold in the the U.S. Green Building Council's Leadership in Energy and Environmental Design (LEED) rating system consume 25% less energy, and record 27% higher occupant satisfaction.
Only 2% of all U.S. nonresidential building starts in 2005 were green. In comparison, between 40% and 48% of all nonresidential building starts in 2015 are expected to be green – a market opportunity of $120-$145 billion.
Growth in green residential building is also accelerating. LEED projects are expected to make up about 33% of the residential building market by 2016, resulting in a $101 billion market opportunity.
Lance's infographic points out that thanks to a record number of square feet of real estate becoming LEED certified in 2014, there are now more than 3.6 billion total square feet of LEED-certified building space in the U.S. An estimated 20% of all new U.S. commercial real estate construction is green building, and 71% of U.S. construction projects valued at $50 million or more mention LEED in the specifications.
Construction companies are adapting. And with state and federal governments consistently embracing and recommending green building, the green market is set to continue expanding dramatically in the coming years.
See the full infographic to find out how LEED is changing the face of U.S. construction, and what opportunities it offers those who are willing to embrace the change.