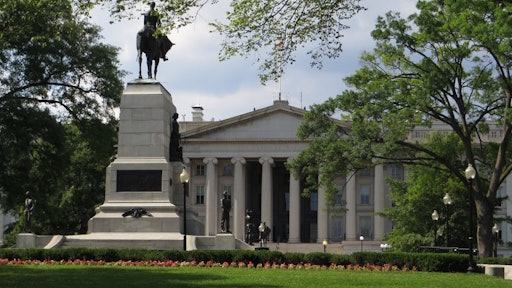 The U.S. Federal Government has consistently been ramping up its green building efforts. This has been part of the overall 'greening' of its policies pertaining to energy and fuels consumption, and its move towards energy independence and greater security.
Between efforts to optimize the way energy is used in its buildings, vehicles and elsewhere, as well as in seeking to broaden the number of alternative energy sources, the government's green policy has advanced by leaps and bounds. Here's the latest
The Government's Move Towards Sustainability
With the introduction of the Energy Independence and Security Act of 2007, which succeeded the Energy Policy Act of 2005, the U.S. Federal Government sought to further deepen its commitment to environmental sustainability and energy independence.
The act had a number of purposes, spanning from energy independence and security to the production of renewable fuels, the increase of the efficiency of buildings, products, vehicles and the overall energy performance of the Federal Government.
In the area of green building, the Federal Government has consistently been implementing LEED certification standards, as a result of the U.S. General Services Administration's (GSA) endorsement of LEED as their preferred green building rating system.
While there have been voices from different directions arguing against what may seem as favoritism on the side of the government in embracing LEED, the fact remains that, despite some shortcomings, the government has been making progress. Some have even claimed that LEED is too stringent in its constant efforts to review and perfect its rating system, and can be burdensome.
Leaving conflict aside, what has the government to show for its commitment to green building?
The Greenest Government
While there's a few governments in the world that might want to claim that title, the current U.S. Federal Government is certainly the greenest U.S. government so far. Altogether this is good news, given that the U.S. government is one of the largest energy consumers in the world.
Just recently, in February 2015, Energy Information Agency (EIA) brought the news that the government's energy consumption was at its lowest level since at least 1975. A big amount of the reduction is due to a reduction in fuel consumption, which accounts for the largest chunk of federal energy consumption. But energy consumption at federal facilities has also been declining steadily, along with the overall square footage of federal buildings.
All of this is in line with the goals set out in the Energy Independence and Security Act and the ones further specified in president Obama's Executive Order in 2009, which include:
A 100% reduction of fossil-fuel-generated energy consumption by new GSA buildings by 2030, and 65% by 2015 (compared to 2003)
A yearly 3% reduction of energy intensity in buildings or a total of 30% by 2015 (compared to 2003)
A 26% reduction of potable water consumption intensity by 2020 (compared to 2007)
Meeting of guidelines on energy and water efficiency as well as environmental impacts in 95% of new contracts for products and services
The Government's Green Buildings and Move Towards LEED v4
With more than 2,500 LEED certified projects and 156+ million certified square feet of LEED certified government buildings and more on their way, it's fairly safe to assume that the government will be reaching its goals.
Furthermore, since 2010 the GSA's minimum requirement for new federal construction has been LEED Gold (previously LEED Silver). This means that more buildings such as the U.S. Treasury's headquarters or Department of Defense headquarters in Washington or even LEED Platinum ones are underway. In the case of the Treasury's building, for example, this translates into roughly $3.5 million savings for taxpayers per year.
Finally, the GSA has recently also reviewed LEED's v4 rating system and how it aligns with federal green building requirements. This review is part of the Energy Independence and Security Act's requirements and is done every 5 years. Overall there seems to be good alignment between federal requirements and LEED v4, though the report also identified gaps which LEED will have to keep working on.
In order to complete its review, the GSA asked for public input through the Federal Register, which officially ended on March 23. Once the GSA has reviewed the public's comments, it is expected to augment its 2013 recommendation of LEED's green building certification system.
Does it Get Greener?
Whatever the GSA's review of the latest LEED system, one thing is sure - green building (and LEED) is on the rise, and not just for the federal government. Globally, every day, 1.7 million square feet of space is certified using LEED.
And, only in the U.S., the green nonresidential building market is expected to represent a $120-145 billion opportunity for contractors in 2015. The single family housing market is also expected to offer an opportunity between $80 billion to $101 billion this year. And if this trend continues, the 19% of companies in the single family housing market which are currently dedicated to green building (doing at least 90% of their projects green) are expected to double by 2018!
With such strong growth, contractors who are shifting towards green building will have the possibility to acquire more contracts in the coming years both from the federal government as well as from private construction projects. In this climate, it is the bonded contractors with serious surety backing that will prosper and take central stage in the green building market.
Has your company already committed itself to green building? Is green building the future of American construction? Let us know your thoughts. 
Vic Lance is the founder and president of Lance Surety Bond Associates. He is a surety bond expert who helps contractors get licensed and bonded. Vic graduated from Villanova University with a degree in Business Administration and holds a Masters in Business Administration (MBA) from the University of Michigan's Ross School of Business.