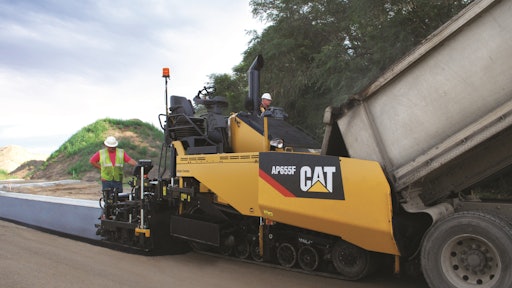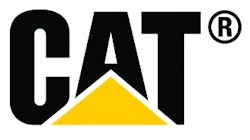 Last year, Caterpillar introduced a number of new features on its 10-ft. pavers. Now, it's bringing these same features to its new 8-ft. AP600F wheeled and AP655F rubber track paver with Mobil-Trac undercarriage. According to John Anderson, Caterpillar Paving, these features include: intuitive touch screen operation, advanced Eco mode, single-button feeder system activation, auto fill feeder system, quick-change heating elements, front wheel assist, an all-wheel-drive option with improved capabilities and a fast-heating screed plate using a 70-kW high-power generator.
Video: Operator Describes Benefits of Caterpillar AP655F Paver

Both paver models are equipped with a 173-hp C4.4 ACERT engine that meets Tier 4 Final emissions standards. The standard Eco-mode operates at a 1,650-rpm engine speed to save fuel without any sacrifice in performance. "The engine has 95% of its full horsepower at 1,650 rpms," says Anderson.
The advanced Eco-mode includes automatic engine speed control, which efficiently manages engine rpms to optimize fuel economy, reduce sound levels and keep the paver running smoothly. "It brings the engine down to idle speed, or heating speed if you have the generator turned on," Anderson explains. "If you do run into a situation where you have high load on the engine - above 90% duty cycle - it will automatically increase the engine rpm."
Brochure: Caterpillar F-Series Pavers and Screeds
Integrated Generator and Screed Heating System
The 70-kW integrated generator is the power behind the new screed heating system. Exclusive to Caterpillar, the generator used on F-Series pavers was developed by the same team that designed and engineered the Cat D7E electric-drive dozer.
The integrated generator is directly connected to the paver engine, and operates as a core part of the machine. The refined heat distribution of the SE50 and SE60 screeds combines with the generator to bring the screed to the proper temperature - from roughly 40° F to 270° F - in approximately 15 minutes, compared with the previous 30 to 45 minutes. "It's very quick. That gives the crew more time to get their work done during the day; [there's] less time standing around waiting to get going in the morning," Anderson states.
The pavers run at about 1300 rpms while pre-heating, resulting in reduced sound levels. "If you're [working] in residential areas, it lets you starts up a little earlier because you don't have a noise issue," says Anderson.
The pavers come equipped with the new screed platforms, including the SE50 V and SE60 V vibratory or SE50 VT with vibration and tamper bars. The SE50 V offers a maximum paving range of 21.3 ft., the SE50 VT has a width up to 26.3 ft. and and the SE60 V provides up to 25 ft.
Quick-change screed extensions make it easy to maximize lift widths. Slotted mainframe extensions and strike-off plates enable single-person assembly. Integrated hooks assist with extension assembly and alignment. Power controls leverage hydraulics to easily attach and remove the self-latching screed extensions.
Screed plate life is extended with the utilization of abrasion-resistant steel. Screed extensions are equipped with exclusive two-speed proportional control for enhanced responsiveness near obstacles and more precise control on highway applications. A pendant control adjusts the height of optional hydraulic end-gates, as well as extender width and tow-point height. The control provides the screed operator with much more flexibility regarding their locations.
The addition of a machined screed frame eases installation of the screed plates, which bolt flat to the frame. "In the past, you would probably shut down for a day when you had to change screed plates," Anderson notes. "Now you can get it done in about four hours."
Additional features:
Color touchscreen displays
Single-switch auto-fill feeder system
Screed-heating system diagnostics enable uninterrupted paving in the event a screed temperature sensor fails
Ratio control for the conveyors controlled from the screed
Propel and feeder system settings transfer between stations with the touch of a single switch
Single-button autofeeder system
Auto-fill button alternates between running the augers and conveyors
Warm-up/cleanout mode runs the feeder system at a reduced speed for more efficiently wash-down and automatically lifts the auger for simplified transport
Screed Options
Request More Information
Fill out the form below to request more information about
Caterpillar AP600F and AP655F Asphalt Pavers