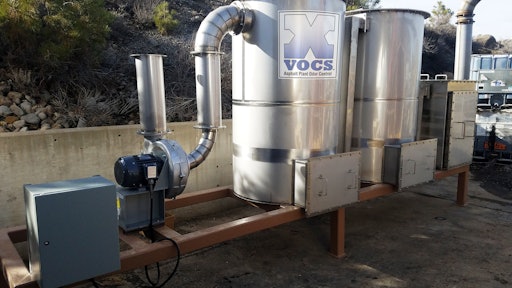 The Blue Smoke Control division of Butler-Justice Inc. created X-VOCS to help eradicate odor-causing emissions produced as a byproduct during hot-mix asphalt production.
The X-VOCS System features proprietary carbon absorption technology designed to filter and remove up to 99 percent of odors and VOCs, such as Hydrogen Sulfide (H2S), from tanks
 X-VOCS incorporates a five-stage filtration system. In the first three stages, a series of filters remove more than 95 percent of targeted particulates down to 0.3 microns. In the final two stages, carbon filtration beds remove remaining odors and volatiles        
Ideal for new plants, and also is easily retrofittable into existing operations, with minimal modifications to the plant.
Request More Information
Fill out the form below to request more information about
Blue Smoke Control Introduces X-VOCS System to Eliminate Asphalt Plant Odors