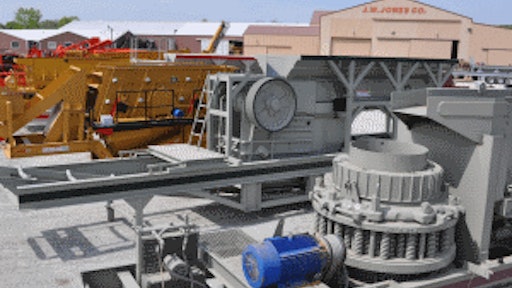 Paragon, IN - Aggregate producers and contractors worldwide who wish to upgrade their equipment and processes have an additional choice over new or used machines. Complete refurbished plants from JW Jones Company, based in Indianapolis, IN, offer high quality and operational efficiency that is either as good as or better than new for nearly half the price of a new plant. JW Jones has specialized in the remanufacturing and refurbishing of all crushing, screening, washing, ancillary and rolling stock makes and models for more than 40 years.
A remanufactured plant provides the producer with a great return on investment because, far from being a "used" plant, it is completely torn down and rebuilt to perform like new or better. At the company's 100,000-square-foot operations facility, JW Jones' equipment experts disassemble each machine down to its individual components, which are assessed for quality, specification and continued life, and are either rebuilt or replaced if necessary. Reconditioning includes new electrical, hydraulic and lube system components; new paint; and new chassis and support structures for portable plants.
Once the plant has been completely remanufactured, it is fully tested prior to sale or delivery. Many refurbished plants perform better than they did as new equipment because these older machines are reconditioned with new technology and engineering improvements that have come about since their original manufacture. The combination of the older, yet better built equipment, with the latest technology often provides productivity and efficiency that can't be purchased new today. A JW Jones warranty is available on most rebuilt plants.
JW Jones' field service technicians oversee installation, start-up and complete operational and maintenance training for customers who purchase a refurbished plant or have their existing plants rebuilt by the company. Parts and wear components are also available through the company, which provides full service to its customers around the world.
For more information, visit JWJonesCompany.com.
Companies in this article