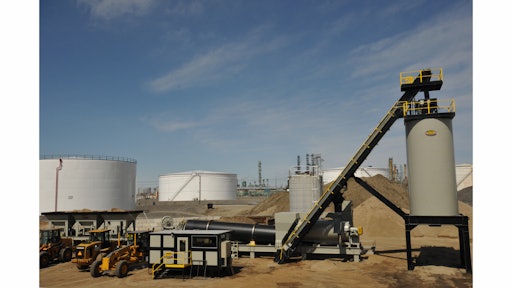 Located in Regina, Saskatchewan, Site Management Services Regina Inc. is a commercial and municipal paving and concrete company that has served the area for 15 years.
Site Management offers a wide range of services, including roadway and new parking lot design, concrete construction, asphalt resurfacing, site preparation, excavation, cold milling and synthetic curb stops. It also produces hot mix asphalt for private, commercial and government jobs.
Providing quality work and professional service is at the top of the list for Site Management, says President and Owner Otto Psenica.
"It's about more than hitting a bottom line for us," he says. "It's about putting the customer first and delivering a superior product that will stand the test of time. We believe our commitment to service is what makes us one of the best paving companies in Southern Saskatchewan."
A Croatian who immigrated to Canada from the former Yugoslavia in 1976 at the age of 25, Psenica used his knowledge of the construction industry to open Site Management in August 1999. Quality work, according to Psenica, happens when you have qualified employees and equipment.
"Our skilled service team goes far beyond surfacing, repairing and maintaining a parking lot," he says. "We're a paving company built on an unrivaled engineering foundation and a commitment to leading the industry in providing cutting-edge asphalt and concrete technologies, products and processes."
Site Management employs cutting edge technologies and continually invests in new equipment. "We have nothing older than a 2006 model year," explains Psenica. "Continuing to invest in new technologies and equipment ensures that we will continue to attract customers who expect nothing less than the very best."
In keeping with this creed, Site Management recently invested in a new asphalt plant.
New plant for increased capacity
In the spring of 2014, Site Management introduced its 2013 Asphalt Drum Mixer (ADM) RB160 Roadbuilder Series asphalt plant for the production of asphalt materials.
"This addition has added to our mission statement of ensuring that only the most up-to-date equipment and quality materials are used to provide our clients with a superior product," says Psenica.
The ADM RB160 Series is a complete asphalt plant that offers automated controls and a parallel-flow design for fast, even drying of aggregate using a fuel efficient natural gas burner with an environmental wet wash system that keeps emissions to a bare minimum.
Although asphalt plants are not recognized as a major source of emissions, Site Management's asphalt facility meets and exceeds stringent emission tests and complies with all environmental regulations.
The new plant allows the company to offer an extensive line of mix designs ranging from high strength surface mixes for asphalt repairs to commercial parking lot design mixes that meet and exceed all city and highway specifications. It can also produce specialty mixes to keep up with the changing demands of customers.
Site Management services private, commercial and government customers with a 30% provincial government/70% commercial breakdown. In a typical May-to-September season, Site Management lays down between 40,000 and 48,000 tons of asphalt.
The company's previous plant, an ADM SPL60, featured a 60-tph capacity. The new ADM RB 160 more than doubles that capacity to 160 tph.
Designed for quick start-up, the RB 160 has user-friendly controls with individual digital processors that keep the plant running if a component fails. The plant precisely controls liquid AC content, aggregate and additives for superior accuracy and includes a conveyor, silo system and wet wash system.
"On our plant, the drag conveyor and silo run parallel with the plant as opposed to running angled, as the size of our property allows for this particular setup," says Psenica.
Site Management's plant also features three aggregate bins and a 100-ton silo with reverse weigh batcher.
Knowing your supplier
When the time came to select a new plant, Psenica knew he wanted to return to Asphalt Drum Mixers.
"Our previous plant setup was an ADM SPL60," he says. "We've been dealing directly with ADM for nearly 12 years.  In past experience, we know the quality of ADM plants and the product they can produce. 
"When deciding to purchase a new plant with the objective to increase capacity, we did our research and found no reason to go in another direction," he continues. "In our minds, the quality, efficiency and productivity of the ADM plant is a clear choice. Their knowledgeable, friendly and professional staff were always available to assist from the beginning of the plant selection process through to the logistics of transportation and delivery of all components, plant setup, on-site training and assistance during first time startup and operation of the new plant."
Plant setup itself was not without its challenges. Plant construction had to be done through the winter months, and while the setup itself was not an issue, the bitter cold was.
"There were days when off-loading and setting components in place with cranes, temperatures were bitterly cold, reaching -50° C," says Psenica. "Employees working outside could only be working for 15 to 20 minutes at a time with warm-up breaks of 15 to 20 minutes."
Quality extends to employees
Site Management Services Regina Inc. prides itself on its quality work and quality equipment. But, says Psenica, quality only happens when you have qualified employees.
"We're very fortunate in that we have good support all around us, from our designers, supervisors and project managers to our office administrators and equipment operators."
Psenica's sons, Mario and Rob, are involved in the business as a project manager and manager of the company's asphalt plant respectively. Otto's wife Annette and her sister Brenda manage the office. "But we don't consider Site Management a family business," says Psenica. "Our employees work for the company, not the person. They work for Site Management."
Site Management's quality employees, equipment and product have created a solid foundation for the company. Psenica's belief that asphalt services are only as good as their foundation extends to the company's overall operating philosophy.
"As a small business, it's up to us to decide how things should run, how things should be managed," he says. "Looking back over the last 15 years, I never thought we'd be where we are today. We began with three employees and have grown to a team of 55 people. And our projects take us around the province. It's hard to comprehend the amount of work that we do. Success means not only providing quality workmanship but engaging in quality relationships with our employees and our customers. I feel like I'm the luckiest business owner in the world."