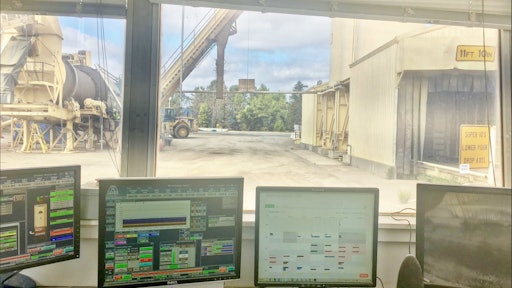 Asphalt plant employees know there are a lot of moving pieces that need to work seamlessly together in order to get the right materials out to the right customers at the right time. Historically, each moving piece is coordinated by several different plant team members who all need to be in constant contact with each other several times per day in order to make it all work.
Daniel Mekis thought there had to be a better way.
"When I was a plant engineer for Granite Construction I would have to call all of the sales people and plant operators and compile their information on what mix was going out on what day/week/month," Mekis says. "With that info, I would update mix design information from the QC team and run calculations to come up with each plant locations need for rock, asphalt oil and additivws. Then I would share that with the quarries that supplied the aggregates and the oil refineries to make sure everyone knew what was in the pipeline."
This process took a minimum of three hours each time and during the busy season would need to be done every few days making it a very time consuming and inefficient process.
Using his knowledge of the business and led by a developer named Dennis Schaaf, Shaaf and his team began the journey of creating created PlantDemand, an online tool that helps assist with the scheduling of plant sales, the tracking of orders and the forecasting of material needs…all in one place.
Improvements from the Top Down
On average, an order at the plant is updated six times before it actually ships. In the past, this would require many phone calls, emails and text messages to update everyone involved and communicate the changes to their separate notebooks or calendars. With the old method, scheduling issues were also difficult to spot, so when a plant was overbooked, or a few customers wanted to take several different mixes, some could be turned away with very little notice.
PlantDemand changes all of that, allowing plant operators, sales people, the QC team, managers and engineers to communicate in one place. When customers call to request material, the sales people or plant operators can put their order into the shared calendar which is online or in an app that can be downloaded from the Apple Store.
"With a longer look-ahead, a visible calendar for the entire team and better communication, issues are identified further in advance allowing time for adjustments to be made without upsetting customers/plant operators/plant supers/suppliers/etc," Mekis says. "When an order is created or edited in PlantDemand, there is an 'update log' so that you know who changed what when. This way, if the change causes a potential issue, it's easy to know who to call to discuss solutions."
PlantDemand increases visibility by having a single true source of information (rather than several instances in excel, whiteboards, or peoples notebooks). This reduces the redundancy of order taking in multiple places.
"The software cultivated valuable discussion about our plant operations, in lieu of "scheduling meetings" where everyone would just share the information they wrote down in email or notepads from customers throughout the week," Mekis says. "It allows people the ability to look and plan further in advance which means happier customers, happier plant personnel and less of the 5 p.m. fire drills due to an issue on the dispatch for the next day."
Uptime Improves Bottom Line
And planning further in advance can have a positive impact on your bottom line.
"When plants are are able to schedule further ahead, they can work on increasing their revenues by scheduling external customers on days where they have capacity to do so," Mekis says.
The software also allows plant owners to give their suppliers a longer look-ahead. This means quarries, aggregate plants, refineries and additive manufacturers can warn of a potential material runout, or adjust their production modes as needed to balance their inventories and cash flow, resulting in far less downtime.
"Some PlantDemand customers have been able to more easily calculate asphalt oil (bitumen) needs to the refineries and in some cases get bulk purchase discounts amounting to hundreds of thousands of dollars per year," Schaaf adds.
The software even has a customer portal so that customers of the plant can see a version of the calendar that shows what materials are being made on which days without sharing confidential parts of the calendar. They can create a request that gets sent to the plant people for approval to have their order added to the calendar.
The software cost is $450 per month and can be deployed immediately to interested plants. PlantDemand doesn't limit the number of users, and doesn't charge a per-user fee, allowing everyone involved in the plant operation to have access to the calendar, without an additional cost. This results in users getting more value out of the tool by having more eyes on it.
And while training is available to get the team up and running, it's often not necessary as the tool is very intuitive.
"We often help new customers with a bit of training remotely, as most of the setup is quite simple," Schaaf says. "We can also help plants get started if they need by adding their materials and mix designs, invite their team, setup other specifics to their plant, etc. It's pretty easy though, and we have quick Academy how-to videos that most new and existing users find useful."
Schaaf says there are only three reasons plant owners wouldn't want to get started: they don't have the time, they don't have the money, or they don't think it's going to work for their culture that may not be ready to go digital.
"As far as time goes, we help do initial setup so if they want, they barely need to touch it and the time invested will be saved within a few weeks," Schaaf says. "In terms of money, it doesn't cost anything for the first month, and after that, the subscription fee is less than the startup and shutdown waste costs for a single shift. Plus we guarantee they will gain a large value from using PlantDemand. If they don't think it's going to work, they can ask our current user base what they think of it."
So We Asked
PlantDemand already has users all over the country who are benefiting from the technology and we took the PlantDemand team up on their challenge and asked one of their current users what they thought.
Gallagher Asphalt, based in Thornton, IL, starting using PlantDemand in August 2018 and plant manager Don Gallagher says they immediately saw the benefit of streamlining their ordering processes.
"We have three asphalt plants and two people who take orders for them and send them out to each plant manager," Gallagher says. "Each e-mail that was sent was a little bit different than the one before and if changes happened or follow-ups were needed, orders started to get messy. We really needed a way to streamline our ordering processes."
Gallagher says that with PlantDemand, his sales people can enter orders and a PDF is created which generates a consistent report that every person sees, regardless of the plant location, eliminating confusion.
"Instead of digging through 15 e-mails to find what we need to have ready for the next day, sorting through quantity and mix changes from our customers, the PlantDemand software creates a centralized location for all our information to see how many tons we have scheduled for any given day," he says.
Gallagher says the team was able to implement and start using PlantDemand immediately, setting all three plants up withing a few hours and the time savings were felt right away.
"PlantDemand has definitely decreased the time it takes our team to sort through and figure out our orders," Gallagher says. "When you have multiple people trying to figure out the same thing, time adds up pretty quick. With PlantDemand, we are saving a minimum of 10 hours a week having all the information in one place."