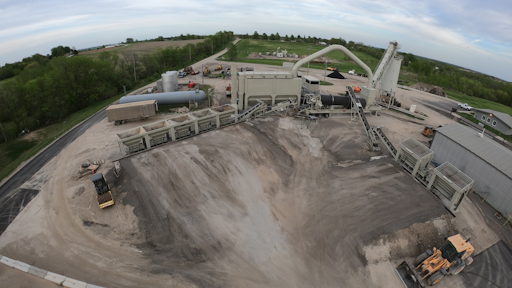 When Alfred J. Keller (AJ) went off to pilot bomber planes in the Pacific during World War II, he was fascinated with the paving and construction of the military runways. He knew that if he ever made it back from the war, he was going to start his own asphalt company. And in 1950, his dream was realized.
Keller Construction started out with a small Stansteel batch plant after AJ returned home. Through hard work and commitment, his company saw success and became incorporated in 1964. AJ passed the business along to his son Jim who continued to grow the company's success and reputation and installed a 2-ton Cedar Rapids plant in 1986. In 2010, Jim's sons Tony and Andy Keller took over and continue to successfully run the company in St. Joseph, MO while also preparing a new fourth generation to take over.
The small company, who employees just ten people during the season, offers turnkey project execution for asphalt paving and supply needs, backed by their over 65 years of experience. That experience led the brothers to know it was time to make some plant improvements if they were going to continue their growth.
Choosing a Partner
Keller Construction does just about everything in relation to paving and pavement maintenance in their area. From filling potholes to mix production, the company works hard to be a good partner for their clients. So in 2017 when the company was ready to upgrade their old Cedar Rapids plant, they did their research to make sure any asphalt plant they chose would be backed by a good partner for their investment and the road ahead as well.  
"We couldn't produce any recycled content with the batch plant and knew that's something we wanted to do," Tony Keller says. "Since we're either milling or paving every day during the season, we had a lot of millings to use in our mix."
The old 2-ton plant was also not capable of keeping up with the growing production needs of the business.
"We supply mix to the Missouri DOT (MoDOT) and also use mix for our crews," Tony says. "We just weren't able to produce mix fast enough to supply MoDOT and keep our crews busy."
Andy Keller did his research and the company chose the Asphalt Drum Mixers, Inc. (ADM) RoadBuilder Series and installation began in 2017.
Double Production, Happier Clients
During the two-month installation, Tony says there was an ADM representative on hand for the duration helping troubleshoot any issues, as well as train the crew on moving from a batch to a drum plant.
"The ADM team has been very helpful and easy to work with," Tony says. "Anytime we've had a problem Mark Simmons and his team was always available and willing to send someone over to help."
That has been reassuring for the Keller brothers as they went from producing 40,000 tons per year with the Cedar Rapids to producing over 80,000 tons in 2018 with the new RoadBuilder plant.
"Any time you double your production in a year, you're going to be able to go after some bigger jobs you might have shied away from. We didn't know if we could guarantee production to get them done in a timely manner, so we didn't bid them before," Tony says. "It also allows us the capability to supply more mix to our other customers that need it," Tony says.
The company mainly produces commercial surface mix and MoDOT BP1 for the state, supplying them with nearly 25,000 tons of their total production.
"St. Joseph is a small area with only one other asphalt plant nearby," Tony Keller says. "The other company completes a lot of heavy highway work and sometimes they don't have time to serve MoDOT with the mix they need, which was frustrating for them to not know if they are able to get mix in a day.
"Since we stick to the smaller commercial and municipal work, when we purchased the new plant, MoDOT was thrilled as they now had a guaranteed source for mix when the larger plant wasn't able to meet their needs."
The company uses a 150-ton Esstee Silo for mix storage and also purchased a 30,000-gal. storage tank from ADM to replace a 25,000-ton tank they previously had.
Keller utilizes about 15% recycled content in their mix from the millings their crew produces each year.
"Last year we went through all of our 10,000 tons of millings from 2018 to put in our mix," Tony says. "That's been a huge improvement from upgrading to the RoadBuilder. We're able to better utilize our assets which saves us time and money and produces a quality mix."