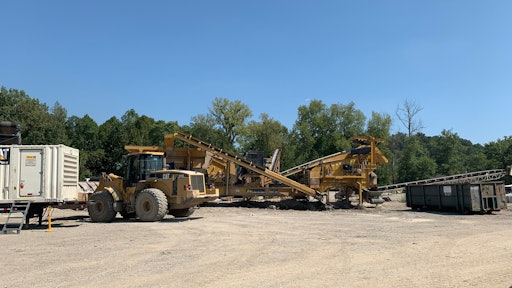 When a company grows rapidly, it's pretty clear to see where pain points are and immediately fix them. That's what happened with Cincinnati Asphalt in 2016. As their needs were growing, they were having a hard time finding a provider for a cost effective solution to combat rising aggregate prices for their projects. The company also needed to find a more durable product than the Ohio Valley's standard sand & gravel selections.
So instead of continuing to rely on someone else to do it, the company just decided to bring the operation in house. 
"We decided to purchase a crusher for multiple reasons," Joey Madden, owner of Cincinnati Asphalt says. "First, because we felt strongly that in the aggregate prices would continue to rise (which is what has happened recently in our market) and there is a big need for a durable value product. Second, we feel that the Ohio Department of Transportation will continue to explore the use of spec recycled concrete on roadbeds in the future as they have approved Blast-Furnace Slag, which is an inferior value product aggregate in our market."
Cincinnati Asphalt knew that buy bringing crushing operations in house they could not only be more competitive in their bidding, but they would also be able to add additional revenue streams to their company by selling material to customers.
In House Decision
Madden and his company acquired ACT, a crushing company, in 2016 from the original owner that was retiring. ACT has been in existence since 1999 and with the acquisition, Cincinnati Asphalt is now able to produce aggregates, recycled/crushed concrete aggregate, crushed asphalt, topsoil, fill dirt and more at their two plant facilities in the area.
Once the company chose to bring crushing operations in house, they needed to decide what crushers they were going to purchase and get their staff properly trained on operating them. Before they could begin operation, Madden and his crew had to make sure the company was prepared for the task of bringing this operation in house.
"We had to make some changes internally for sure," Madden says. "Our company's number one priority is safety. When you implement these types of machines into your company, you have to realize the safety risks associated with crushing and have an extremely detailed safety plan, extensive safety & operation training, and you have to implement all of these items prior to beginning a crushing operation."
Cincinnati Asphalt developed a detailed maintenance plan that they knew would be critical for success as well. The company also acquired active mining permits on their sites which allow them to operate under the Ohio Department of Natural Resources rules and regulation.
Additionally, they trained and added multiple employees to this operation for quality control and safety.
Controlling Quality
After the company was up and running, they knew they wanted to operate their crushers the right way that would give them the best product at the best price.
"We really wanted to be able to control quality," Madden says. "Now we are able to be 100% in charge of our quality control. The most critical part of crushing concrete to State specifications and using it for projects is making sure you only crush clean concrete. Now we know we are."
Cincinnati Asphalt purchased a Telsmith 3858 jaw crusher as their primary crusher. They also use an IROCK RDS20 impact crusher as a secondary unit.
"We implemented the Telsmith jaw crusher this year because of their strong reputation in the crushing & aggregate industry," Madden says. "We chose our IROCK crusher because of the CAT diesel engine, and because we can purchase our wear parts through Ohio Cat. They stock many parts and are able to expedite any parts we need which eliminates down time. Both vendors are great partners to our operation and its success. Our impactor also has on board screens so we do not have to utilize external screeners."
Madden also says the company is careful to process their material at a rate which they can ensure a clean material. That allows them to run at an average of 275 tons per hour but they have the capability to run more than double that production rate with their equipment.
With this growing arm of the business, Madden is excited for the opportunities his company has infront of them.
"We have seen quite a bit of growth in our companies since we began this operation and we believe that there will be continued growth in this market for years to come," he says. "I would strongly emphasize to anyone considering crushing operations that they make the investment to do this operation properly. It's a large investment, but when ran properly it can be a very rewarding one."