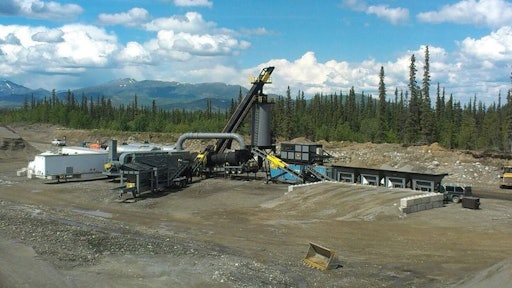 Hot mix asphalt facilities are complex electrical and mechanical systems with thousands of moving parts. Any electrical or mechanical failure can lead to a plant breakdown. That's why proactive and preventive facility maintenance is essential for reliable performance at your asphalt plant. Well-maintained plants encounter fewer extensive repairs and breakdowns while improving operating costs and boosting customer retention and satisfaction.
For this reason, asphalt plant maintenance should be a daily, top of mind task with additional downtime scheduled to inspect and complete needed repairs. 
"Asphalt plant owners who develop year-round maintenance processes for their facilities ensure that they will meet or exceed customer expectations and promote the growth of their business," Daniel Francisco, group director service, Integrated Process Solutions at Astec Industries, Inc. says. "Neglecting the maintenance of any key plant components will increase the risk of failure."
Scheduling time for maintenance also ensures things are running at peak performance, 
"Plant maintenance allows you to take some time and see what might be ready to replace or in need of lubrication, adjustments, recalibration, things like that," Carlos Cardenas, sales engineer at Asphalt Drum Mixers (ADM) says. "So plant maintenance has to do with not just maintaining the machine running, but also maintaining it running efficiently and accurately."
Steve Elam, general manager at Stansteel/Hotmix Parts agrees. 
"Asphalt plant maintenance is just like what most dentists or their technicians tell patients. Only brush and floss the teeth you want to keep, so if you want the plant to a have high level of uptime, you must have a systematic maintenance plan based on each piece of plant equipment,"  he says. "There aren't any easy how-to books on this topic, but working with your plant manufacturer or another entity that has qualified service personnel or educating plant personnel through a program is certainly a great way to start."
Complete Maintenance Checks
Every asphalt plant has a scheduled maintenance checklist and it's important to rely on that guide and follow service intervals to ensure your plant is ready to meet the demand that are placed on it each day.
"These plant maintenance checklists systematically step through each piece of equipment, what is checked and measured on thicknesses, conditions of bearings, flighting, wear patterns and many, many more," Elam says.
These checks should be done at the beginning of each day and also periodically throughout production. 
"We have maintenance schedule for for certain things and they have to be checked or should be checked at different intervals," Cardenas says. "You have things like gearboxes and motors, bearings, airlines, cylinders, any mechanical stuff that moves, linkages, limit switches, all your belts, screw conveyors, etc. need to be checked daily.
"Listen to equipment and visually inspect it. There should be a walkthrough in the morning to make sure nothing has come loose or there is nothing broken. At the end of the day, when you're shut down, you should also look at things so you know what they should look like and can tell if things are in order."
Daily maintenance checks are only as good as the people who are completing them however. 
"You need to staff the plant with adequate personnel that are capable of executing a prescribed maintenance plan," XX says. "Years ago, on a much simpler and not as high a visibility asphalt plant, it would not have been uncommon to have four or five people working at the asphalt plant. Now, probably a preponderance of plants in North America have three people: the plant operator, the loader operator and a ground or maintenance person that's multi-duty. There are literally hundreds of plants that have only two people at the plant - the plant operator and the loader operator – and they must do everything. While adequate maintenance staff may seem a costly overhead, the alternative cost of a catastrophic breakdown is an increasingly risky gamble."
You also need to be sure you keep documentation of your maintenance processes in order to ensure the plan is being followed.
"Promoting a good maintenance culture leads to fewer plant breakdowns," Fransisco says. "Documenting and maintaining maintenance records from your plant site is another important process in reducing plant breakdowns. Using a hands-on approach and conducting thorough plant assessments and inspections, allows plant owners/operators to better manage and plan maintenance."
Elam agrees.
"These plans are only worthwhile if they are followed and the inspections are done and compared to the prior inspections," he says. "We have customers that have Stansteel complete asphalt plants that are proud to report less than 10 hours of downtime in a season with over half a million tons of production," he continues. "These companies are thorough, they do not spare expense during their shutdown period, and they are living testimony to what constitutes a good program by checking all mechanical and electronic components. It is not inexpensive for them to do this, but it's one of the fastest paybacks that a company investment could have."  
Safety Matters
When your equipment is operating correctly, it will also improve safety at the plant.
"Poorly maintained plants lead to serious injuries and workplace fatalities," Francisco says. "Well-maintained plants that invest in personnel training for OSHA, MSHA, Lock Out-Tag Out, etc. promote a safer work environment that can reduce and/or eliminate those injuries and deaths."
And this can also help your overall operations as well.
"If plant maintenance, appearance and functionality are very good, it's often easy for safety to follow," Elam says. "It's a matter of knowing what the safety regulations are and following them closely. This includes everything from lockout/tag out procedures to making certain that guards are in place and are safely accessible in order to check for adjustment and wear. If there is a breakdown that is an emergency situation, the reaction is often done in haste, rather than having a plan and procedure.  Most companies that have a good maintenance program also look for items to help avoid putting their plant personnel at risk." 
Elam says an example of such an item is a Safe-T Station to extract the hot liquid asphalt samples in a locked, shielded, and secured manner, rather than just having the plant personnel open a valve and take a liquid sample. 
"Just as in planning maintenance, you plan safety and have a philosophy of an excellent operation," he says. "As an example, we recently received a report from a customer that has logged over 1 million hours of operation without a safety violation or without a safety incident. It is no surprise that this same company also has an excellent maintenance program."
It boils down to ensuring those who work at the plant are given the time to make maintenance a priority. 
"You have to leave time for maintenance and you also have to give your people enough time to do the kind of maintenance that is necessary to keep your plant running smoothly and safely," Cardenas says. 
Upgrades Can Improve Quality
Conducting maintenance in the past used to be an incredibly manual process, but technology today has improved and therefore so has tracking and scheudling maintenance. 
"There are several items and tools that help the plant to manage downtime," Elam says. "Several technology measures such as the newest control systems called Asphalt Automated Intelligence and new technology, such as the Accu-Track Advantage Control, has ways of monitoring items on the plant on a continuous basis and checking key areas and components hundreds of times per second. While older control systems would send a signal to a piece of equipment (such as an asphalt pump) and instruct the pump to operate at a certain level or volume, the Accu-Track Advantage Control System not only sends a signal to operate, but also has a separate and independent verification that the pump is indeed operating in that manner. 
"If it is not operating properly, the system will alert the operator and, in some cases, even sequentially shut down the plant. This precise monitoring is for all type components, including belt scale readings for calibration verification and interlocks on material feeding the process, even to the point of proofing flow of product or levels of liquid A.C. tanks, silos or other items to avoid spillage or pluggage.  
These new systems help control downtime so your plant can be up and running as soon as maintenance is conducted.
"Advanced technologies such as plant control systems and automation are on the cutting edge of downtime mitigation," Fransisco says. "As an example, the powerful computer/PLC-based control systems from Astec allow customers to easily and efficiently monitor data and manage plant operations. As for predictive maintenance items, plant managers, if they have cultivated a strong maintenance culture, could address several of these items during downtime."
Partnering for Success
If your asphalt plant does breakdown, having a good partner is key to getting back up and running quickly. 
"If your plant goes down one of the first things you want to do is figure out what is wrong so you want to call your manufacturer right away," Cardenas says. "Talk to the service technicians who can help you troubleshoot the issue faster. This also gives the manufacturer time to either put together or find whatever it is that you need to correct the issue. The sooner you call, the better it is going to be for for you to get up and running."
It's also very important to be as prepared as possible in the event of a breakdown. 
"Getting a plant up and running quickly doesn't happen if plant owners are thinking reactively," Fransisco says. "If plant owners want to get a plant up and running in the shortest amount of time possible, they need to think proactively. Having an inventory of parts and skilled personnel trained and ready before a plant breakdown is critical to minimizing downtime. Partnering with a good manufacturer, like Astec, not only assures quality products and superior engineering, but it offers the parts and service expertise needed to limit downtime."
Having a good partner can also help you determine what other issues the plant may be having and recommend further repairs at the same time.
"Plant owners should have a very trustworthy supplier for parts and components for the plant, particularly one that stocks items for all brands and all types of plants, such as Hotmix Parts," Elam says. "The first thing that owners should do is to make sure the problem is extremely well-defined as to the cause of the specific breakdown. Just fixing one item might be akin to putting your finger in a dike, the flood of a bigger system problem might be lurking. They should know to call companies that have a lot of knowledge and experience with this to help them diagnose the fundamental root cause of the problem, not just the manifestation of the breakdown."
At the end of the day, companies who put a high value on proper maintenance and stick to it, will be more successful as their plant will be less likely to breakdown 
"The proper maintenance is a 'Pay me now or pay me later,"' Elam says. "If customers truly evaluate their plant, they will become more and more familiar about its characteristics and how their individual plant operates. Whether you apply a simple maintenance plan or a more comprehensive predictive analytics program, the bottom line is to execute the plan."
If that plan is properly executed, your asphalt plant should see a lifetime of successful operation.
"Leveraging a strong maintenance culture at your facilities will reduce downtime and maximize your profit margins," Francisco concludes.