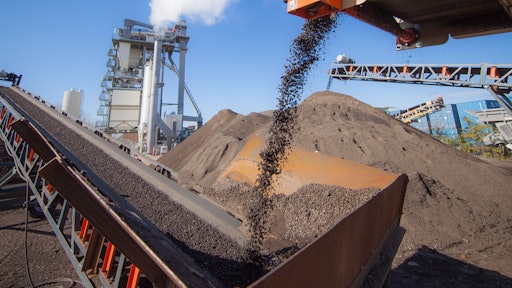 Profit reigns supreme in the asphalt industry and it's getting harder and harder to compete. Unless of course you find a way to separate yourself from your competition as RAP Management has. Since 2016 the company has worked to produce high-quality, sustainable pavement materials that perform well and best fit their customers' needs, and those needs don't include creating virgin hot mix asphalt.
"Utilizing our high-RAP mixes we gain leverage to compete in our market by lowering our cost to manufacture materials," owner Ryan Smith says. "That, along with the level of quality material we are able to achieve even at 60 and 70 percent recycled content, makes producing virgin materials unfavorable for us."
Located in Columbus, OH, RAP Management serves Columbus and the surrounding towns, cities and municipalities with mix produced from their Ammann High Recycling Technology Asphalt Mixing Plant. The first mix they produced to pave the plant site consisted of 60 percent recycled aggregate and 2.8 percent binder displacement, for a total of 62.8 percent recycled materials.
Since then, the company has achieved a 92 percent recycled content cold mix product and a 70 percent recycled asphalt pavement (RAP) hot mix asphalt (HMA) product. The plant consistently produces pavement averaging more than 55% and is producing over 200,000 tons a year.
First in the Country
If you took all the newspapers, aluminum cans, glass and plastic bottles the U.S. recycles annually and put them on a scale, they would still weigh less than three-fourths that of reclaimed asphalt pavements (RAP). This makes asphalt America's most recycled product.
According to a 2019 survey by the National Asphalt Pavement Association (NAPA) in partnership with the Federal Highway Administration (FHWA), our industry reclaimed 97 million tons of RAP for future use, saving enough landfill space to fill up the dome of the U.S. Capitol 1,223 times.
Smith believes using that product is a smart business move, and RAP Management is on its way to proving it.
While the industry has long recycled, RAP is used in small quantities in most batches produced in the U.S. Smith wanted to use dramatically more, but he couldn't find the equipment he needed. "No one in the United States was recycling to the degree I wanted to," he said.
Eventually he found Ammann Group, a Swiss company whose asphalt plants can handle a large ratio of RAP. Recycling is common in Switzerland, which has an aging infrastructure and limited natural resources. Smith brought the first Ammann asphalt plant to North America and produced his first batches near the end of 2017. For 2018, RAP Management produced more than 130,000 tons of asphalt with an average of 60 percent recycled material, three times more RAP than the average nationally.
The production total is double what the company had forecast, and revenues are also beyond projections. Smith credits several factors for RAP Management's early success. The most important factor is the quality of the asphalt products the company produces. The company uses a proprietary chemical formula to overcome one of the problems with using a higher percentage of recycled RAP binders.
"Over time, asphalt deteriorates on the road. It gets stiffer or more brittle," Smith explained. "You need to incorporate chemistry to counteract that."
RAP Management's formula expands the usable temperature range for asphalt performance. Because it uses recycled material, the manufacturing process is more cost efficient, a savings Smith passes on to customers.
RAP Management says their primary source of RAP is from their customers. A lot of the jobs RAP Management supplies are reconstruction projects, meaning there is asphalt being removed. They incentivize their customers to bring those materials back to them to be recycled. The company also has formed relationships with various other contractors in town that generate RAP. They allow these contractors to bring that material to them rather than pay to dump at a landfill.
However, with the industry not adopting RAP mixtures as fast as the materials are being collected, RAP stockpiles are piling up and the industry needs to work to change the perception behind these mixtures.
"We're never going to be the replacement of what's currently being done, but I think this business model is going to be represented in every urban asphalt manufacturing infrastructure across the U.S.," Smith says. "It's essential. Why would we throw RAP away when we can make better quality material at a lower price and recycle in the process?"
Education is Key
The company is fairly new to the industry and working hard to break through barriers associated with high RAP mixtures. 
"RAP Management operates the first plant of its kind on this continent and we are the only in our region able to achieve the level of quality proven by our Sustainable Pavement Materials. We are the first to push specifying entities to rethink their current way of evaluating quality," Smith says. "Educating the market and specifying bodies that sustainable pavement materials can equal high-quality is our biggest challenge. We are able to develop high RAP Marshall and Superpave mix designs that perform excellent."
Still, the company has to consistently work to remind their customers that these types of mixtures are not only good for the environment, but also good for profitability and the life of the roadway. 
"Trying to get anyone to change the way things have "always been done" is a challenging task no matter what the topic is," Smith says. "We find open minded groups and individuals who are willing to look at the data and think outside the box. This allows us to consider a new way to define what quality is and utilize performance based testing to validate what we are producing. So far, we have worked alongside the City of Upper Arlington, The Ohio State University, Franklin County and the City of Columbus in completing demonstration projects to test and evaluate high-RAP against what is currently specified. We delivered industry leading material quality to each project, proving sustainable pavement materials and performance based testing are the future of the industry."
The company uses these test results to speak for themselves on the performance of their mixes. 
"We have a rigorous testing protocol," Smith adds. "On top of standard volumetric testing, we are conducting performance based testing daily. We closely monitor our RAP piles by checking gradation and binder performance grade. It is essential we understand the composition of all the materials used in our process. This helps ensure a consistent and high-quality product."
The team also keeps an eye on the paving process for these mixtures to ensure the mixture is being set up, or put down rather, for success. 
"On every day of production, we have a member of our team visit the jobs being paved with our materials to check in with the crew and see how it's going down," Smith says. "A lot of these crew members have been doing this for decades and they know good material when they see it. The feedback we receive is overwhelmingly positive. From comments on how great the mix looks to its improved workability, they notice the quality and we take pride in that."
Finally, the Ohio climate provides the harshest testing ground for their materials that they would possibly endure, proving that if they can produce high quality RAP mixtures that perform there, in the freezing cold winters and stifling hot summers, these mixtures will last anywhere.
"We have produced close to half a million tons of asphalt, that is over 30,000 loaded dump trucks going across the material we installed around our plant," Smith says. "Not to mention three 80,000-lb. loaders, various other heavy machinery and the stock trucks hauling material to the site. After all of that, the pavement still looks excellent. If it can hold up to that abuse, it will hold up to any standard application without a doubt."