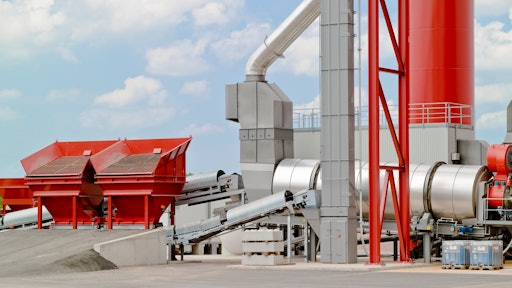 Ten years ago, Asphalt Contractor magazine spoke to industry experts about what they thought asphalt plants would look like in the future. Fast forward to 2021 and many of their predictions have come true; while others (think indoor asphalt plants) haven't quite caught on across the industry.
Developments that relate to energy reduction, quality of mix and reduced cost of production have all become the everyday normal at asphalt plants and that demand is only going to increase. With many other changes likely coming down the pipeline for the construction industry over the next few years, we again spoke to asphalt plant manufacturers and component producers about what they see coming over the next 10 years.  
A Sustainable Future
It's no secret that "sustainability" will be the cornerstone of the Biden administration. How the asphalt industry adapts, and how quickly, will be key to success. 
As an industry, we have found ways to reduce our carbon footprint by increasing the use of reclaimed asphalt pavements (RAP). Over the next 10 years, the industry will need to find ways to increase recycled content in our mix designs. 
"There will be an enhanced ability to produce more sustainable mixes. This means more RAP – and warm/low temperature mixes, too," Paul Lavenberg, area manager for North America at Ammann America. "Interestingly, the technology may already exist, but adoption of higher RAP mix designs may not be as fast as some would like. It's a matter of the mix producers having the ability to make higher RAP mixes … state DOTs adopting higher RAP mix designs … and everyone coming to agreement that high RAP is possible. New testing methods based on mix performance may need more acceptance, too."
Sustainable mix designs will become the norm written in to bid specs and funding legislation which will further drive producers to find ways to create higher RAP mixes. 
"Conventional wisdom on how to make high RAP mixes is evolving and showing results," Lavenberg says. "One of the main technologies that Ammann embraces is gentle heating of RAP, separate from the virgin aggregates. This preserves bitumen/AC quality by not thermally stressing it when mixing with superheated aggregates. This enhances quality, workability and reduces waste, too."
Lavenberg adds that dedicated mixers are also showing great promise when it comes to making homogeneous mixes – for the sake of temperature and dispersion of aggregates. This also tends to be highly effective to incorporate additives into dedicated mixers.
Efficiencies Reign Supreme
Sustainability doesn't stop with "greener" mix designs. Asphalt plants will need to also adapt to be more efficient and efficiency at the plant starts with fuel usage. Standard fuels used at the plant range from natural gas, liquid gas, heating oil, heavy oil and pulverized lignite. Many burners are able to combust multiple fuel types. This allows customers to switch to the fuel that offers the most benefits – both ecological and economical.
"There is increased use of alternative fuels," Lavenberg adds. "We often sit with our customers in order to discuss and develop the perfect solution for them. Plants with covered cold feeding or bunker silos are an ideal match for solar panel installations. This enables them to cover their energy demand for the electrical bitumen storage. Energy not used will be supplied to the local communities." 
Asphalt plants are already being pushed today to conduct energy audits in order to see where they can gain efficiencies and reduce consumption. ENERGY STAR has worked with asphalt plants to outline the steps facilities can take to review their energy consumption and even provides treasure maps for facilities to use where they can identify areas at their plant that might be utilizing too much energy and how they can rectify them.
As more stringent regulations may be coming down the pipeline, take the opportunity now to see where your company can improve. 
Smarter Systems
The future asphalt plant will also need to adapt to appeal to the next generation of workers. This means systems need to be more user-friendly and data-driven.
"The next generation of operators are also going to have a lot more technological requirements for their job and as a background interest," Christianson with WEM says. "Right now, hiring is become such a challenge and these plants are as lean as they possibly can be by necessity. As these operators retire, the people they're going to find to fill those jobs are going to expect and want to see a lot of the IT infrastructure sensors and mobile information platforms that are already available, but haven't been widely embraced." 
Many sensors now come with a built-in web server that can relay status, provide live values, adjust settings or offer analysis. Having more plant sensors improves control of the production process. Christianson adds this is important as future operators will be more technically inclined as opposed to operators today that are more mechanically inclined. 
"Future operators have grown up with technology, it's in their biology," he adds. "They are going to require tools on their jobs that allow them to get the feedback they are looking for. At the plant, they're going to look for their diagnostics electronically to gather information on how the plant is operating."
That also meets a more updated look to the control house.
"The user interface that we see on plant controls, they're going to get more detailed, they're going to be more modern looking, they're going to have more interactive feedback and read outs to them, because that's what the operator in 10 years will expect," he adds. "The old archaic graphics will quickly lose their interest."
Mobile apps that can control asphalt plants from phones and tablets will also become the norm for operators. Christanson says one operator may be able to control several asphalt plants from one central location. 
Preparation Starts Now
Adapting to change is a process. The best way to position your asphalt plant for a successful future is to start preparing now. There are already systems and technologies available for asphalt plants that enable more RAP usage or more data integration. Asphalt plants should already be finding ways to improve their operations for the future, especially as battling climate change becomes central to conversations in our country. 
"Each stakeholder (producer, plant manufacturer, local DOT jurisdiction, testing labs, laydown crews, etc) has a role in preparing for potential changes to how climate will influence our industry," Lavenberg. Production and process technology are HERE TODAY for adapting to whatever comes next."