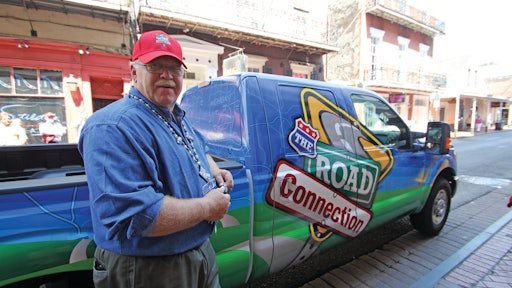 YANKTON, SD -- The quality of American infrastructure has sunk from sixth best in the world to sixteenth in just two years, and KPI-JCI and Astec Mobile Screens announce plans for a campaign to focus attention on the need for increased infrastructure funding and to equip voters to pressure government for a robust road construction program.
KPI-JCI and Astec Mobile Screens, a manufacturer of heavy equipment for the aggregate and recycle markets, outlined a year's worth of events that make up The Road Connection campaign at its National Dealer Conference, held in New Orleans.
"We feel compelled to do our part to help secure a multi-year, federal highway bill to improve our roads and bridges," said Joe Vig, president of KPI-JCI and Astec Mobile Screens. "It is imperative that we invest in our transportation system, not only to improve our quality of life and infrastructure, but also to put more Americans back to work."
From now through 2012, KPI-JCI and Astec Mobile Screens will travel highways and interstates to all corners of the nation, hosting and attending dealer stops, demo days, open houses and industry tradeshows.
"Our goal is to partner with others to speak as one voice," Vig said. "We know that better roads and better bridges mean better business, not just for our industry, but for every industry. We hope 'The Road Connection' brings about real, positive change that will help improve the day-to-day lives of our fellow Americans."
KPI-JCI and Astec Mobile Screens, Astec companies (NASDAQ: ASTE), is a global manufacturer of equipment for the aggregate, construction, paving and recycling industries. KPI and JCI joined together in 1997 with the purchase of JCI by Astec Industries. KPI-JCI and Astec Mobile Screens proudly manufacture its products in Yankton, S.D., Eugene, Ore. and Sterling, Ill. For more information, call (605) 668-2524 or visit the Web sites at www.kpijci.com and www.astecmobilescreens.com.