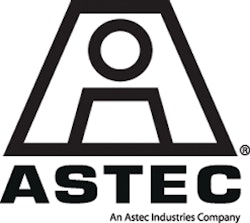 Astec Inc., an Astec Industries company, announces that its warm mix system has been accepted by the California Department of Transportation (CalTrans) for use on any CalTrans projects. The Astec warm mix system is the only water foaming technology for producing warm mix asphalt currently approved by CalTrans.
Astec warm mix systems produce a foamed asphalt mix by adding a small amount of water into the asphalt cement to create microscopic bubbles. The small bubbles in the foamed asphalt act to reduce the viscosity of the asphalt cement and allow the mix to be handled and worked at lower temperatures.
Warm mix technology allows mix to be prepared and placed at temperatures that are typically 50°F to 100°F lower than conventional hot mix. Producing asphalt pavement mix at a lower temperature has been shown to extend the paving season, increase pavement service life, reduce fuel usage, reduce emissions and improve worker comfort.
Companies in this article