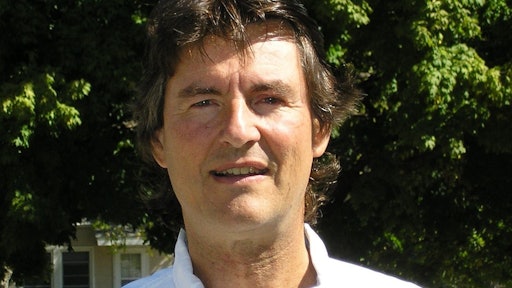 Terex Roadbuilding paver service technician and applications specialist, Bill Rieken, marks 35 years working with the Terex asphalt equipment line. Throughout his long career with Terex, Rieken has held several critical positions, including engineering, sales, marketing and service support.
For most of his career, Rieken has specialized on the Terex asphalt paving equipment line, which includes traditional and Remix Anti-Segregation System pavers, the MS series of material transfer devices and the RoadMix paver and material transfer vehicle. A mechanical engineer by trade, Rieken started his career in 1977 as a design engineer for the asphalt plant division of the Terex Cedarapids legacy brand. A year later, he took the position of product engineer for the original BSF paver series. He worked in Research and Development in the 1980s on the first Greyhound paver series, Remix pavers and MS mat smoothness and pick-up machines. In addition to his research and development and marketing work for the paving equipment line, he was involved with asphalt rollers, milling machines and, for a brief time, worked as a Terex asphalt mobile equipment district manager.
When not in the field with customers, he's found in the classroom, training equipment operators and service technicians. He teaches customers basic and advanced techniques for paver and screed set-up, equipment service, and combating segregation to improve mat quality. Over the years, Rieken has helped to streamline and simplify paver training sessions offered through Terex Roadbuilding University by focusing on paver components, so technicians can work on any series of Terex paver.