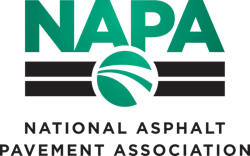 The National Asphalt Pavement Association and the Federal Highway Administration, with the support of local state asphalt pavement organizations, are holding the 21st Century Asphalt Pavements conference Dec. 5–6, 2012, at the Sheraton Salt Lake City Hotel in downtown Salt Lake City, UT.
Public agencies and private companies alike want to make sure they get the best value for their dollars, especially when budgets are tight. The asphalt industry has solutions that ensure the best value for each and every paving project.
The 21st Century Asphalt Pavements Conference brings together a day and a half of case studies, roundtables, and research into pavement preservation and sustainable pavements. Designed for paving professionals in the public and private sectors, the conference will benefit construction managers, project superintendents, inspectors, QC/QA technicians/managers, and others involved in the design, construction, and maintenance processes. The technical conference will provide participants with tools, best practices, and innovations they need to build the pavements people will be driving on for the next century.
Conference participants will learn how to incorporate sustainability into projects economically using warm-mix asphalt (WMA), reclaimed asphalt pavements (RAP), recycled asphalt shingles (RAS), thin overlays, and porous asphalt. Presentations will also cover how to set specification limits, how to use quality assurance, when and where to use modified binders, and how to construct longitudinal joints to assure value and performance. Also part of the conference is a session on Perpetual Pavements, the most cost-effective pavements over the long term.
Registration for the 21st Century Asphalt Pavements Conference is now open. Early bird pricing of $300 is in effect through Nov. 7, 2012. After that date the registration fee rises to $325. Visit www.asphaltpavement.org/21stcentury for more information, to view the conference agenda, and to register.
Limited sponsorship and table-top exhibit opportunities are still available. Contact Nancy Lawler or Sandy Lucchesi at (888) 468-6499 for more information.
Companies in this article