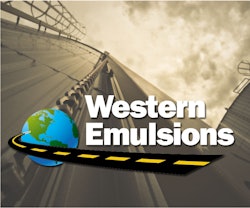 Western Emulsions Inc., an asphalt emulsion manufacturer and provider of sustainable pavement preservation and recycling solutions, announces the appointments of Kevin
M. Trant to chief executive officer, and Robert Koleas as vice chairman of the
board.
Trant comes to Western Emulsions from DuraTherm, Inc., a private equity
backed world leader in the application of Indirect-Fired Thermal Desorption technology to treat hazardous wastes, where he was president and CEO from June of 2008 to August of 2011. Prior to his role at DuraTherm, for 20 years Trant had been a member of the executive
management team of Siemens Water Technologies (and its predecessor
companies, Veolia Water, USFilter, and Millipore).
The Siemens business unit Trant oversaw had annual revenues in excess of $650 million and
approximately 2,500 worldwide employees. Trant received a Bachelor of Arts degree in Administrative Science and
Mathematics from Colby College in Waterville, ME. He completed his Master of Business Administration degree at the University of Massachusetts in Lowell, MA.
As vice chairman of the board, Robert Koleas will be dedicated to the corporation's ongoing business development. A graduate of the University of Arizona, Koleas has served Western Emulsions for 25 years, including the past seven as its president and CEO. Koleas is a past president of the Asphalt Emulsion Manufacturers Association (AEMA), and vice president of the board of the Foundation for Pavement Preservation (FP2).
Companies in this article