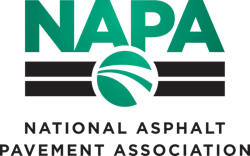 With the road building season in full swing, now is the perfect time to talk with paving crews to emphasize the importance of producing high-quality asphalt pavements. One effective way to motivate employees and to build teamwork is to set company expectations and goals. Several NAPA members motivate employees by telling their paving crews that the top jobs completed by the company will be submitted for NAPA's Quality in Construction (QIC) Awards.
QIC Award winners are selected based on quantifiable data submitted and rated by the pavement engineers at the National Center for Asphalt Technology. All paving projects that meet the benchmark figure win a QIC Award. NAPA gives 10 hardhat decals, a lapel pin, and plaques for each winning project, which help employees see the recognition they've earned for their superior craftsmanship.
NAPA highlights all award winners in Asphalt Pavement magazine; on its website, and at special ceremonies during its meetings. Quality in Construction Award winners will be honored at NAPA's Annual Meeting in Boca Raton, FL, in February 2014.
Nominations for Quality in Construction Awards are in three categories - airport pavements, general asphalt paving projects, and highway projects usng more than 50,000 tons. All projects are rated by pavement engineers at the National Center for Asphalt Technology.
The deadline is Oct. 31. Click here to begin. Contact Ester Magorka, Director of Awards, with any questions.