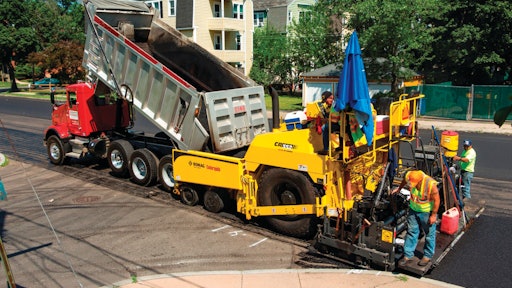 BOMAG Americas Inc. and Territory Manager Jim Head announce the appointment of Stephenson Equipment Inc. as the authorized BOMAG road building equipment distributor in portions of Pennsylvania and New York. The territory stretches from central and northeastern Pennsylvania through Philadelphia and westward to Harrisburg. In New York, Stephenson Equipment's territory covers Syracuse to Buffalo and southward to Binghamton.
The distributor now offers asphalt contractors and municipalities throughout the territory BOMAG's line of cold milling machines, the CMI RS series of reclaimer/ stabilizers and Cedarapids pavers and material transfer equipment. The agreement also includes the BOMAG MPH series recyclers/stabilizers, heavy tandem vibratory and combination rollers, and pneumatic tire rollers.
"Stephenson Equipment is an asphalt house with strong ties to the public and private sectors," says John Hood, director of sales, heavy equipment for BOMAG Americas, Inc. "There could not be a better choice to represent BOMAG's road building line in this territory." Head adds, "Stephenson Equipment focuses on a core set of products, and they make those products the market share leaders in their territory. They do what it takes to get the job done."
Stephenson Equipment now carries a complete range asphalt compaction, paving and preservation equipment. The preservation lineup features the high performance BOMAG utility and half-lane milling machines with cutting widths from 11.8 to 98.4 inches and the CMI RS series of reclaimer/stabilizers, offering full-depth reclamation capabilities of asphalt roads with cutting depths ranging from 16 to 20 inches at widths from 96 to 120 inches.
For public and private paving contractors, the Cedarapids line boasts 8-foot commercial and 10-foot mainline paving equipment as well as material transfer devices and vehicles. BOMAG also offers commercial and mainline compaction equipment to complement the pavers with drum widths ranging from 47 to 84 inches. BOMAG compactors can be equipped with the market's most advanced Intelligent Compaction system, Asphalt Manager, to prevent mat over compaction.
"We are excited about our partnership with BOMAG," says Dennis Heller, president and CEO of Stephenson Equipment. "The full product line adds another dimension to our business model."
Since 1957, Stephenson Equipment has focused on a niche offering of asphalt paving and crane equipment for its customers. Heller explains that they focus on these equipment lines, since they are the centerpiece of a project. "If a paver or crane goes down, then the whole job goes down," he says. "We understand the importance of this equipment, realize the need for 24/7 support and effectively respond with urgency."
From five strategic locations located throughout the contracted Pennsylvania and New York territory, Stephenson Equipment provides equipment rental, sales, service and parts support for the entire BOMAG road building line. "From rental to sales to municipal, Stephenson Equipment knows the market and the customers," comments Head. "They have fully trained technicians and will offer training for their customers."
With previous history as a Cedarapids, CMI and BOMAG distributor, Stephenson Equipment has vast experience with the product lines. Heller sees the recent addition of the CMI and Cedarapids brands to the BOMAG equipment portfolio as an opportunity for the distributor. "BOMAG," he says, "has great compaction and milling product lines, and the Cedarapids and CMI products are making a comeback. BOMAG now offers the perfect trifecta for the road building industry."
Click here for more information on Stephenson Equipment Inc.
Companies in this article