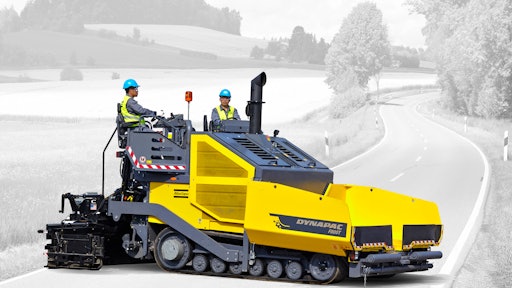 Atlas Copco introduced several pieces of new equipment and its new intelligent compaction system during its dealer event in Phoenix, which Asphalt Contractor magazine attended.
The new F800t tracked asphalt paver joins the company's 10-ft. highway class paver range. The new paver meets Tier 4 Final emission regulations and enhances productivity through operator comfort and optimal visibility.
The operator has high visibility of the paving surface with the paver's dual, swing-out operator platforms. The dual operator platforms swing out from each side to give the operator a clear view of the worksite. The platforms also eliminate operator fatigue from prolonged leaning that can occur when an operator strains in a stationary seat to get a clear view of the work surface.
Ergonomically designed control panels allow the operator to focus on paving and look out for nearby workers. All control and operational switches are grouped according to purpose and frequency of use, which allows the operator to quickly adjust paving settings without hampering production or risking safety.
The F800T is equipped with a six-cylinder, Cummins diesel engine that meets Tier 4 Final emission standards and minimizes ownership costs. The six-cylinder engine reduces strain on engine components that typically occurs with four-cylinder engines, which as a result, minimizes maintenance costs and servicing downtime.
Atlas Copco designed the F800T with features that maximize mat quality and tackle varying job requirements. Its exclusive, Dynapac feed control system, for instance, eliminates material segregation and ensures continuous, uniform material flow by using four ultrasonic sensors and one of the industry's thinnest center chain box auger system. The four sensors detect material heights and gaps to optimize both the auger and conveyor speed. The conveyor's 6-inch-wide chain box is the thinnest in the industry, which ensures continuous, uniform material flow to the center of screed. And the augers have 17-inch diameter flights – among the largest in the industry – that eliminate centerline segregation. The paver also can be equipped with an optional, integrated hydraulic tunnel to eliminate material spillage toward the track and provide efficient material head.
The F800T is equipped with a Carlson EZIV08-15 front-mounted electrical screed. The screed gives the operator an 8- to 19-foot working width and a mat as high as 1 foot. A 34-kilowatt, hydraulically driven generator heats the screed to eliminate sticking and maintains a frequency control at 60 hertz regardless of the load or speed of the engine, which allows users to connect night lighting accessories to the machine. Atlas Copco also offers safety edges, berm attachments and bolt-on extensions for greater paving efficiency.
Intelligent Compaction
The company's new, easy-to-use intelligent compaction system gives contractors real-time material stiffness readings to ensure superior soil and asphalt compaction. This maximizes operator productivity, which results in saving contractors significant time and money. And, its touch screen capability makes the system user friendly and convenient.   
The intelligent compaction system uses GNSS (such as GPS) to track the number of completed passes and a drum-mounted accelerometer to measure the surface's relative material stiffness. The system gives operators immediate materials stiffness results from within the cab to help minimize the number of passes. When using the system on asphalt, it also detects the temperature of asphalt to provide consistent, relative stiffness readings. In addition, Atlas Copco's intelligent compaction system helps contractors detect any loose materials so they can perform additional passes to reach the right compaction. This minimizes the risk of production related quality defects, which are time consuming and costly to remediate.
VIEW THE VIDEO OF ATLAS COPCO'S INTELLIGENT COMPACTION TECHNOLOGY HERE

Contractors can use the intuitive system on a tablet to set project parameters and view compaction data. Once they achieve the optimal level of compaction, the program alerts the operator, so he or she can stop and reduce the risk of over compaction, which can affect the integrity of the material and damage the roller.
The data storage also means contractors have the results readily available to print off or display for Federal Highway Department inspections.
The system is available on Atlas Copco CC2200 through CC6200 asphalt rollers and CA2500 through CA6500 soil rollers. For additional convenience, contractors can get free on-site training from an Atlas Copco representative or dealer.
Pneumatic-Tired Rollers
The company also introduced new pneumatic-tired rollers at the event.
The Dynapac CP1200's new flexible steel ballast is distributed evenly between tires for consistent ground pressure between the front and rear tires. This also allows the weight to be easily adjusted for optimal performance in any application – from finishing to sealing.
The roller includes a Tier 4 Final compliant engine that meets the latest Environmental Protection Agency emission standards. The Tier 4 Final engine reduces 90 percent of particulate matter and 90 percent of Nitrous Oxide Emission (NOx) compared to a Tier 3 engine. The engine produces low levels of ambient noise thanks to thermostatically controlled cooling fans, which allow the operator to easily communicate with crews using a walkie-talkie. In addition, minimal engine noise lessens the risk of hearing damage for the operator. The CP1200 also is equipped with an ultra-smooth start/stop system so contractors can quickly and easily changes directions.
The platform on the CP1200 is spacious and features operator-friendly controls and a swivel seat for optimal visibility from the operator station. Atlas Copco designed the CP1200 with its exclusive dual-circuit braking system that maintains full braking effect even if one circuit is disabled. This feature is critical for projects on inclined surfaces as it safeguards against damage and injuries.
The CP1200 has a compacting width of 5.77 feet and maximum operating weight of 26,400 pounds, which makes it ideal for a variety of applications from finishing to sealing. An optional DCA-A compaction analyzer records the rolling activity and recommends the optimum number of passes based on type of material being compacted, density needed and hours of operation. In addition to achieving the ideal density more quickly, the DCA-A analyzer also records the rolling patterns for analysis and quality assurance.
The Dynapac CP2700 is equipped with a spacious platform, ergonomic controls and a rotating, sideway-sliding seat and steering assembly. The ergonomic controls allow the operator to focus on compacting rather than looking down to check controls, while the sliding seat ensures clear sight lines of the roller and compacting surface. Users also can equip the unit with a comfortable cab that provides outstanding all-round visibility and air conditioning or Automatic Climate Control.
The roller features an Interim Tier 4 compliant engine, which generates minimal emissions as well as low noise levels thanks to its thermostatically controlled cooling fans. Both engines have an ultra-smooth start/stop system, which contributes to a high-quality finished surface.
Its dual-circuit braking system, a Dynapac-exclusive feature, maintains full braking effect even if one circuit is disabled, which enhances safety when working on inclines and declines.
Atlas Copco's CP2700 has a compacting width of 7.55 feet and a maximum operating weight of 59,000 pounds. This makes it ideal for a wide variety of finishing and sealing asphalt work and soil compaction applications. An optional DCA-A compaction analyzer also prevents overcompaction, which can damage the roller, and ensures the operator makes enough passes.
With the optional temperature sensor and the unique DCA-A analyzer, the CP2700 can achieve optimum density and surface texture while providing full statistics and documentation. The system can also play back the rolling pattern and produce a printout of all relevant information, either on paper or as a PDF file for later analysis. This allows contractors to easily replicate the same parameters on similar projects or readily display for Federal Highway Department inspections.