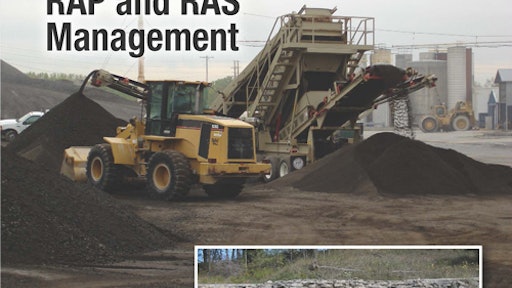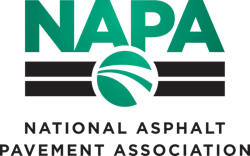 Asphalt pavements are a fully recyclable product, and almost all asphalt removed reclaimed from maintenance and repair operations is put to use in new pavements. Using this reclaimed material is an economical, sustainable practice, but to ensure the performance of asphalt pavements built with recycled materials best practices for milling, processing, storing, and using reclaimed asphalt pavement should be followed.
Two new books produced by the National Asphalt Pavement Association (NAPA) will help asphalt pavement mix producers, engineering consultants, and road owners make the most effective utilization of reclaimed asphalt pavement (RAP).
Best Practices for RAP and RAS Management (Quality Improvement Publication 129) by Randy C. West, Ph.D., P.E., covers pavement milling, inventory management, processing, sampling, and testing of RAP and recycled asphalt shingles (RAS), as well as a discussion of production concerns.
High RAP Asphalt Pavements: Japan Practice — Lessons Learned (Information Series 139) by Randy C. West, Ph.D., P.E., and Audrey Copeland, Ph.D., P.E., reports out the findings of a 2014 industry scanning tour of Japan to study that country's use of high levels of RAP in its pavements. Information about Japanese innovations for porous asphalt pavements are also included.
West is Director of the National Center for Asphalt Technology in Auburn, Ala., and Copeland is Vice President for Engineering, Research, & Technology for NAPA.
According to the latest survey of asphalt mix producers conducted by NAPA in partnership with FHWA, more than 75 million tons of recycled materials — primarily asphalt pavement material reclaimed from old roads and parking lots and recycled asphalt roofing shingles — were put to use in new asphalt pavement mixtures during the 2014 construction season.
"Although the use of recycled materials varies from region to region due to local specifications and the availability of reclaimed materials, there are opportunities to increase the amount of RAP used in our pavements," says Copeland. "In the U.S., on average, we use a little more than 20 percent RAP in our mixes; Japan successfully uses, on average, 47 percent RAP. It was this fact that lead the industry scan tour."
"The Japan tour highlighted ways to ensure pavement quality while using high levels of RAP," says West, "but mixes designed with more modest levels of recycled materials also benefit from best management practices."
Both publications were produced under NAPA's cooperative agreement with the Federal Highway Administration (FHWA) and are available as free, high-quality PDF electronic documents through the NAPA Online Store, http://store.asphaltpavement.org.
"Asphalt pavements are inherently sustainable, because when we pave a road, we put in place material that can later be harvested for reuse in new pavements," says Copeland. "These two publications will help road builders and road owners alike evaluate and increase the effectiveness of their utilization of RAP while ensuring pavement performance."