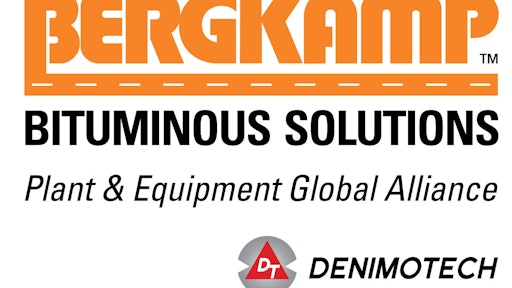 Bergkamp Inc. has formed Bergkamp Bituminous Solutions, a new business enterprise to stand alongside our current enterprise, Bergkamp Pavement Preservation Solutions. Bergkamp Bituminous Solutions will be based in Salina, KS, with Scott Bergkamp acting as general manager.
"The introduction of Bergkamp Bituminous Solutions is our next step toward achieving our vision to make roads better globally, by allowing owners of roadways to be more efficient in the construction, maintenance and preservation of their road infrastructure," says Scott Bergkamp, president and CEO of Bergkamp Inc.
To achieve this, Bergkamp Inc. has formed a strategic alliance with DenimoTech, a Denmark-based company, to market, sell and support a full range of emulsion mills and plants, polymer-modified asphalt blending mills and plants, crumb rubber blending plants, laboratory plants, storage tanks and mixers.
"Our plan is to provide the highest quality, most technologically advanced equipment along with industry-leading technical support," says Bergkamp. "And we intend to provide this at an industry leading value to price combination."